Brain Lord (Super Nintendo, 1994)
---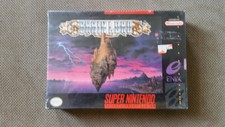 $129.99Free shipping
Est. Jul. 29 - Aug. 3 deliveryFrom Jersey City, New Jersey
About this product
Product Information
Product Information

Hundreds of years ago, dragons and dragon warriors protected the land from evil. Perhaps their greatest victory was against the Great Demon, a being that terrorized innocents everywhere by unleashing its legion of monsters. The Dragon of Wisdom taught humans how to find safety while the Dragon of War defeated the Demon in battle, forcing him to return to mist. The Dragon of Good Luck trapped the Demon in an underground cavern.

Unfortunately, the dragons and their human companions, the dragon warriors, have faded into the annals of history and are now merely legends. Only one dragon warrior remains, and he has set off on a dangerous mission in search of the last dragons. Before leaving, he told his son Remeer that he must continue the hunt for dragons, especially if he does not return. Sadly, Remeer hears the fateful tone in his father's voice and begins preparing for the most important task of his young life -- that of hunting for and finding the lost dragons.

Remeer is the star of Brain Lord and the only character you can control, but he does have an entourage follow him during his journey. Kashian is a bounty hunter and adventurer with the skills of a witch and warrior. Barness, a deeply spiritual man, began hunting dragons after being inspired by an omen in the stars.

When it comes to self-sacrifice, Rein reigns supreme, using his bounty hunting and warrior skills to mete out justice wherever and whenever he can. Last but not least, Ferris, a witch whose parents were fortunetellers, keeps to herself, but is nevertheless an asset to the group.

As you journey through the various towns and castles in Brain Lord, honoring your father's request that you search for the lost dragons, you must solve many puzzles and do battle with a host of bloodthirsty monsters. To help you defeat the creatures, you can purchase (and later resell) axes, maces, boomerangs, bows, arrows and other weapons.

You will run across nine different Jades in your journey, each one holding a Fairie. The Fairies perform a variety of helpful tasks, such as throw fireballs, release lightning bolts and restore your hit points. You can also acquire shields and armor and up to 13 magic spells of your own.

When maneuvering around the various obstacles that obstruct your pathway, you will find that you can move some types of rocks and barriers. You can also collect keys that are useful for opening locked doors. Other items you will need throughout the game include X-ray glasses, food, warp gates, and herbs. If you need to save your progress or refill your life meter, you can stay at an Inn. If you need information, try talking to a statue. Statues can also save your progress.

To succeed in this game, you must be a Brain Lord -- a being clever enough to make it through the mysteries and challenges you will face. If you don't like your given name, Remeer, you can change it to one of your own choosing. However, the perils and struggles will remain the same.
Product Identifiers
Publisher

Enix

Game

Brain Lord

MPN

719631000128

UPC

719631000128
Key Features
Platform

Super Nintendo

Genre

RPG

Location

USA
Tech Details
Control Elements

Gamepad/Joystick

Number of Players

1

Release Year

1994