Boys and Girls in America by The Hold Steady (CD, Oct-2006, Vagrant)
---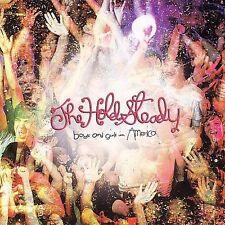 $0.99+ $2.98 Shipping
Est. Feb. 22 - Feb. 29 deliveryFrom Location Varies in US
About this product
Album Features
UPC:
601091044227
Artist:
The Hold Steady
Format:
CD
Release Year:
2006
Record Label:
Vagrant
Genre:
Hard Rock, Rock & Pop
Track Listing
1. Stuck Between Stations
2. Chips Ahoy!
3. Hot Soft Light
4. Same Kooks
5. First Night
6. Party Pit
7. You Can Make Him Like You
8. Massive Nights
9. Citrus
10. Chillout Tent
11. Southtown Girls
Details
Playing Time:
40 min.
Producer:
John Agnello
Distributor:
Fontana Distribution
Recording Type:
Studio
Recording Mode:
Stereo
SPAR Code:
n/a
Album Notes
Personnel: Dana Kletter, Dave Pirner, Elizabeth Elmore (vocals); Drew Glackin (lap steel guitar); Jean Cook (violin); Caleb Burhans (viola); Peter Hess (tenor saxophone); Lloyd Debonis (trumpet); Alan Ferber (trombone).Audio Mixers: John Agnello; Ted Young.Recording information: Atomic Studios, New York, NY; Water-Music Recorders, Hoboken, NJ.Photographer: Marina Chavez.The Strokes' breakthrough of the early 2000s made indie rock safe for unabashed retro stylings, and no band embraced this ethos more than Brooklyn's the Hold Steady. Synonymous with "throwback" and "bar band," their excellent debut heralded the return of spirited, no-frills rock. Whereas that record brilliantly fused indie aesthetics with the blue-collarisms of Springsteen and Thin Lizzy, BOYS AND GIRLS IN AMERICA, their third full-length and Vagrant debut, finds them getting away from indie rock for a full-blown Springsteen fixation.The whole record echoes the piano-driven orchestral bombast of BORN TO RUN particularly on the opening track, "Stuck Between Stations" (read: "Thunder Road") and the drunken ballad "First Night" (read: "Backstreets"). It doesn't help matters that Craig Finn's throat-and-guts yowl recalls the Boss's more than ever. The difference comes with the lyrics: while Springsteen's offer hope in the face of despair, Finn's wallow in parties that aren't fun anymore, mixed signals and missed opportunities with women, and chemical crutches. The latter figure prominently, and Finn's raw talent for barstool poetics--like "some nights the painkillers make the pain even worse" from "Chips Ahoy"--is unmatched. Finn's undeniable talent positions him--despite his idolatry--less as his generation's Springsteen and more like its Shane MacGowan. No small feat, that.
Most relevant reviews
by

Kick ass bar bandish band

These guys take a lot of genres that aren't so cool these days (bar band, grunge, classic rock) and somehow turn it into something very cool. Its just kind of some hybrid of Seven Mary Three, as if they didn't suck and Bruce Springsteen.

Best beer festival song ever is on this album "Party Pit."
Chorus: Gonna Walk Around And Drink Some More. . .

Indeed.