Blue's Journey (Neo Geo, 1991)
---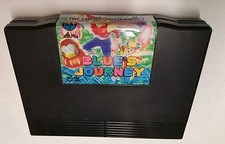 About this product
Product Information
Product Information

The planet Raguy was once a beautiful place, until the evil Daruma tribe invaded, bringing pollution that corrupted the land. You, as Blue, are a specialist of the Leaf Dump, and you love Princess Fa of the Raguy family. Unfortunately, Princess Fa has fallen sick from the pollution. It's your job to save your princess in Blue's Journey, a 2D side-scrolling platformer with RPG elements. Go through stages jumping on platforms and avoiding traps, while dealing with a multitude of bad guys, with a special bad guy boss at the end of every level to defeat with special means. To help with this, Blue can use a leaf attack and shrink. The leaf attack, only used when Blue is full sized, lets Blue slam a leaf that stuns any enemies he hits. Blue can also pick up power-ups for a more devastating leaf attack, or change his attack entirely. When the enemies are stunned, Blue can pick them up and throw them across the screen to dispose of more baddies. Shrunken down Blue can't use his attacking power, but he can fit into small crevasses and crannies not normally accessible. Of course, Blue can also dispatch enemies by jumping on them. Since Raguy's economy is flower based, Blue can collect flowers to buy things at special huts. But Blue must take care not to fall into traps or bottomless pits, which cause instant death. Being hit by bad guys or their shots is just as bad. Blue starts the game with two hearts, losing one when he gets whacked by a bad guy. When his heart count goes to zero, Blue dies. Play the game alone (as Blue), or with your friend (as a green Blue) for two-player simultaneous fun.
Product Identifiers
Publisher

SNK

Game

Blue's Journey
Key Features
Platform

Neo Geo

Genre

Action, Adventure

Location

USA
Tech Details
Control Elements

Gamepad/Joystick

Number of Players

1-2

Release Year

1991
Most relevant reviews
by

An inexpensive game for the Neo Geo that's fun and easy to play for all!!

Blue's Journey was one of the very first games to be released on the Neo Geo. The game is a platformer (think Super Mario) and if you are into those kind of games then you'll love Blue's Journey. The graphics and colorful and well animated, the story is ok (not the best, but that's not the point anyways), but the gameplay is fun (at least i think so). Check out some gameplay footage on YouTube to get the idea!
If you're planning to buy a Neo Geo that you should definitely buy Blue's Journey. The game is not expensive at all compared to big name titles like King of Fighters '02, Last Blade 2, and Sengoku 3 which can cost more than $200 easily! (yes, that is alot of money for one game. i have seen a copy of Last Blade 2 costing $200+ and Sengoku 3 costing $1000. Okay, i love those games but i'm not going to spend $200-$1000!) Buying Blue's Journey is a great game and a nice addition to your Neo Geo collection. Other awesome cheap games that i recommend are Nam 1975, Ghost Pilots, Magician Lord, Fatal Fury 2, Fatal Fury Special, Samurai Spirits 1-2. I really do enjoy playing this game. It brings back alot of memories of when the SNES and Genesis were the PS2 and XBox of their time, and the Neo Geo was like the PS3! However, most kids (like me) were never able to afford the Neo Geo because: 1) the console was WAY expensive ($500+ in 1990. crazy!) 2) the games also were EXPENSIVE ($250 per game. what?!) However, now that i am older (and with money, lol) playing games like this makes me relive those good memories of the past when i was younger.

I hope you enjoyed reading this review i made!
Cheers~Read full review

by

You will be blue if you don't go on this journey

Blue's Journey is one of the original Neo Geo releases.It has average graphics and sound.I different platform game that is cheap to buy.

by

Good Game

neo geo's blue's journey is a very awesome game but very trippy.If you like platformers than youll def enjoy this game .