Beamrider (Colecovision, 1984)
---
OUR TOP PICK
shipping
Please sign in to see how to get this item delivered
From Lansdale, Pennsylvania
---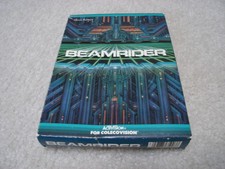 $44.95 Buy It Now
Free shipping
Top Selling in Video Games
Great Prices on Video Games

About this product
Product Information
Product Information

In Beamrider you control a Light Ship that moves back and forth at the bottom of a grid. This grid is called a Restrictor Shield, and it is designed to protect Earth from alien invasion. Your job is to clear the grid of Enemy Saucers, Bounce crafts, Blue Chargers, Green Blockers, Chirpers, Yellow Rejuvenators, Magnetic Mines, Red Zig Bombs, and Orange Trackers. These alien vessels ride the beams up and down and back and forth, creating havoc on the screen. Armed with an unlimited amount of Laser Lariats and a handful of torpedoes, you must shoot everything in sight.

After you have destroyed fifteen Enemy Saucers, a Sentinel Ship will cruise across the top of the screen. After you complete each sector, you will return via hyperspace to a space station where you will prepare to leave for your next mission. There are ninety-nine sectors in all; a new enemy is introduced every other sector up until number sixteen.

Unlike Space Invaders, the ship in Beamrider cannot move in minute increments; it must always stop on one of the five vertical beams on the grid. In addition to the enemies, a Yellow Rejuvenator will occasionally appear on the screen. Allow one of them to land on your deck and you will receive a free ship.
Product Identifiers
Publisher

Activision

Game

Beamrider
Key Features
Platform

Colecovision

Genre

Shooter

Location

USA
Tech Details
Control Elements

Gamepad/Joystick

Release Year

1984
This item doesn't belong on this page.
Thanks, we'll look into this.