Basic Model Railroad Benchwork : The Complete Photo Guide by Jeff Wilson (2002, Paperback)
---
OUR TOP PICK
trending
1 watching in the last 24 hours
delivery
Est. Aug 30 - Sep 13From United States
Returns
Buyer pays return shipping
---
More options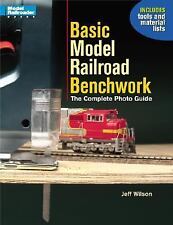 $19.96 Buy It Now
Free shipping
About this product
Synopsis
Synopsis

Step-by-step instructions and illustrations take the mystery out of constructing benchwork. Covers the materials and tools for making benchwork for any layout.
Product Identifiers
ISBN-10

0890246157

ISBN-13

9780890246153
Key Details
Author

Jeff Wilson

Number Of Pages

96 pages

Format

Paperback

Publication Date

2002-10-01

Language

English

Publisher

Kalmbach Publishing Company, Books Division
Additional Details
Copyright Date

2002

Illustrated

Yes
Classification Method
LCCN

2003-268996

LC Classification Number

TF197.W4982 2002

Dewey Decimal

625.1/9

Dewey Edition

22
Most relevant reviews
by

Benchwork for the Timid.

This book uncovers all the mysteries of modern benchwork. It is low on text and high on color pictures, which is good I think, a picture is worth a 1000 words right? But it discusses several different types of benchwork, how they are done, all the modern methods. And for those with no carpenter skills at all, it even has material lists and descriptions of what fasteners to use, what tool to use and lenghts to cut. For me it was a bit too elementary, but it did give me all the information I was looking for too, I was glad I read it.

by

Basic Model Railroad Benchwork by Jeff Wilson

Though short on text, this is a good elementary introduction to benchwork, with lots of excellent pictures.
This item doesn't belong on this page.
Thanks, we'll look into this.