Barney - Barney Goes to School VHS, "classic favorite in a new package"
---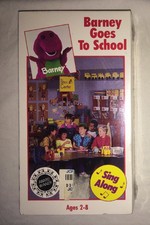 $49.99+ $4.35 Shipping
Est. Aug. 3 - Aug. 8 deliveryFrom Las Vegas, Nevada
Top Selling in VHS Tapes

Great Prices on VHS Tapes
About this product
Additional Details
Genre:

Childrens

Format:

VHS

Display Format:

"classic favorite in a new package"
Most relevant reviews
by

1991 BARNEY IN CONCERT VHS MOVIE - SING ALONG

The VHS is great for 6 month to 2 years. This VHS seems to entertain this age span more than the newer versions of sing alongs. Two of my grandchildren are proof of this statement. The tape arrived in excellent condition in a timely manner. There was not a cover included, but I had the original cover from my 1991 tape that was eaten by my player.

by

barney vhs

my friends daughter loves barney but they cant find the vhs in the store so i thought for her bday i would order her some off ebay. the description said like new so i got 3 tapes. when i got them in the mail the cases were broken and cracked and didnt look LIKE NEW! i didnt even want to give the moves for a present. i just wish the description was better.