Backspacer by Pearl Jam (CD, Sep-2009, Monkeywrench)
---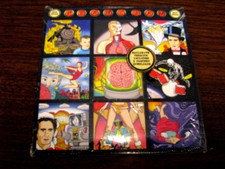 $8.49+ $2.19 Shipping
Est. Feb. 13 - Feb. 19 deliveryFrom Billings, Montana
About this product
Album Features
UPC:
804879199823
Artist:
Pearl Jam
Format:
CD
Release Year:
2009
Record Label:
Monkeywrench
Genre:
Hard Rock, Rock & Pop
Track Listing
1. Gonna See My Friend
2. Got Some
3. The Fixer
4. Johnny Guitar
5. Just Breathe
6. Amongst the Waves
7. Unthought Known
8. Supersonic
9. Speed of Sound
10. Force of Nature
11. The End
Details
Playing Time:
37 min.
Distributor:
n/a
Recording Type:
Studio
SPAR Code:
n/a
Album Notes
Of all the bands to emerge from the early `90s grunge explosion, Pearl Jam was both the longest-lived and most consistently interesting. After several albums that found the group taking an increasingly experimental direction, the Seattle quintet returned to its straight-ahead hard rock roots with 2006's self-titled effort. In 2009 however, Pearl Jam surprised fans again with an album containing some of the unit's catchiest, poppiest songs ever. According to lead vocalist Eddie Vedder, most of the new material was written prior to recording, which was a significant departure from the group's usual in-studio jamming method of composition. The result is one of the unit's most focused and accessible works since the debut album TEN. The first single "The Fixer" (written my drummer Matt Cameron) is a Kiss-like bit of straight-up pop masquerading as hard rock, while "Just Breathe" is melancholy acoustic singer-songwriter music so sharply crafted it would fit well on an Jack Johnson album. Throughout, Pearl Jam performs with its trademark directness, mustering the kind of earthy, cohesive sound that only veteran bands can deliver.
Most relevant reviews
by

Awesome Pearl Jam!

Great Music! Awesome Pearl Jam! Easy to enjoy! Typical Eddie Vedder vocal expertise! Great music arrangement! Fast and slow! Love It!!

by

Unthought known may be their best song ever

Unthought Known is pure genious. I enjoy most of the songs on this album. My favorite pearl jam songs are Unthought Known, Marker in the Sand, Indifference, and Wash.

by

Backspacer is very good

This album is a bit on the shorter side, I felt, but it is one of the best Pearl Jam has had in a few albums. It has some songs reminiscent of some of their earlier albums, while at the same time continuing in their current style. Its good. I really liked it. Eddie has still got it as far as singing goes, his voice never falters except for when it seems to have done so intentionally for effect. The guitar is a step up from the self titled album. I'd give it 5 out of 5, because it is a great album by a phenomenal band.