Apple PowerMac Desktop - M9031LL/A (June, 2003)
---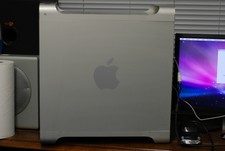 About this product
Product Information
With NVIDIA GeForce FX 5200 graphics processor, the Power Mac G5 M9031LL/A desktop improves your gaming experience. The PowerPC G5 processor of this Apple desktop gives you an efficient functioning for all your applications. The 8 GB maximum RAM of this Apple computer processes your files and data at a faster rate. The Power Mac G5 M9031LL/A desktop has a FireWire 800, 2 FireWire 400 ports and three USB 2.0 ports that offer exceptional connectivity. With Mac OS X v10.2 operating system, this Apple desktop gives you a speedy performance. The huge storage capacity of this Apple computer allows you to store all your media and data files with ease.


Product Features

Truly intelligent design
An exceptional computer demands an exceptional enclosure. The Power Mac G5 has a stunning chassis forged of anodized aluminum. Apple engineers were also pretty obsessive about clutter. That's why there isn't any. Especially conspicuous by its absence is that tangle of unsightly wires and cables that turn the inside of a typical PC into a veritable rat's nest. "A place for everything and everything in its place" isn't just something your mom said: It's an important philosophical precept that Apple applies rigorously to hardware design. This clutter-free design also allows for intelligently managed heat dissipation through four independently controlled thermal zones. To make the Power Mac G5 even easier to cool, a transparent internal air deflector channels airflow over the processor heat sinks and the expansion slots.
Thoughtful considerations
If you try hard enough you might cram everything into the average PC case. The Power Mac G5 was designed from the inside out so that the case and internals fit together for maximum thermal efficiency.
Access is everything
The Power Mac G5's easy-to-open side panel unlatches in a snap, giving you fast access to the slots and bays inside. For no-hassle expansion, the design lets you add things like memory or an AirPort Extreme card without tools. And drive guides let you mount high-capacity hard drives when your storage needs grow. Or lock it up to keep the inside of your computer safe from tampering.
Get a handle on it
The Power Mac G5's built-in handles will come in handy the day you need to move all your stuff into that corner office.
The ultimate instrument
The Power Mac G5 supports more audio tracks and plug-ins than any previous Power Mac, giving the audio professional a wealth of creative options - all in a native environment. And the built-in optical S/PDIF connects professional as well as consumer audio hardware such as surround sound integrated amplifiers and speaker systems.




Product Identifiers
Brand
Apple
Product Family
PowerMac
Model ID
PowerMac7,2
Model Number
A1047
UPC
0718908487396, 718908487396


Processor
Processor Type
PowerPC G5
Processor Speed
1.80 GHz
Number of Cores
Dual-Core


Motherboard
Video Output Interface
AGP 8x
Motherboard I/O Ports
FireWire (IEEE1394a) x 2, FireWire (IEEE1394b) x 1, RJ11 Phone Jack x 2 (1 Input, 1 Output), RJ45 Lan Port x 1, USB 1.1 x 2, USB 2.0 x 3
Bus Speed
900 MHz


Technical Features
Expansion Bays
2 x 3.5" (Internal Access)
Expansion Slots
AGP x8 x 1, PCI x 3, PCI-X 64 Bit (100/66 MHz) x 2, PCI-X 64 Bit (133/100/66 MHz) x 1


Hard Drive
Hard Drive Capacity
160 GB
Hard Drive Rotation Speed
7200 RPM
Hard Drive Interface
Serial ATA


Memory
RAM Technology
DDR SDRAM
Installed RAM
512 MB
RAM Supported Speed
400 MHz
RAM Max Supported Size
8 GB
RAM Memory Slots Qunatity
4 x DIMMs, 8 x DIMMs
Installed Cache Memory
64 KB
Max. Cache Memory
512 KB


CD / DVD
Optical Drive Type
CD-RW/DVD-R
Optical Drive Read Speed
32x (CD), 8x (DVD)
Optical Drive Write Speed
16x (CD), 32x (CD), 4x (DVD), 4x (DVD-R)
Optical Drive ReWrite Speed
10x (CD-RW)


Video
On Board Graphic Processor
NVIDIA GeForce FX 5200 Ultra
Max. Video Resolution
1920 x 1200
Installed Video Memory
64 MB
Video Outputs
ADC x 1, DVI x 1


Audio
Audio Input
Line In (3.5mm), Optical Digital In, Stereo Input Jack
Audio Output
Analog Audio, Headphone, Optical Digital, Sound card, Speaker(s)


Modem
Modem Type
Modem


Networking
Data Link Protocol
AirPort Extreme, Ethernet, Fast Ethernet, Gigabit Ethernet
Networking Type
Integrated 10/100/1000 Network Card, Integrated Network Card


Dimensions
Depth
18.7 in.
Height
20.1 in.
Width
8.1 in.
Weight
39.2 lb.


Miscellaneous
Form Factor
Tower
Release Date
June, 2003
Exterior Color
Silver


Most relevant reviews
by

Happy Customer

I'm enjoying this product very much!!! It works well and functions as it should. I purchased this product for music production purposes, and I am well pleased! I had to take it apart to put in a wireless card, but that wasn't difficult. Thanks again!!!

by

Great Mac a Must Buy

This a great computer I got mine for 80 and it still powers though final cut pro 5. I love it. And I love the way it looks this thing looks like a piece of art its sweet.