An Irish Christmas by Melody Carlson (2007, Hardcover)
---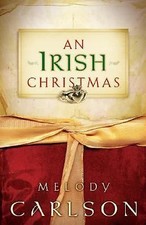 $3.97Free shipping
Est. Jul. 27 - Aug. 9 deliveryFrom Mishawaka, IN
About this product
Synopsis
Synopsis

The people of Christmas Valley always celebrate Christmas. The mayor plays Santa, every business is holiday themed, and there's a nativity for the kids each Christmas Eve. This town knows Christmas. But this year nothing goes according to plan. From Southern California to the hills of Ireland, this title weaves Christmastime journey set in 1960s.
Product Identifiers
ISBN-10

0800718801

ISBN-13

9780800718800
Key Details
Author

Melody Carlson

Number Of Pages

189 pages

Format

Hardcover

Publication Date

2007-09-01

Language

English

Publisher

Revell
Dimensions
Weight

12 Oz

Height

0.7 In.

Width

5.8 In.

Length

8.8 In.
Classification Method
LCCN

2007-015221

LC Classification Number

PS3553.A73257I75

Dewey Decimal

813/.54

Dewey Edition

22
Most relevant reviews
by

"An Irish Christmas" sounds interesting.

Good, clean characters, with interesting plots. I like to have Christmas centered books to read during the Christmas season. Melody Carlson, so far, has been an author I can trust to write uplifting and satisfying novellas.
I have not yet read these books, as I am saving them for the 2011 Christmas season.

by

Irish Christmas

I bought this book for a book club. It is a very interesting book. A quick read . Can be read during commercials while watching tv.