Alvin and the Chipmunks: The Squeakquel (DVD, 2010, 2-Disc Set)
---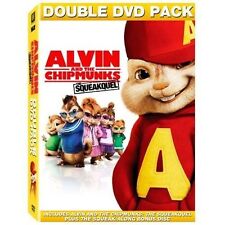 $5.47Free shipping
Est. Aug. 2 - Aug. 9 deliveryFrom 95112
---
More options
Most relevant reviews
by

Alvin and the Chipmunks: The Squeakquel (DVD, 2010, 2-Disc Set)

Alvin, Simon and Theodore end up in the care of Dave Seville's twenty-something nephew Toby. The boys must put aside music super stardom to return to school, and are tasked with saving the school's music program by winning the $25,000 prize in a battle of the bands. But the Chipmunks unexpectedly meet their match in three singing chipmunks known as The Chipettes. Though the Chipmunks are confident they have the songwriting skills to steamroll the competition, a newly formed singing trio dubbed the Chippettes promises to give them some stiff competition on-stage. Brittany, Eleanor, and Jeanette are indeed the real deal, and the closer the competition gets, the more Alvin, Simon, and Theodore realize that in order to win, they'll have to give it everything they've got. This is a great movie. If you liked the first one you will like this one. Your kids will love it and thats what the movie is for.Read full review

by

The Chipmunks strike again:)

I thought this movie was really cute so I purchased it for my son who loves the chipmunks. I love that it is a 2 disc set because the second dvd is a sing and dance along, which is super entertaining. I would recommend this fun loving movie to anyone who loves the little chipmunks.

by

Alvin and the Chipmunks: The Squeakquel DVD, 2 Disc

This was a gift for my 5 year old granddaughter who asked for The Squekquel for Christmas. She dearly love the movie. She has watched this at least five times since she got this movie. It is one of her favorite movie. She likes the "Alvin & the Chipmunks", but the Squeakquel is her Favorite. I don't think I could have beaten the price anywhere else. Thanks EBay!