Alpha Mission (Nintendo Entertainment System, 1987)
---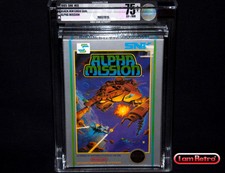 Top Selling in Video Games
Great Prices on Video Games
About this product
Product Information
Product Information

Thrilling and untamed, Alpha Mission is a solid pick for people who know their way around a gun. Seasoned gamers and pleasure seekers will be attracted to the features, design, and possibilities of Alpha Mission. Distinguished by increased fun and enhanced gaming, this Nintendo video game is ready to please. As this Nintendo video game includes innovative and vibrant visuals, you can delight in how the gamescape, imagery, and background unify to provide an immersive gaming experience. This action game is a superb accompaniment to your Nintendo platform, allowing you to return to it with pleasure as a welcome addition to your game collection. Alpha Mission is designed for one player, which allows you to experience it alone whenever you wish. This Nintendo video game features intense and weaponized gameplay enabling you to blast through your enemies and fire your weapon just to survive. You can take your best shots for as long you want as this action game supports gamepad and joystick-based game controls.
Product Identifiers
Publisher

SNK Corporation of America

Game

Alpha Mission

MPN

018484145001

UPC

018484145001
Key Features
Platform

Nintendo Entertainment System

Genre

Shooter

Location

USA
Tech Details
Control Elements

Gamepad/Joystick

Number of Players

1

Release Year

1987
Most relevant reviews
by

Alpha mission

Still a good game. I like the older games just rsminds me of a time when my life was a lot less busey when i had time to play.