Alive II [Remaster] by Kiss (CD, Aug-1997, 2 Discs, Casablanca)
---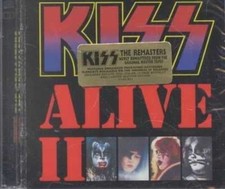 $16.48Free shipping
Est. Feb. 19 - Mar. 3 deliveryFrom North Carolina
About this product
Album Features
UPC:
731453238220
Artist:
KISS
Format:
CD
Release Year:
1997
Record Label:
Casablanca
Genre:
Hard Rock, Rock & Pop
Number Of Discs:
2
Track Listing
DISC 1:
1. Detroit Rock City
2. King of the Night Time World
3. Ladies Room
4. Makin' Love
5. Love Gun
6. Calling Dr. Love
7. Christine Sixteen
8. Shock Me
9. Hard Luck Woman
10. Tomorrow and Tonight
DISC 2:
1. I Stole Your Love
2. Beth
3. God of Thunder
4. I Want You
5. Shout It Out Loud
6. All-American Man - (studio)
7. Rockin' in the USA - (studio)
8. Larger Than Life - (studio)
9. Rocket Ride - (studio)
10. Any Way You Want It - (studio)
Details
Playing Time:
71 min.
Producer:
Gene Simmons, KISS, Ace Frehley, Paul Stanley, Eddie Kramer, Peter Criss
Distributor:
Universal Distribution
Recording Type:
Live
Recording Mode:
Stereo
SPAR Code:
n/a
Album Notes
Disc 2 of ALIVE II includes five studio tracks.Kiss: Paul Stanley, Ace Frehley (vocals, guitar); Gene Simmons (vocals, bass); Peter Criss (vocals, drums). Recorded live at the L.A. Forum, Los Angeles, California. Includes liner notes by Robert V. Conte.Digitally remastered by Joseph Palmaccio at Sterling Sound, New York, New York.Personnel: Ace Frehley (vocals).Audio Remasterer: Joseph M. Palmaccio.Liner Note Author: Robert V. Conte.Recording information: L.A. Forum (08/1977-09/1977).Photographers: Chip Rock; Richard Arens; Robert Markelitz; Len De Lessio; Raeanne Rubenstein; Neal Preston; Bob Gruen; Julius Baum; Andrew Kent; Fin Costello; Barry Levine.1975's aptly titled ALIVE! was a breakthrough album for Kiss--finally capturing on tape the indescribable frenzy surrounding the band's legendary live shows. The band reacted to their subsequent world domination by cranking the shows to previously unimagined levels of theatrics and sheer volume. The album's sequel, ALIVE II, captures one of the most bombastic displays in rock's history--every ounce of Kiss' blood-spitting, fire-breathing energy is here.After this thunderous document's historic introduction ("You wanted the best, you got the best!"), the band launches straight into "Detroit Rock City," just one of the many classics whose dramatic power is multiplied in this setting. "Love Gun" takes on even more swagger than its studio version, and Ace Frehley's "Shock Me" is perhaps his definitive performance. "Beth" is delivered by Peter Criss atop an almost terrifying backdrop of teenage screams. In between spitting blood and fire, Simmons contributes the lascivious "Calling Dr. Love" and the prehistoric stomp of "God of Thunder." The requisite anthem "Shout It Out Loud" is here too, along with a quintet of studio cuts, rounding out one of hard rock's most important statements.