Agata and the Storm (DVD, 2005)
---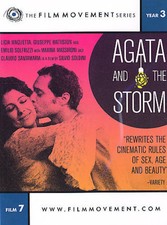 $23.29Free shipping
Est. Aug. 3 - Aug. 16 deliveryFrom Illinois
Top Selling in DVDs & Blu-ray Discs
Great Prices on DVDs & Blu-ray Discs
Most relevant reviews
by

I liked it. Felt like being in Italy for the afternoon. Quirky romance

A quirky Italian family saga, romance, life changing slice of life. Agata owns a book shop, she has too much on her plate to deal with including her estranged brother who finds out he's actually adopted, and returns to his birth family. It has the depth of a wonderful novel, and just an enjoyable Saturday afternoon film set in Italy. Yum.

I liked it. A bit like an Italian version of Amalie. Charming.

I was surprised at how good a film it was, it's excellent entertainment.

Blessings, Max Rainet.

**If you found this information at all helpful, please take a moment to select the "yes" button below. The more people that select the "yes" button, the better the chance this REVIEW is seen by more eBay members.