Activision Classics (Sony PlayStation 1, 1998)
---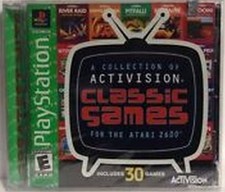 $11.95Free shipping
Est. Feb. 10 - Feb. 16 deliveryFrom Boca Raton, Florida
About this product
Product Information
Activision Classics takes 30 of the more popular Atari 2600 games and puts them onto one PlayStation CD. Atari 2600 was one of the first major console systems available to the mainstream market. Coming out in the early '80s, it set a new standard for modern day gaming.

There are several types of games included on this disc. For instance, in Kaboom!, you will need to stop a mad bomber by moving a little line across the screen to catch his bombs, trying not to let any bombs get past you or the game is over. Keystone Kapers is a side-scrolling action game where you are a cop trying to stop bank robbers by chasing them through various buildings until you catch them and collect the stolen cash.

Perhaps the most classic game on the Atari 2600 is Pitfall!, one of the first and most influential platform games to ever to be released. Swing from vines, jump on alligator heads, and avoid quicksand and tar pits while trying to collect jewels and other prizes.

PlayStation emulates the Atari 2600 and shows the graphics in their original form. Activision Classics is for anyone who wants to take a trip down memory lane or see what inspired how videogames would be played forever.


Product Highlights
Video


Product Identifiers
Publisher
Activision
Game
Activision Classics
MPN
047875103818
UPC
047875103818


Key Features
Platform
Sony PlayStation 1


Tech Details
ESRB Descriptor
Mild Animated Violence
Control Elements
Gamepad/Joystick
Number of Players
1-2
Release Year
1998
Game Special Features
Play 30 classic Atari 2600 games


Drive all night in Enduro, avoid gators in Pitfall!, and stop the Mad Bomber in Kaboom!