ASUS RT-N65U 750 Mbps 4-Port Gigabit Wireless N Router
---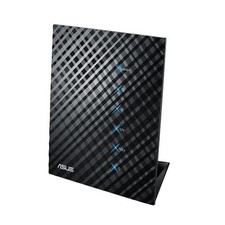 $145.92+ $3.88 Shipping
Est. Feb. 19 - Feb. 26 deliveryFrom United States
About this product
Product Information
Coming with a dual SoC architecture (2.4GHz and 5GHz), this wireless gigabit router provides up to 750Mbps data transmission speed to ensure you of a seamless workflow of connectivity. The ASUS RT-N65U Dual-Band Wireless-N750 Gigabit Router is built with Twin SuperSpeed USB 3.0 ports so you can share files and connect to devices FTP, SAMBA, UPnP AV servers, and DLNA configurations easily. Downloading and playing multimedia files stored on router-attached USB storages can easily be achieved when you utilize its Download Master and DLNA server compatibility. This wireless gigabit router not only promotes optimal wireless connection but also wired connection as it comes equipped with a built-in Gigabit Ethernet. Furthermore, you can setup, monitor, and control your network applications without any hassle thanks to its ASUSWRT Dashboard UI design. For optimum wireless network access, choose only the reliable ASUS RT-N65U Dual-Band Wireless-N750 Gigabit Router.


Product Highlights
Video


Product Identifiers
Brand
ASUS
Model
RT-N65U
UPC
4716659149514, 886227149469


Key Features
Wireless Technology
Wireless N
Wireless Speed
750 Mbps
Port Speed
Gigabit
Connectivity
Wired & Wireless
Port Qty
4-port
Antenna Type
Internal / Integrated Antenna x 3


Interfaces
Networking Interfaces
Wired-Ethernet (RJ-45), Wireless-Wi-Fi 802.11a, Wireless-Wi-Fi 802.11b, Wireless-Wi-Fi 802.11g, Wireless-Wi-Fi 802.11n


Protocols
Remote Management Protocols
UPnP


Firewall / VPN
Firewall Features
NAT
VPN Encryption
WPA-PSK


Wireless
Security
WEP, WEP 128-bit, WPA - PSK, WPA2-PSK


Networking
Networking Interfaces
Wired-Ethernet (RJ-45), Wireless-Wi-Fi 802.11a, Wireless-Wi-Fi 802.11b, Wireless-Wi-Fi 802.11g, Wireless-Wi-Fi 802.11n


Other Features
Additional Features
UPnP Certified


Most relevant reviews
by

Great amazing if you want to connect alot of devices

I updated firmware right out of the box...This is refurbished version from newegg. I did good deal of research on these, and seeing as wireless ac isn't quite ready...I decided to go for this. The range is much better than a airport extreme 2nd gen that I had from 2007. 2.4 GHZ has amazing range (twice) what my airport had. There is an enormous jump in connection speed through wifi, when I tested I got about 130mbps which was great compared to the 40mbps I got from my old airport. I use all cat6 and bonjour works as well out of the box. No hiccups with any mac/apple gear, and also I have a has in my basement that works no problem. I use powerline networking, also no issues with it. A noticable jump in web browsing and day to day activity. xbox 360 works, Ps3 works, HDhomerun works. If you are a household that has alot of wifi/wired electronics this will work great for you.Read full review

by

Looks good on paper but designed with the flaw of unshielded USB 3.0 ports.

If you are buying this router with the intention of using the USB 3.0 ports, I suggest you avoid the RT-N65U. The USB 3.0 ports create interference on the 2.4GHz band and it basically kills the 2.4GHz wifi. It's a hardware issue so firmware updates won't fix it. If you are cool enough that all of your gear runs on 5Ghz then don't worry about it. If you are looking for a cost effective dual band router with USB 2.0 support for network storage, FTP, and printing, I strongly suggest the RT-N56U.

by

Terrible WIFI - does not work

Unfortunately I bought this item without researching first the reviews about the product.
I wanted to upgrade my networking, but the result is that the WIFI is very poor. Starts working fine and suddenly stops working or becomes very slow without a reason. I tried many suggestions and spent many hours trying to fix it, with no result.
Now I am back to my old Linksys, that works fine.