A Time to Kill (Blu-ray Disc, 2009)
---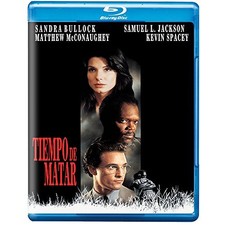 $7.66Free shipping
Est. Jul. 29 - Aug. 3 deliveryFrom United States
Top Selling in DVDs & Blu-ray Discs
Great Prices on DVDs & Blu-ray Discs
Most relevant reviews
by

To KILL for!

This movie has it all - outstanding cast, amazing chemistry between the stars, ample amounts of classic Southern racism and racial hatred, a story well told and filmed, and an ending that is pure GENIUS! This movie is NOT to be MISSED!

Verified purchase: Yes | Condition: New

by

A Time To Kill

We are a movie loving family. We have more DVD's & Blu-rays than I care to admit to because we love movies so much. Like other people my 4 kids, husband and I have a scale of 1-10 to rate movies we see or have seen. But we also have 1 extra rating. We call it the "Family Movies". Those are the movies that usually rate 8 or higher with all 6 of us, and when we're channel surfing and one of them is on we stop and watch it, no matter what part of the movie we've caught it at. This is one of the movies on our "Family Movies" list. We can watch it over and over again and always enjoy it. it not a 10 on every member of our family's list, but we all enjoy it. In fact we like it so much we now have 2 copies of it, the regular DVD and the Blu-ray. It's a definite "Must See"!

by

A Time to Kill (Blu-ray Disc, 2009)

This movie is based on the novel by John Grisham and shows the struggle between those who view the law and between those who take law into their own hands. The story centers around the rape and hanging of a little black girl by some white rednecks. It also shows the struggle between blacks vs whites in the South, although there were some blacks and whites that did favor each opposing view. The actors and actresses did a fine performance for their characters and the movie has enough tension and suspense to keep you watching till the end. The movie also questions how you would handle the situation if you were to be put in that situation and if you'd be willing to make certain sacrifices.