A Nightmare on Elm Street (Blu-ray Disc, 2010, With Movie Money)
---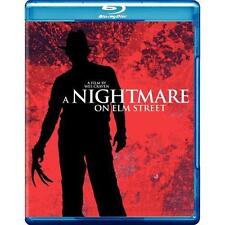 $5.00+ $3.25 Shipping
Est. May. 10 - May. 23 deliveryFrom Auburn, Washington
About this product
Additional Details
Genre:

Horror/Suspense

Format:

Blu-ray Disc

Display Format:

With Movie Money
Most relevant reviews
by

"Great Blu-Ray Of Horror Classic!"

Robert Englund, Heather Langenkamp and John Saxon
star in Wes Craven's 1984 horror film. A girl and her
friends are haunted by a burned killer in their dreams.
This is definitely one of my favorite horror films,
Robert is terrific as Freddy Krueger and who can
forget Charles Bernstein's classic score. I owned
the infinifilm dvd, but decided to get this along
with my new blu-ray player. It has better picture
and sound plus all the neat extras from that. Also,
the mono soundtrack has the music effects/sounds
restored that were missing from the infinifilm dvd.
I highly recommend this great blu-ray for your
collection.

by

Great seller to buy from!!

Great movie all around. Best color and sound!!! It's like it was brand new out of the movie theater. Exspecially if you have a 5.1 surround sound system like mine. Well worth it!

by

FREDDY'S BACK!!!

FREDDY IS STILL UP TO HIS SAME BUT NEW TRICKS!! I DIDN'T GET A CHANCE TO SEE THIS MOVIE BUT HEARD IT WAS REALLY GOOD. I ALWAYS LIKED FREDDY'S MOVIES AND CAN'T WAIT TO SEE THIS ONE!!