3 Original Classics In 1: The Adventures of Tintin : The Crab with the Golden Claws - The Shooting Star - The Secret of the Unicorn Vol. 3 by Hergé (1994, Hardcover)
---

$16.47Free shipping
Est. Aug. 1 - Aug. 9 deliveryFrom Fairfield, Ohio
---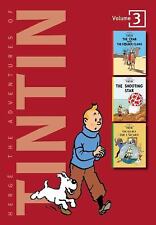 $16.72 Buy It Now
Free shipping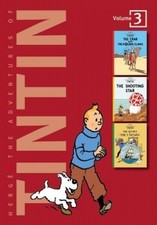 $22.52 Buy It Now
Free shipping
Great Prices on Children & Young Adults
About this product
Synopsis
Synopsis

Same great Tintin volumes, same 3-in-1 format, with a classy new look! Join traveling reporter Tintin and his faithful dog Snowy, along with well-known friends such as Captain Haddock, as they embark on extraordinary adventures spanning historical and political events, fantasy and science-fiction adventures and thrilling mysteries. These full-color graphic novels broke new ground when they were first released and became the inspiration for countless modern-day comic artists. This repackaged hardcover volume contains 3 classic Tintin stories, including:The Crab with the Golden Claws,The Shooting Star, andThe Secret of The Unicorn.,Three classic graphic novels in one deluxe hardcover edition: "The Crab with the Golden Claws," "The Shooting Star," and T"he Secret of the Unicorn.",Tintin, a young reporter, and his dog Snowy journey around the world, and even to the Moon, seeking adventure and solving mysteries.,Whether he's trolling the high seas for treasure or blasting off for the moon, young reporter-sleuth Tintin and his faithful dog, Snowy, have delighted readers everywhere for generations with their timeless adventures. Join Tintin and Snowy as they tackle the toughest mysteries around the world in The Castafiore Emerald, Flight 714, and Tintin and the Picaros.,Young reporter-sleuth Tintin and his faithful dog, Snowy, have delighted readers everywhere for generations. This volume includes "The Calculus Affair, The Red Sea Sharks, " and "Tintin in Tibet."
Product Identifiers
ISBN-10

0316359440

ISBN-13

9780316359443
Key Details
Author

Hergé

Number Of Pages

192 pages

Series

3 Original Classics In 1

Format

Hardcover

Publication Date

1994-05-02

Language

English

Publisher

Little, Brown Books for Young Readers
Additional Details
Series Volume Number

Vol. 3

Illustrated

Yes
Dimensions
Weight

16.4 Oz

Height

0.6 In.

Width

6.2 In.

Length

8.8 In.
Target Audience
Group

Juvenile Audience

Grade From

3

Grade To

College Graduate Student

Age Range

8 - UP
Classification Method
LCCN

93-080119

Dewey Decimal

741.5/9493

Dewey Edition

20
Most relevant reviews
by

My grandson really likes the book!

I bought this as a Christmas gift for my grandson because we saw the movie and he really enjoyed it. He loves the book and and can't hardly put it down.