20th Century Masters: The Millennium Collection: [PA] by Marvin Sease (CD, 2003, Universal Distribution)
---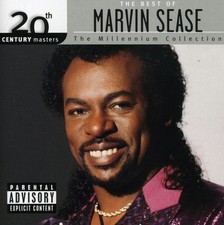 $5.89Free shipping
Est. Feb. 16 - Feb. 23 deliveryFrom Sheperdsville, Kentucky
About this product
Album Features
UPC:
044006798226
Artist:
Marvin Sease
Format:
CD
Release Year:
2003
Record Label:
Universal Distribution
Genre:
Funk, R&B
Track Listing
1. Candy Licker
2. Double Crosser
3. Ghetto Man
4. Love Is a Game
5. I Ate You for My Breakfast
6. Tell Me Why
7. Motel Lover
8. It's All Over
9. Stuck in the Middle
10. Take Me Back
11. Tonight
12. Funky Christmas
Details
Playing Time:
70 min.
Producer:
Marvin Sease, Harry Weinger (Compilation)
Distributor:
Fontana Distribution
Recording Type:
Studio
Recording Mode:
Stereo
SPAR Code:
n/a
Album Notes
Includes liner notes by Marvin Sease.Liner Note Author: Marvin Sease.Photographers: Adrian Buckmaster; Jeffrey Krein.Arranger: Marvin Sease.20th Century Masters -- The Millennium Collection: The Best of Marvin Sease gathers the majority of the hit tunes of the funky, risqu' singer. Among the 12 tracks are Sease's racy underground singles from the '80s, including "Candy Licker," "Ghetto Man," and "I Ate You for My Breakfast." This is an excellent choice for listeners who simply want the basics. ~ Al Campbell
Most relevant reviews
by

The late great MARVIN CEASE!

Love this Marvin Cease cd. It has one of his biggest hits "Candy Licker" If you enjoy the sound of good down home blues than this is the Cd for your collection! I has most of his greatest hits! I played it today from start to finish! A must have for your collection!

by

Very Satisfied

Some of Marvins most played songs in one CD!! There were acoupe songs that I wish made the album, but overall I'm very satisfied with my purchase!!