200 Stitch Patterns for Baby Blankets : Knitted and Crocheted Designs, Blocks, and Trims for Crib Covers, Shawls, and Afghans by Jan Eaton (2006, Paperback)
---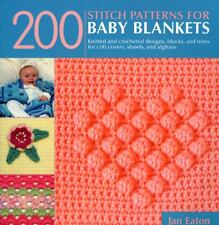 $11.53Free shipping
Est. Jul. 29 - Aug. 5 deliveryFrom 40511
About this product
Synopsis
Synopsis

Baby any baby! It's easy with the hundreds of ideas in this huge collection. Beloved traditional stitches are here, along with lots of new designs to mix and match. Beginners and more advanced knitters and crocheters will be delighted with the color photos and clear directions for bobbles, cables, and many other stitches. It's a baby bonanza!
Product Identifiers
ISBN-10

1571203850

ISBN-13

9781571203854
Key Details
Author

Jan Eaton

Number Of Pages

128 pages

Format

Paperback

Publication Date

2006-10-01

Language

English

Publisher

C & T Publishing
Additional Details
Copyright Date

2006

Illustrated

Yes
Dimensions
Weight

14.9 Oz

Height

0.4 In.

Width

8.8 In.

Length

8.9 In.
Classification Method
LCCN

2007-271348

LC Classification Number

TT820.E2527 2006
Most relevant reviews
by

Lots of patterns all in one book!

A very nice book with easy patterns & good directions. Lots of pretty edgings that could be used on baby afghans. Many of the patterns could also be used for dishcloths. It is very basic & I feel like I will use many of the patterns that are in this book. With 200 stitch patterns in one book I think this is a real bargain & I am very happy with my purchase.

by

The patterns I have worked are very clear and easy to read.

This is a great pattern book with some really unique ideas. I like that it has patterns for both knitting and crocheting. The title indicates it is only for baby blankets but many of the patterns can be adapted for other uses. Happy I purchased it.

by

200 stitch

In one small book, there are many patterns for knitting and crochet, variable types and levels of experience. The only aphgan book you would need.