101-in-1 Sports Party Megamix (Nintendo Wii, 2011)
---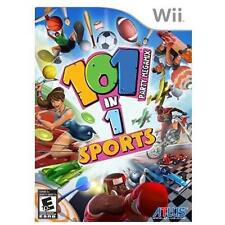 $27.33+ $5.70 Shipping
Est. Aug. 3 - Aug. 10 deliveryFrom Montreal, QC
---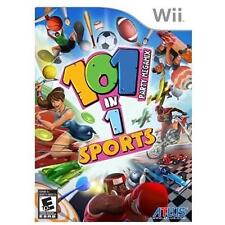 $139.45 Buy It Now
Free shipping
About this product
Product Information
Product Information

An eclectic mix of traditional sports and fantasy challenges are included this continuation of Atlus' budget friendly 101-in-1 series. Among the athletic events you'll participate in, alone or with up to three friends, are boxing, soccer, baseball, football, tennis, and hockey. None of the activities are complete versions of the sports, with the developer opting to distill the action down to a slapshot or goal kick, for example. More offbeat sports titles include psychic bowling, sumo suit showdown, daring darts, and fancy fencing. As you progress through the game, you'll unlock additional sports-themed mini-games.
Product Identifiers
Publisher

Altus

Game

101-in-1 Sports Party Megamix

MPN

730865700103

UPC

730865700103
Key Features
Platform

Nintendo Wii

ESRB Rating

E10+ - Everyone 10+

Genre

Sports

Location

USA
Tech Details
ESRB Descriptor

Mild Cartoon Violence

Control Elements

Gamepad/Joystick

Number of Players

1-4

Release Year

2011

Game Special Features

Features versions of football, baseball, hockey, soccer, and more


Supports up to four players


Complete activities to unlock new sports-themed challenges


Most relevant reviews
by

Frustrating

It was sad to find out that you must beat the first 10 games to unlock other games. You can Not play the 101 games until they are unlocked.

by

not what i expected you have to play forever locked up!

thought i could play whatever i want you have to play dumb things to get to play the games you want each level is locked up screw that! bad product description, never do biz again!