Zach Ness, grandson to Arlen Ness, continues legacy of building custom motorcycles.
The Ness family has been building custom motorcycles since the early 1970's, when Arlen Ness came up with his first creations in his home garage. Arlen has received numerous awards and honors for his work, and was inducted into the Motorcycle Hall of Fame in 1992.
Arlen is still at the company, located in Dublin, CA, working with his son Cory, and grandson Zach. Both are highly talented bike builders – with Zach winning awards for his builds while still in high school.
Until recently, the Ness tradition was to build custom cruisers from Harley Davidson and Victory motorcycles. Recently, in part to do with the National Geographic Channel's tv show "Let It Ride", Zach has branched out of the company tradition by building other custom bikes including a cafe racer, a stunt bike, Ducati Hypermotard, and the company's first sportbike, a 2005 Yamaha R1.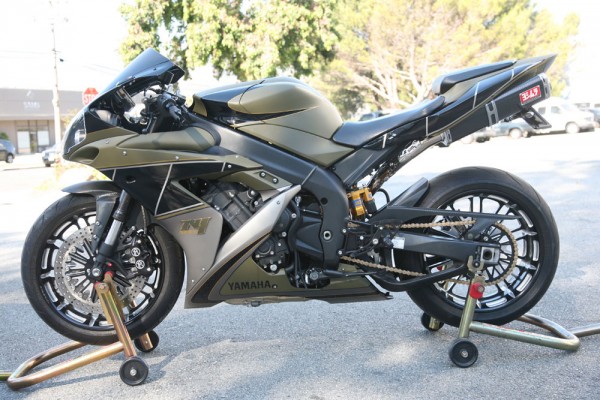 Zach's decision to pick the Yamaha R1 was a smart choice. Yamaha has been leading superbike racing for many years with it's top 1000cc class sportbike, the YZF-R1. Being designed at the racetrack, the R1 is already a phenomenal bike in stock form – but add the Ness touch and attention to detail, and you've got a real stunner.
At first glance it becomes obvious the time and dedication Zach took to make this bike his debut sportbike. He allowed his passion and experience building custom cruisers to be put into this R1. In fact, he renamed it the N1, or Ness 1.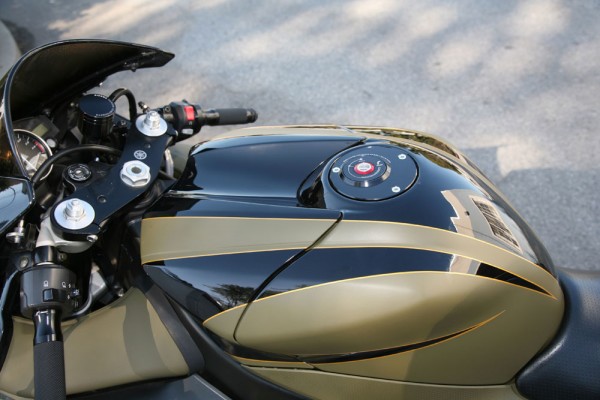 When approaching the bike the first thing you notice is the paint.
The custom paint job with the matte green, gloss black and silver and the yellow pinstriping make this bike one in a million. Nowhere else will you find a sportbike such as this.
As you take a look deeper, the smaller details start to stand out; the Rizoma brake reservoir and hand grips, the Vortex rearsets and perforated leather seat.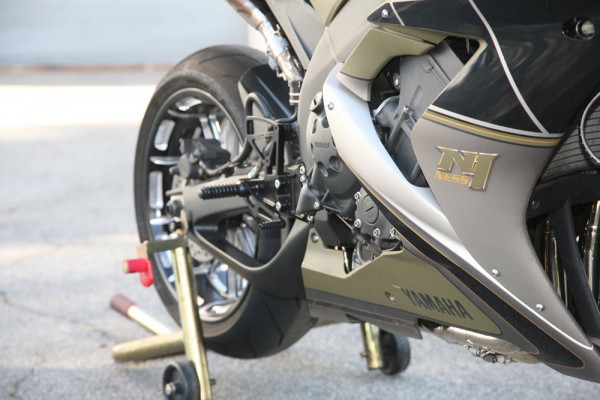 And then all of a sudden you see the wheels and your breath is taken away. Roland Sands wheels and brake rotors on front and rear with Performance Machine radial calipers. These were made in heaven, or at least close to.
But… sportbikes aren't just about the looks- performance at the track is where these motorcycles shine. It's the love you can't see that makes this sportbike over the top. It's the Power Commander V Tuner and full Yoshimura Exhaust System with the K&N air filter that make this R1 sing. The Pirelli Diablo Corsa III tires and fully adjustable Ohlins Rear TTX shock assist in creating a harmony of suspension that makes the corners effortless.
The whole package; from paint to wheels to exhaust to the Zach Ness autograph signed in silver create a package seen nowhere else in the world.
We invite you to check out the auction listing — which has links to photo galleries and video.