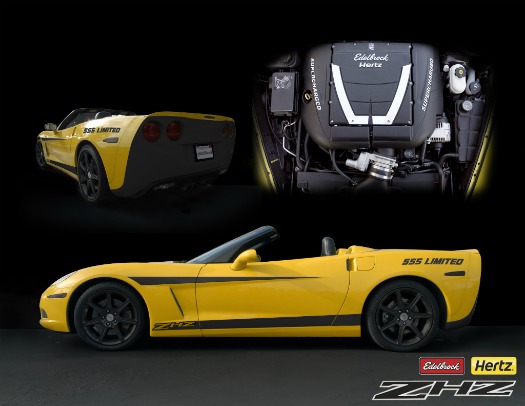 Hertz has been known for years for its willingness to bring real honest-to-goodness performance cars into its fleet so those of us who love cars get a chance to drive cars we might not otherwise be able to afford. It started back about 35 years ago when Hertz brought aboard a fleet of specially-constructed Shelby Mustangs, badged the GT350-H.
In 2008 General Motors, in concert with Hertz, created the Corvette ZHZ for Hertz's Fun Collection. The companies selected a six-speed paddle shift transmission, and the dual mode exhaust increased the power output of the LS3 6.2L V8 aluminum-block engine to 436 horsepower. Other changes from base included Magnetic Selective Ride Control with Tour or Sport Mode and larger brakes with cross-drilled brake rotors round out the mechanical package.
Each of the 500 Corvette ZHZs produced were finished in Hertz' iconic yellow with an exclusive center exterior black stripe.
As hard as it might be to believe, collectors and Corvette enthusiasts didn't scoop up these cars when they finished their duty cycle with the car rental giant. So in a surprising move, Hertz has decided to create a special edition of the special edition Corvette ZHZ. Dubbed the Hertz Edelbrock 555 edition, the biggest change has been the addition of an Edelbrock-installed 1590 E-Force supercharger, boosting power to 555 HP and 515 lbs. ft. of torque.
If the one and only (so far) Hertz Edelbrock Corvette ZHZ sounds like something you'd like to add to your garage, click here to view the auction listing.