A few weeks back, I got a chance to run one of my Datsuns at the Sportscar Vintage Racing Association's event at Auto Club Speedway in Fontana.
The track is a bit different than where I usually drive. The scenery around Fontana isn't quite as easy on the eyes as Laguna Seca or Sonoma, but it's local, which is nice. It's also really big and fast—a bona fide superspeedway that's a banked, D-shaped oval with big grandstands, skyboxes and all that.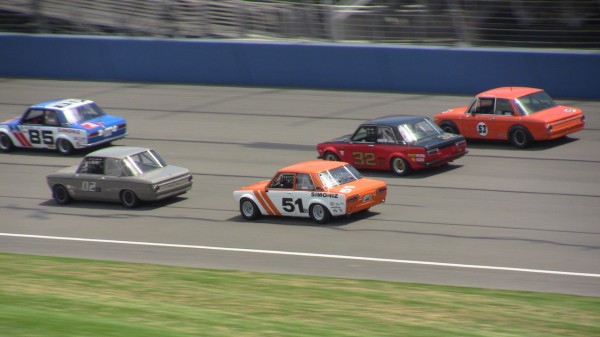 It's best-known as a NASCAR track, but if you're into more than go fast, turn left, they have a configuration for running sports cars. They cut off about half of the big oval and you weave through a level course laid out on the infield.
I took my Datsun 510. Now, I've run at this track before, just never in this car. Even though that 510 is "ol' reliable," we had recently swapped out the rear diff from a 4.88 to a 4.11 to help me out on Fontana's long straightaway. And we had monkeyed around with the ball joints. The boots were torn and had been oozing grease onto the front rotors, which is only a problem if you like having functional brakes, which I do.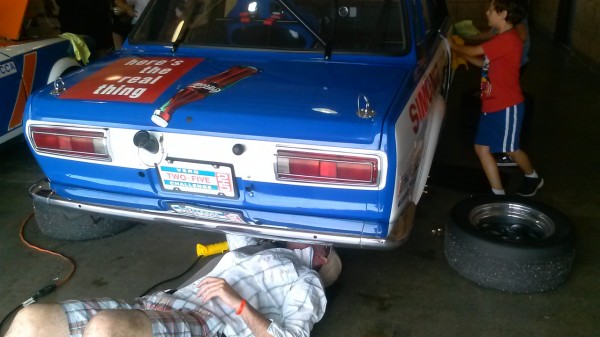 The fact that we had so recently taken so much stuff apart on the front end gave me ants in my pants, just a little. Somehow, taking stuff apart to make sure it was OK made me more nervous than when it was left alone, but set up wrong. When the green flag drops, these other B Sedan guys were going to be on at full speed and I just had to have faith that everything had been put back together right.
And of course, I hadn't shown up for the practice run. My official position is that practice is just another 25 minutes where something can break or someone can wreck. I think that's a fair assessment. But truth be told, I don't feel like waking up at the crack of dawn to drag myself out to the middle of the desert, either.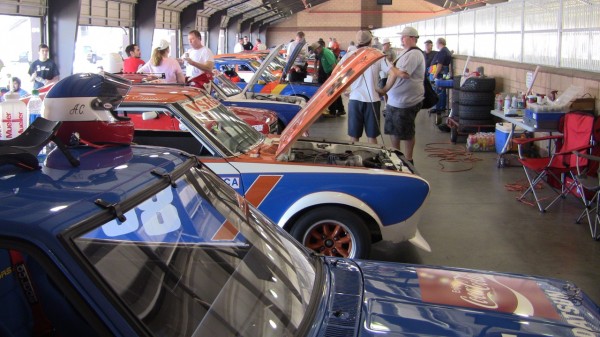 I started 28th in qualifying and made it up to 10th for the race. I finished in 6th place against some really good cars and drivers. One driver in particular was a real nice guy named Troy Tinsley who was driving his 510 wagon like he was late for dinner. The car's set up really well and he's a great driver. (He's #2 in the Two-Five West points standings.) But I was still glad to finally get past him when his transmission started overheating. Getting beaten by a wagon is a tough pill to swallow, no matter how good the car and driver are.
It's a fast track and it was fun to get the throttle wide open on the bank. The hairiest part was where you head into the road course. After howling down the bank, you come right into a 90 degree, left-hand turn. It takes a downshift nearly into first gear and the cars get bunched up pretty quickly. Watch the embedded video below and you'll see how close our bumpers get in lap #2.
In-car racing footage:
I'm proud to say that nothing broke and I didn't trade paint or kiss bumpers with anybody. The 510 I drove is a really cool piece that is a genuine part of racing history. This is the BRE Datsun 510 that stock car legend Bobby Allison drove in 1972. It's had a beautiful restoration done to it and is nearly pristine. Only a couple of 510s exist that are worth a decent chunk of change, and this is one of them. The sister car to this 510 is in a museum. It's not being wrenched on and then doing 125 mph.
There are lots of other B Sedan and Trans-Am guys out there driving beaters in these races. Now, one of my favorite things about vintage racing (especially with this group) is that it's a totally affordable class to run in, so I'm not busting on these guys. They're good guys and good drivers. I'm just saying I genuinely love this car, yet I haul it up to Laguna Seca and out to Fontana and drive the wheels off it against cars that have a lot less to lose.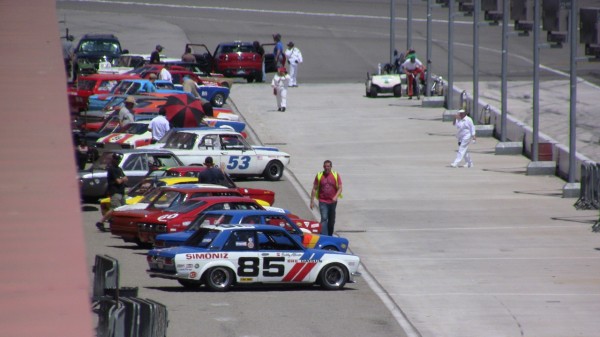 I don't mention any of this to brag or complain. But I do mention it for all of you haters out there that were dog-piling on me about not driving my Miuras. Listen, I really do think it's great that you drive your pampered, rust-free El Camino to work every day. More power to you. But spare me your emoticon warrior outrage. I put plenty of real wear and tear on my vintage race cars. I'm entitled to have some cars that are just art pieces.
---
Hear more from Adam Carolla by subscribing to CarCast on iTunes or visit CarCastShow.com