Joe Clevenger has been a car nut since he was a teenager. But this electrical contractor from Kansas City, Missouri has taken his skills and design to a whole new level. And eBay has always helped out this car guy.
After graduating from a vocational high school, Clevenger was hired at a local Chevrolet dealership, Lester Moore Chevy, to do paint and body work. That lasted for four years until he was accepted into the local electrical union. Later Clevenger formed his own electrical contracting company and parlayed his automobile skills into a hobby and stress reliever.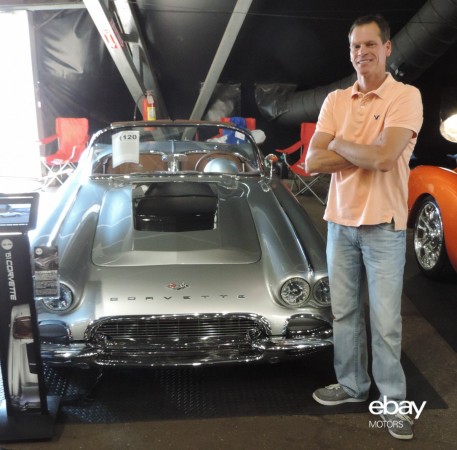 In 2004 after building a 1955 Chevy and getting a lot of local praise, he decided to bring it out to Arizona and see what the bidders in Arizona thought of his work. That started a yearly pilgrimage to Arizona where he brings out one car a year.
In 2013 he brought out a Scooby Doo themed VW bus that he had originally scored on eBay. Last year he brought out a custom orange 1961 Corvette and while selling that vehicle, a passerby offered to sell him another red 1961 Corvette, this one with a 283 engine.
So this year he brought out yet another 1961 Corvette, which he did all the work on except for the interior upholstery and the chassis, which he buys. The blade silver colored Corvette features a new LS3 engine that produces 525 horsepower with a 4L70E 4-speed automatic and a GM Kalahari leather interior. It also has Vintage Air air conditioning, a Dakota Digital dash and a Kenwood sound system. The auction listing is here. Clevenger spent over 150 hours, fitting a new 2014 Corvette hood into the 1961 opening. He figures over 1,000 hours went into this build, which he finished up in November, 2014.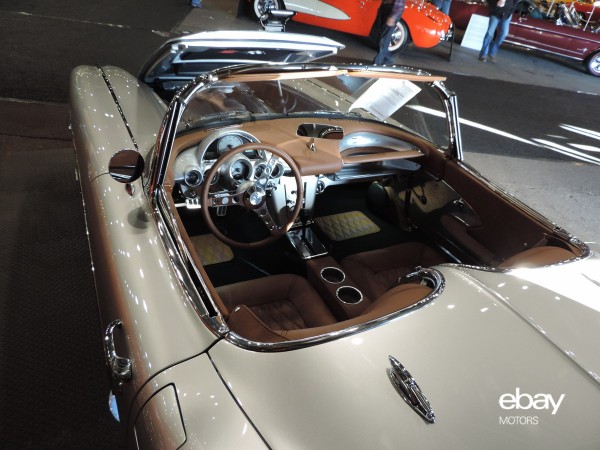 Clevenger stated he likes to resto-mod vehicles and has no interest in doing a strict restoration using old technology. After taking the body off the latest Corvette, he sold the full rolling chassis on eBay. Clevenger noted he spends 3-5 hours a week on eBay scouring for deals. He usually has about 25 items on watch lists and is particularly proud of his selling rating of 319 points.
Clevenger noted that 8-10 people approach him each year at the auctions, asking if he would build them a car but he always declines the offers. He prefers working on his cars with his own designs and inspirations, and doesn't want to answer to anyone else. He figures that the auction crowd will determine whether each year's car was done right and hopes that the bidders appreciate his skills and designs.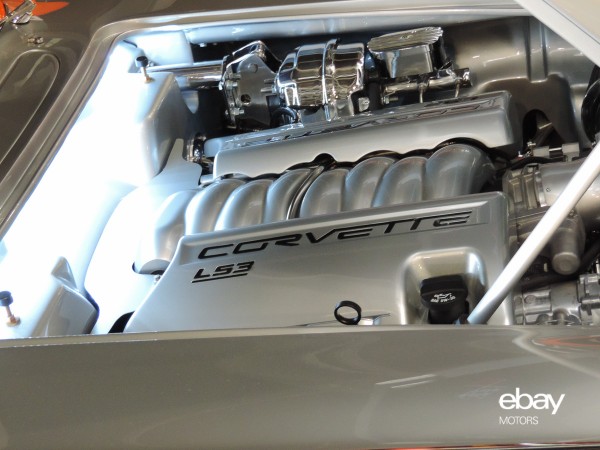 This eBay advocate admits to owing upwards of twenty cars at one time but has pared down his cars to daily drivers plus one '56 Ford school bus that, as typical, he resto-modded.
Clevenger is already making plans for next year's car, another 1961 Corvette, and while in Arizona he bought on eBay another 2014 Corvette hood! Can't wait to see what he brings out next year. Maybe a white exterior with a red interior, just like the original 1953 Corvettes were all clad with?
# # #

Editors note:
The Corvette sold on Friday for $242,000 (after buyer's commission) with spirited bidding from several well heeled bidders. At that point of the auction, it was the highest selling non-charity car for the day.
---
| | |
| --- | --- |
| | From overviews of trends in the automotive industry to penetrating looks at car shows, auctions and classic car trends we offer readers a unique perspective with a mix of irreverence and off the wall humor. Check out other articles at Route66PubCo.com. |