Is your car perfectly capable of getting you from point A to B in totally stock, original form? Sure. But is it as good as it could possibly be as delivered from the factory? Absolutely not!
If you want better handling, better power, better stopping, and better comfort, the aftermarket industry can help. You need to get upgrading, and eBay Motors is your tool. Here's how to start.
The basics are really the same for any car. In this case, let's say you've got a 2005 Mustang GT that's totally stock and you'd like to make it a little more fun as a daily driver. First up: power.
Your Mustang GT makes 300 hp and 320 lb-ft of torque from the factory. That's good, but it can be way better.
Your first step really should be a cold air intake kit. Why? Because airflow equals horsepower, and a cold air intake (or CAI) is an easy and inexpensive way to help your engine breath a little easier. This K&N kit comes with the filter, the tubing, and all the associated hardware to get the job done. It's an easy installation, it'll flow a lot more air than your restrictive factory unit, and the filter is reusable – no more paper elements to replace. Just be sure to get one of these cleaning and oiling kits too. Using regular soap to clean one of these can shrink the rubber. Don't do it!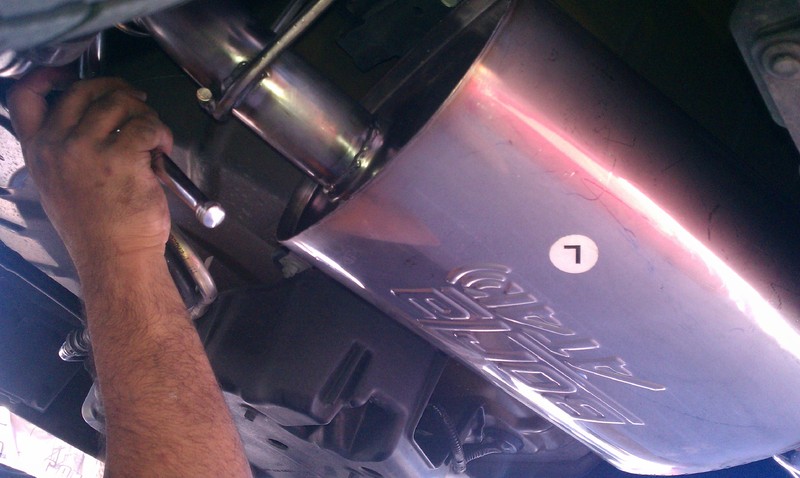 The next step? Get your exhaust to flow as well as your intake. Nothing turns heads like a good V8 rumble, and you just don't get that with factory mufflers or pipes. For our Mustang, I'd go the whole nine yards and dump the factory mufflers, pipes, and manifolds for a complete Borla exhaust system and a set of Borla longtube headers, both of which will last forever and boost the Mustang's horsepower and torque figures significantly. But keep in mind this will require some specialty installation work and a bit of computer tuning to really grab every last horse. You'll also have to reuse your factory catalytic converters and 02 sensors, unless you decide to also get a set of high-flow cats as well.
About that tuning – eBay Motors can help you there, too. Diablosport's new inTune system lets you upload several pre-designed tunes into your Mustang's computer, which will help modify your 4.6L engine's fuel map and timing curves to make the most of the new intake, headers, and free-flowing exhaust system. Custom tunes are also available through Diablosport, and the unit doubles as a trouble code reader. So next time your check engine light comes on because the attendant left your gas cap loose while you were buying a Big Gulp, you'll be able to clear it yourself.
These engine upgrades should give you a noticeable bump in power output approximating 60 horsepower(*), while still giving you a smooth idle, decent mileage, and factory reliability. All that is perfect for a car that gets used year-round and sometimes has to sit in traffic.
Now that your Mustang has a little more power and a lot more sound, it's time to focus on suspension, brakes, and wheels. We'll take a closer look at that later this week.
* Estimates are based upon manufacturer's claims. Your actual gain in horsepower may vary due to the condition of your car and how the upgrades interact with existing upgrades. We recommend dynamometer testing before and after applying a set of modifications to your car to measure the true gains in power.
###
Want to learn more? Continue to "Upgrading Your Car, Part 2"