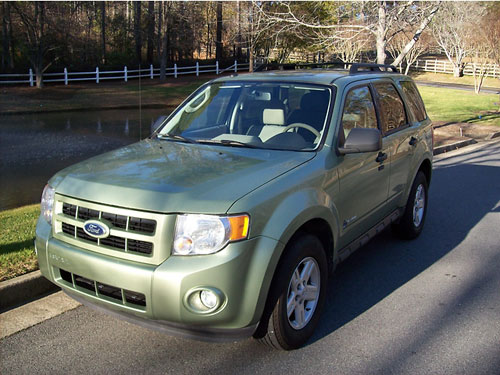 Ford recently revealed the looks of its new 2013 Escape compact sport utility vehicle—the company's first redesign of the model in more than a decade. The dated boxy look will go away, and be replaced by a more modern edgy look. Something else is going away: the 2013 Escape SUV will no longer be offered as a hybrid. That's a shame, because the Escape Hybrid offered the best fuel efficiency—in the most economic package—of any SUV on the market.
The 2012 model provided 34 mpg in the city and 31 on the highway, with an MSRP of about $30,000. When it disappears, the SUV MPG crown will be ceded to the Lexus RX450h, which gets a city/highway combo of 32/28 mpg—while asking buyers to shell out $42,000 for the luxury hybrid. The 2012 Toyota Highlander Hybrid is slightly more affordable at $38,000—but its MPG rating is 28 miles per gallon in both city and highway driving.
Ford executives say the gas-powered Escape's new four-cylinder gasoline direct-injected, turbocharged engine—available in 2.0-liter and 1.6-liter options—will be enough to satisfy fuel-conscience Escape buyers. There aren't official EPA numbers yet. The highway numbers could be in hybrid territory, but city mileage will likely be in the mid-20s at best.
Maybe that's enough to satisfy your inner greenie, but if not—there's a solution. There are almost 20 used Escape Hybrids available for sale on eBay right now. Prices begin as low as $2,500 for 2005 models, and around $18,000 for a 2010 model. Those models might not exactly be collector items yet—but consider this: The Escape Hybrid is a piece of automotive history. It's the first ever gas-electric sports ute, and the first hybrid produced by any American automaker. And soon, it will strictly be a vehicle of the past. But there's no time like the present to see eBay's current inventory of Ford Escape Hybrids.
For more information about hybrid cars, visit eBay's Green Driving Center.