2015 looks to be an exciting year for automotive enthusiasts. But rewind the clock back about 30 years to 1985 and it was a good time as well for those who knew where to look. Kind of like how the used car marketplace is today.
1985 marked the unveiling of the MK1 Toyota MR2, a groundbreaking car in mid-rear engine design. One could argue that the Porsche 914 or Fiat X1/9 had it beat by many years, and while that is true, the Toyota MR2 was one of the first truly reliable mid engine sports cars. It predated the Mazda Miata, another reliable sports car by some 4-5 years. But today the trick is finding a good first generation MR2 that hasn't been beaten, abused, or wrecked, or rusted away into oblivion.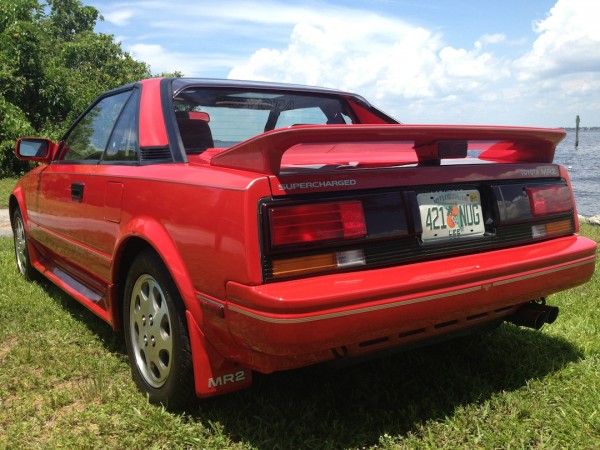 The first generation of the MR2 was produced and exported to the USA for five years from 1985-1989. Its chassis code was AW11 and, among enthusiasts for these vehicles, a few key options and model years are preferred. The 1988-1989 model years are preferred due to their supercharged option and, the 1987-89 models onward are preferred for the open air driving experience given their T-tops. This car is fully loaded with every option available – leather interior, removable T-top, and 4-speed automatic.
That being said, many of the first generation MR2's are becoming more and more special because they are rapidly becoming recognized as classics. Remember that by 2015, a car built in 1985 will soon be 30 years old — meaning early MR2's will soon be regarded as modern classics, if they are not already.
You might ask, "Who collects Japanese cars?" The answer is people who have grown up around the time period the car was released in the late 80's-90's. Probably some of the same people who flocked to theaters in 2001 to watch the Fast and the Furious, or people who want to be as cool as Vin Diesel or Paul Walker in their bright orange "10 second car" 1995 Toyota Supra. Think about the effects of that film franchise on a generation of motor heads who could cheaply afford used Japanese vehicles, like those depicted in those films, and "Hot Rod" them to their liking.
One of less than 2,000 supercharged models imported into the United States in 1988. The MR2 is considered one of the best sports cars due to its race-style mid-engine design, light weight, nimble handling, and affordability. Road and Track magazine called the fast $16,418 supercharged 145 horsepower version of the MR2 one of the world's best sports cars – regardless of price.
With commonly modified cars sometimes original low mileage examples command a premium such is the case with today's 30,000 mile 1988 Toyota MR2 T-bar supercharged model. As the owner said it is one of those cars that should belong in a museum, and from what we can see that statement might just be justified. The car looks to be in as great original condition as we've seen in a long time. Yes 2015 looks to be an exciting model year, just as exciting as the past 30+ years of automotive history.
Bid now on this "baby Ferrari" before the auction closes Dec 15, 2013 04:33:28 (PST)