Some cars at the recent SEMA aftermarket auto show have a patina that looks just a little too perfect. You can tell the difference between those vehicles with staged aging, and real-deal vehicles with age spots, weathered paint, and beautiful imperfections. For example, there is no mistaking the authentic patina on Laid-Back USA's SEMA cars, including its delightful 1947 GMC Cab Over hauler.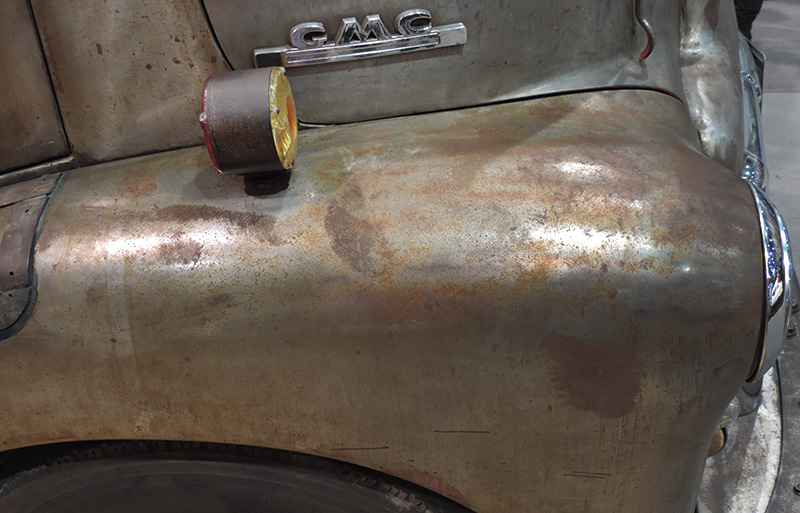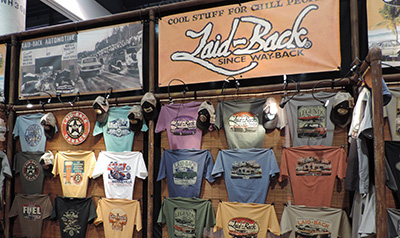 Hondo Miller, the owner of the apparel company, explained that his clothing line always linked classic cars to a laid back lifestyle—perhaps best symbolized by classic Woodies, like his 1949 Ford on the back of his hauler. Miller used his collection of Woodies in his clothing displays but wanted to put it up on a hauler that was as authentic as the car it would carry. When a search in his home state of Idaho came up short, he and his mechanic, Corky Heuring, checked eBay for leads.
Miller and Heuring spent nearly three months looking for exactly the right truck. They turned down numerous trucks that weren't a perfect match. Eventually, in December 2014, he followed a hot lead on eBay to a potential truck in Missoula, Mont. The seller included lots of photographs that fully showed the condition of the truck. The original engine, a straight six 248, had seized up, but the original transmission and rear end were still intact. A deal was made and plans quickly commenced to convert the truck into a hauler.
Heuring stretched the chassis a bit, and used a four-link rear suspension with air bags to allow for easy access to the rear. They took the engine, a Cummins Diesel 59 ( 12-valve turbo diesel) out of a 1997 school bus and added in a Allison 545 transmission with a 3.07 rear end from a Dodge. Heuring also swapped in a front end from a 1978 Chevy one-ton truck, and used three-inch dropped spindles to help with the stance.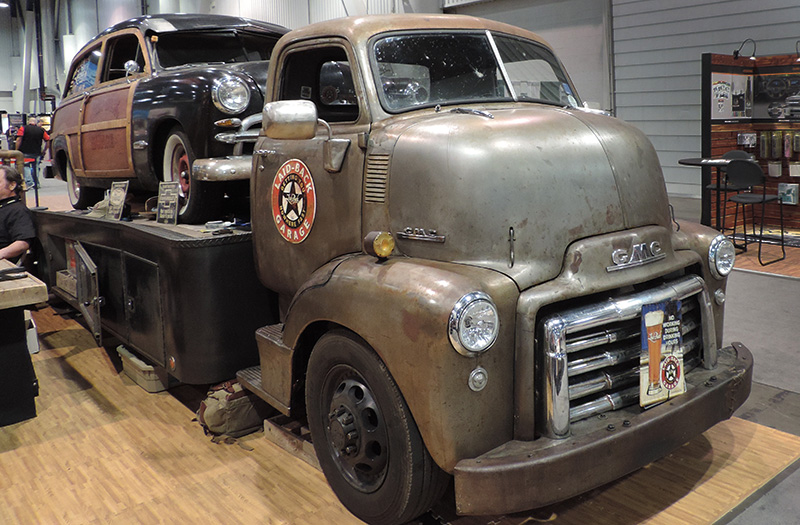 By moving the engine behind the cab, the floorboards became more spacious and roomy for those long days behind the wheel. One of the underbelly cabinets holds a Miller High Life ice cooler that seems appropriate for an owner named Hondo Miller. And his clothing line now features the hauler on one of its shirts.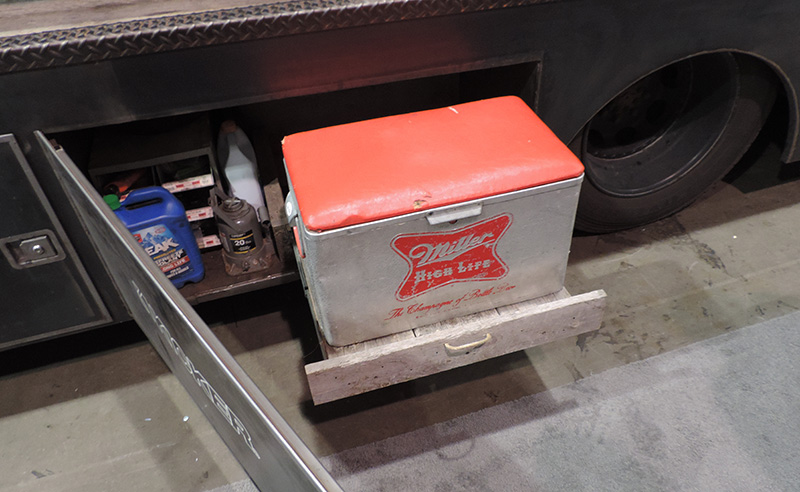 In June the hauler was finished—just in time for June's Hot Rod's Power Tour from Madison, Wisc. to Baton Rouge, La.. The crowds loved the look and admired the style of these duo vintage rides. The authenticity got even more real when the steel panels of the Cab Over gained some surface rust and additional patina while on the tour.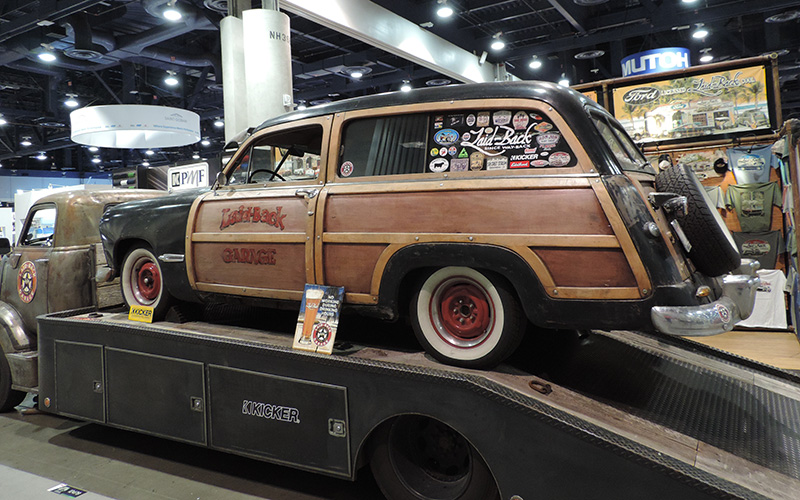 So far, the hauler has added 6,000 miles to the odometer. Miller plans to bring it down to Scottsdale, Ariz. for the January auctions—not to sell it, but strictly for display. If the crowds at SEMA were any indication, there will be lots of admirers in Arizona—and where ever these beautifully aged rides are encountered auto enthusiasts who favor reality over faux.