So the last GRC round in New Hampshire seems so long ago – back in mid-July – and this break has been both long and welcomed. Taking full advantage of the time between GRC rounds, myself and the team have been able to kick back a bit, see family and friends, whilst also preparing the car (and driver) for the charge to the end. Hopefully with a bit of overdue luck we can make it on to the podium in the remaining two rounds.
The OMSE team has been working hard on my eBay Motors Replay XD Best Buy Ford Fiesta fixing the issues we had in NHMS and, as always extracting the extra speed we can from the car's set up. When it comes to racing cars there are no better guys to work with; we all have one goal and that's to WIN!
So what else has been going on?
I spent the first part of my rookie year racing in the highest level of competition I ever have, but also learning a new country. I have been fortunate to see a lot of America and meet some great people along the way. I traveled the whole West coast from doing my training at Dirt Fish Rally School near Seattle down to Los Angeles for the X Games. My girlfriend Jessica and I drove from Los Angeles to New Hampshire in a week crossing right across the country, seeing many fantastic States, and covering a good few thousand miles. Traveling across the U.S. was really cool to see, but I honestly felt it was great to go back to England seeing my family and friends when this mid season break arrived.

Now, in my family you're never allowed to forget where you come from. I used to be a Director of our family waste recycling company where I started at the bottom as an apprentice mechanic many years ago before working my way up the company driving machines and trucks. So when my dad asked what I had planned for the weeks that followed I paused for a second to think. He just smiled and said, "I need a favour." Three weeks later I had finished the drainage on a waste landfill restoration project the company was doing. It was good fun getting back on the CAT D6 bulldozers and 360 Excavators but a long way from the adrenalin rush of driving my eBay Motors Replay XD Best Buy Ford Fiesta, so I looked at trying to get some racing in back here in England.
Now our Fiesta is quite a complex bit of kit and running the cars outside of the events is strictly for development and shake down. So I decided if I could get in anything it had to be close competitive racing where I would be keeping my skills sharp and have some fun. Bring on the Suzuki Swift One-Make Rallycross Championship.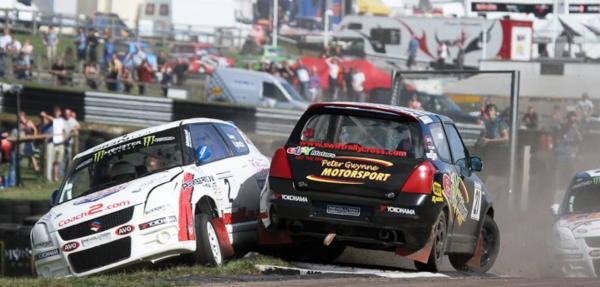 These little Suzuki's are all the same with sealed engines and only moderately tuned ECU's. Everyone has the same dampers, diffs and brakes so it's always close racing. With 20 cars entered in to the weekend race at Lydden Hill in the UK I thought why not give it a go! And so the eBay Motors Suzuki swift was born for this one off event.
To be back racing in the UK was great, being able to meet up and see the fans who supported me in British Rallycross championship and who have been following me online over here in the US in the eBay Motors Ford Fiesta this year.
I went out in qualifying setting some decent times trying to dial myself in to the car. There's not a lot you can change setup-wise, so it's mostly learning entry speeds to keep this relatively low powered car's momentum up through and out of the tight turns onto the straights.
The last time I drove this track was in my 600hp Fiesta so it was quite a change. In heat 1 we were leading for a bit till the joker lap where I came back out in 2nd place on the final lap, one of the other competitors took a final lunge on me in to the last corner, do or die sort of move, and spun me round, but in rubbings racing fashion I just punched the clutch in, straightened the wheels, and let him drag me over the finish line backwards.
Heat 2 started in great fashion I came off the back of the grid two wheels on the grass as the car in front moved over on me so I took the joker on the first lap causing me to be caught up in traffic, I once again drove the car past its limits, forgetting I didn't have the suspension of the ebay Motors Fiesta, bending the strut in the first lap through the chicane trying to get a quick exit on to the straight to pass a car. For the rest of heat 2 I kept it going finishing 5th and only setting 6th fastest time.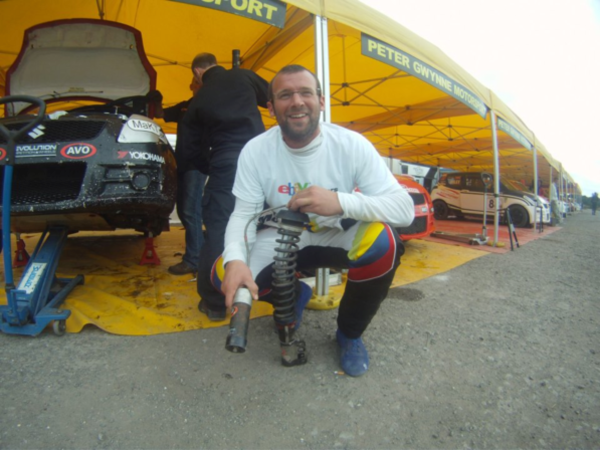 In the final heat I went all out setting 3rd fastest time which joined to my other quickest gave me back row of the grid in the A final.
Off the start I got a great run up the inside in to turn one securing 3rd place, then the car in second took his joker giving me the run in 2nd, I went right up until the last lap (big mistake) before taking my joker. I came out right in the pack of cars on the last few turns, fighting with my fellow Northerner (term for us English that live up the cold end of England) I made a mistake touching his car mid turn spinning him out. This guy is a good friend of mine, Jonny Bean, and is fighting for the championship which he is currently leading and I unfortunately just made it a little harder for him! Sorry Jonny!!.. so all in all I had a great weekend in the eBay motors Swift but can't wait to get back in the real deal of my eBay Motors Fiesta heading to Vegas.
The rest of my break has been spent seeing my friends and family, having lots of fun and getting out as much as possible in the countryside taking in the fresh air and bringing on my fitness. I got a cool mountain bike, which is the latest addition to my garage, a Ghost AMR 5900. I'm going to be hitting the trails on that and once my Replay XD cameras arrive I will be putting up some vids!.
So in this week's lead up to Vegas, I have a shake down test in Lake Elsinore for the eBay Motors Replay XD Best Buy Ford Fiesta to give her a final shake down prior to heading to the track. I will also be doing a behind the scenes in Vegas with Replay XD to be aired on Facebook so watch out for that soon!
Make sure you keep following us on here as well as Twitter and Facebook, along with my fellow eBay Motors team mates Justin Bell, Tony Brakohiapa, Carey Hart and Ryan Beat and hope you can get out supporting one of us racing near you and see our varied eBay Motors rides ripping it up!
Photo credits: Big Thanks to two great photographers Kevin Noon Media and Richard Sams Photography
David