The dream ride is yours, enter to win.
The touring bike of all touring bikes, the BMW K 1600 GTL has been tried, tested and proven beyond worthy by enthusiasts and cycle writers the world over. Labeled the most 'luxurious mega-tourer' on the market, this BMW cycle boasts a 1649cc, inline 6-cylinder engine that produces 158 horsepower and 129 ft-lb of torque. But as we keep telling you, the best part is that all of this power, style and grace, could be yours at the mere click of a button.
Ergonomically friendly for both rider and passenger, the GTL is the luxury upgrade to the K1600GT, featuring somewhat adjusted ergonomics for a more upright riding stance. Passengers can rest back on the comfy wide seat, made with distance in mind and relax onto the chunky footrests. With two riders in mind, the luggage space proves vast. Each of the side panniers will fit an XL helmet with room to spare. Since there are so many luggage compartments, BMW has fitted the GTL with central locking off the key fob so you can lock and unlock them all at once, all with the touch of a button.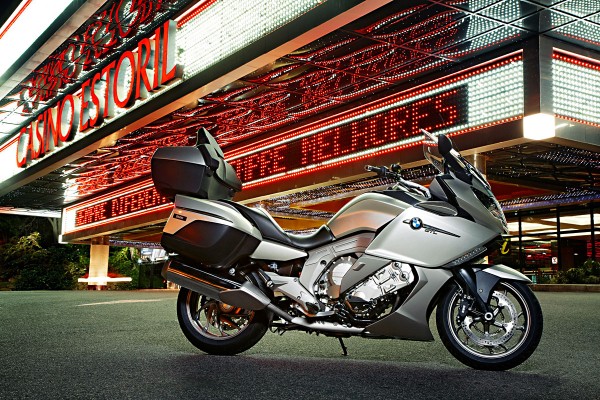 The super smart K 1600 GTL features a fully electronic cruise control, electronically operated suspension, tire pressure warning system, power electric touring screen, switchable engine mappings, ABS and traction control. As if that weren't enough, for those late nights of travel the GTL features adaptive headlights, which tilt the headlight according to the rider's lean angle, thus providing the highest level of safety for the nighttime rider.
As if its intelligent design and trustworthy engineering weren't enough, the GTL just looks cool. It looks like the bike that will take you on that trip you've been dreaming of, over mountains, through valleys, across plateaus. Which is why you want it, you want it so bad you can see it now: You, your leathers, a duffle bag, and your 1600 GTL. It's all you need to take the most epic journey of your life.