A decades-long Chevy dealer from Grand Forks, North Dakota, Wes Rydell knows a thing or two about cars. Since he was a teenager growing up in the northern plains, he's had a keen eye for GM hot rods and factory muscle. Now in his golden years, Rydell and his wife Vivian have a lot more time to enjoy the fruits of their labor, namely building and driving amazingly cool cars.
Their latest – the "Black Bow Tie", an ultra-rare 1935 Chevy Standard Phaeton has put them on the road again, attending shows and not surprisingly, racking up hot rodding's top awards. Back in January it dominated the competition in Pomona, California winning America's Most Beautiful Roadster honors. At the recent Goodguys 14th Meguiar's Del Mar Nationals, it took home a signature Goodguys "Top 12" award, winning the Street Rod d'Elegance title.
Rydell originally purchased the car in the 1980s from an estate sale, putting it on the road for a few years in stock trim. Then it sat. It wasn't long before then he called in renowned designer and friend Chip Foose for a major makeover, "Overhaulin' style." Working with Foose, Rydell's house mechanic Doug Pederson modified a Roadster Shop chassis then massaged the tin for a few years, getting it right. Due to the car's size and scope, it was a long process. Realizing he wasn't getting any younger, Rydell called in another friend, Troy Trepanier of Rad Rides by Troy to movie it along.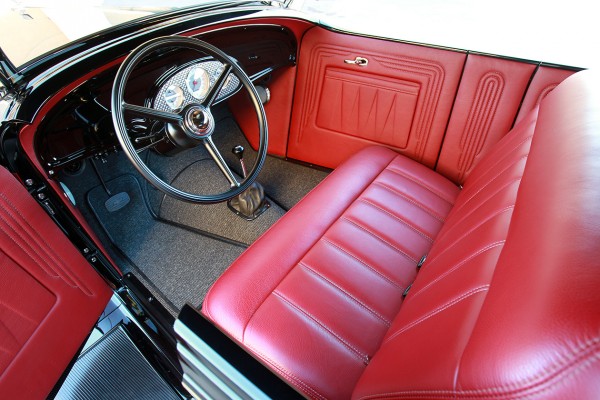 The Rad Rides team took delivery of the partially complete project in late spring 2013 with the idea to finish it up for the 2014 show season. Trepanier had another idea. Get it done for the Grand National Roadster show and compete for the highly coveted America's Most Beautiful Roadster title. The Rad Rides team set out fabricating, assembling, upholstering and painting at a record pace, finishing their work just a day before departure time for Pomona. A two-tone maroon and black paint job later – the Phaeton was finished and headed West.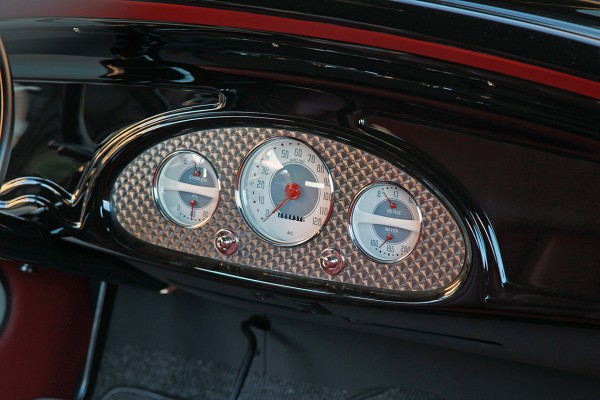 Upon arriving in Southern California, heads began to turn. Insiders gawked at the car's understated elegance. The mods were extensive yet refined. The body was lengthened 2-inches and features a 3-inch longer-than-stock wheelbase. The shortened grill was reclined by "pulling out" the bottom and the windshield posts have been laid back 2.5-inches. It rides on Heidt's IFS and IRS suspension. The engine is a 383 Chevy Ram Jet with EFI, modified to look like it features original 1957 Rochester injection.
The hind end is as regal as it comes with the aesthetically-pleasing luggage rack holding a period perfect metal travel box in matching paint. A nickel plated gas cap and trim pieces abound. The art-deco red leather interior was stitched by Adam at Rad Rides as was the black canvas top, which took hundreds of hours to finesse and "get right."
A lot of the trim was milled by Rydell friend Mike Curtis of Curtis Speed (a former Boyd Coddington disciple) as were the period perfect wheels featuring CNC-milled stock-looking trim rings (with gold leaf inlets) and stock '33 Chevy hubcaps.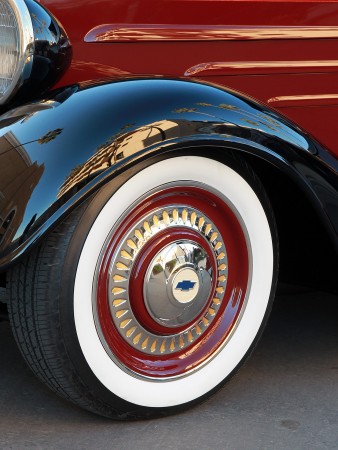 After winning the AMBR crown in Pomona, Rydell switched out the black wall tires, opting for a set of Coker wide whites. It set the car off like a mid-August grass fire. It literally jumped to a whole new level of cool, easily winning the d'Elegance crown in Del Mar. The best part? He's driving it this summer. A lot! He and Vivian plan on attending other Goodguys events this summer in Des Moines and Columbus now that warmer weather has arrived. And if we know anything about Rydell, he's a man of his word. The beautiful car will be driven. Bank on it!
Fellow Goodguys 2014 March Performance Street Rod d'Elegance Finalists include Dave Hall, Phoenix, AZ (1939 Ford), Jack LoPresti, Big River, CA (1935 Chevy), Rocky & Sherry Nash, Murrieta, CA (1935 Ford), and Janeen Drinkard, Leander TX (1940) Chevy
---
| | |
| --- | --- |
| | Based in Pleasanton, California the Goodguys Rod & Custom Association promotes and produces some of the world's most dynamic automotive events. Founded by lifelong hot rodder Gary Meadors in 1983, Goodguys is the world's largest hot rodding association with over 70,000 active members worldwide. |