A 7-Day California Expedition with the 2014 Audi Q5 TDI
I was met with my mother's raised eyebrows when I described our plans to spend "Friendsgiving" away from Georgia this year. Rather than our traditional two-stop family celebration in metro-Atlanta, I planned to road trip across California in a diesel-powered 2014 Audi Q5 TDI. We'd fly to Los Angeles, trek across the desert to Death Valley, climb into the forests of Sequoia National Park, camp in the snow of Yosemite, and all of that was before settling into San Francisco to celebrate the holiday with friends. From there, we'd head back down the Pacific Coastal Highway to see the cliffs of Big Sur and the beaches of Malibu. California is home to nearly every biosphere out there, and we wanted to see them all.
Maybe she saw this as a "baby's finally grown up" moment, or maybe I just stir the pot too much on family occasions, but I was granted permission to go. Here's how we spent the week:
Day 1: West Hollywood to Death Valley
My companion and I landed at LAX around dinnertime on Saturday, and decided that it made more sense to crash with friends than begin our trip at night. Upon arrival, we located our $55,000 Audi Q5 TDI in the garage. It was rated at an average 27 MPG, but the extended range of nearly 600 miles per tank made the TDI version of the Q5 especially attractive for long stretches through the desert. We picked our friends up for dinner, drove through Hollywood, and couch-surfed in WeHo for the night.
We departed the next morning before the city awoke, so traffic was easy. A week prior, I 'accidentally' found my way to the Angeles Crest Highway (CA-2), and decided to include it on this trip, too. Last week, it was sunny. This week, the canyon pass led to fresh powder across the tops of the mountains. The twisting roads made me appreciate the optional sport package (Audi calls it S-Line Plus) on this car, which gave us an adjustable suspension, changeable drive modes, and bigger wheels with stickier tires. As soon as we found snow, the Quattro all-wheel-drive kept us planted and confident behind the wheel.
It's amazing how quickly Canyons turn to forest, and forest turns to desert in this state. For us, it happened all on CA-2. We dropped out of the snow and into the Mojave Desert on I-15 toward Las Vegas before veering off toward Death Valley.
When I originally planned the trip, I custom-tailored the drive with Google Maps, grabbing and dragging legs of the trip to create my own shortcuts and find the most interesting roads I could. My research led me to believe that I wanted to find Badwater Road, which ran through the middle of the Death Valley. Getting there either requires you to go out of your way to drive through the Jubilee Pass, or you could take what I thought would be a shortcut — Saratoga Springs Road.
As it turned out, Saratoga Springs Road is also a historical landmark, called the Harry Wade Exit Route. It's a survival trail – still made entirely of sand and loose rocks–which wagons once took in the 1800's to escape Death Valley. We decided to take it nearly 50 miles into the Valley instead. The Q5's ground clearance and Quattro system were necessities here, as we had to cut through creeks and soft sand, but the epic scenery and absolute silence were the highlights of this leg of the trip. It's not that I want to see more people on this road (that'll surely ruin what we loved so much about, feeling like modern 'luxury wagoneers'), but if you can find it, you should absolutely try. Plus, it eventually hooks up with the Jubilee Pass again, and the rest of the trip is paved.
After our adventure through the valley, we pointed the navigation system to Sequoia National Park with half of our original tank of diesel in tact. It's the miracle fuel — more efficient than gasoline, and more fun than a hybrid. Most of the drive to Sequoia was long and straight, but we did get to see snow on the desert (who knew?) and a gorgeous sunset over the mountains. It was dark by the time we made our way up the twisty roads to Wuksachi Lodge, and we saw black bears, deer and foxes along the mountain road.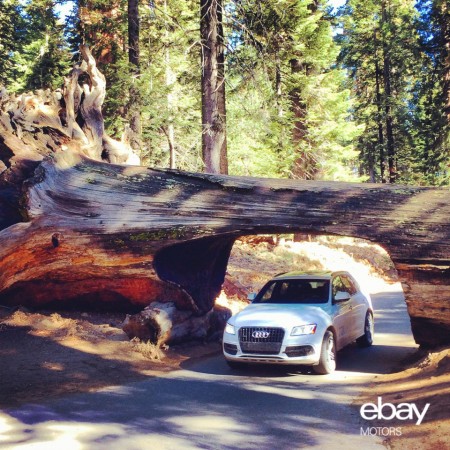 Day 2: Sequoia National Forest
We didn't see much on our drive into Sequoia, which made waking up that much better. When we grabbed our bags and walked out of the lodge, we found ourselves at the top of snow-covered mountain peaks, riddled with gorgeous evergreen trees. It felt like something you've seen in the movies, but what the movies don't tell you is that it also smells amazing – every breath is filled with a hint of fresh cedar. We loaded the Q5 up with our things, grabbed some water and trail mix from the lodge, and headed down into the redwood forest. The largest tree in Sequoia is named 'General Sherman,' and by volume, he's the largest living thing on the planet. The tree weighs nearly 5,000,000 pounds, and it's more than 2,000 years old. Seeing the giant sequoias in person left us with the realization that we really are small people in this big world; just look at the pictures — they're gi-normous.
After leaving the redwood grove, we jumped back into the Audi and discovered a fallen tree that you could drive through, and we found Moro Rock. Yes, we drove an SUV through a tree — they're really that big – and if you can handle the 400-step climb at Moro, you'll find the most beautiful panoramic views available in the park.
The drive out of Sequoia was winding and wonderful, but it paled in comparison to what we found as we set on our trip to Yosemite. The roads into the national forest edged along the sides of cliffs, hairpinning and doubling back on themselves as they dipped into ravines and climbed back up into the mountains. There aren't guardrails for much this drive, so we were a little more hesitant to press the Audi to its limits. But, we had the road mostly to ourselves, so we took the opportunity to take a few photos for the scrapbook. We chose to stay at the Evergreen Lodge in Yosemite National Forest, not realizing that it was a bit of a drive back to the park itself.