Chrysler is raising the bar for modern muscle car power with a supercharged V8 known as a "Hellcat" that will pump out a mind-blowing 707 horsepower. Chrysler is boldly calling this model "the most powerful muscle car ever," a claim that very well may be true if you ignore vehicles modified by aftermarket companies like Saleen or Lingenfelter, and if you choose to take the official horsepower and torque ratings of 60's era muscle cars at face value.
But in 2015, excluding aforementioned tuner modified vehicles, the Hellcat's principle competitors are Cheyv's ZL1 Camaro (580 horsepower) and Ford's Shelby GT500 (662 Horsepower)…although the GT500 is out of production.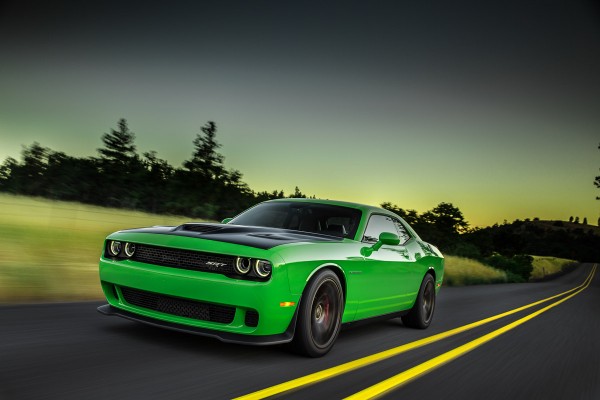 Horsepower Wars Continue
Just when you thought the high horsepower wars had peaked, Chrysler decided to blow everyone away with their new Hellcat engine. The Challenger has already been giving the Camaro and Mustang a run for their money, so the Hellcat version is certainly a game changer.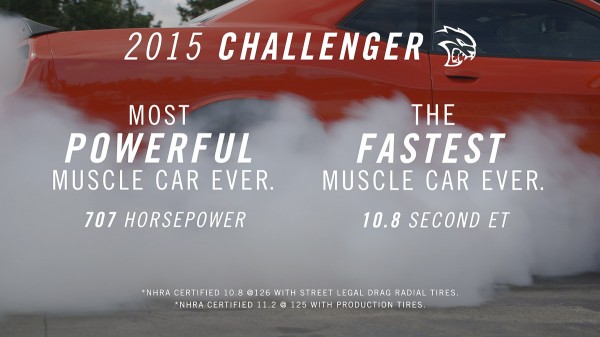 While Ford's new Mustang will likely be offered in a high horsepower, limited edition configuration, it's hard to imagine Ford coaxing 700+ horsepower out of any engine in their line-up, at least an engine that will fit into the new Mustang's smaller frame. GM's new 650hp LT4 – found in the new Z06 Corvette – is certainly comparable to the Hellcat, but comes up a bit short, and it seems unlikely that GM will "tweak" it to find another 50hp.
Will GM and Ford try to keep pace with the Challenger's outrageous rating? While it's never a good idea to try and predict the future, the odds of a 700+ horsepower Camaro or Mustang seem long…federal fuel economy regulations are putting a damper on this sort of thing. Therefore, let's enjoy this little horsepower war while it lasts, and remember that all of these engines are offered at your local dealersihp with bumper-to-bumper warranties. We're not talking about tuner engines here…we're talking about production power.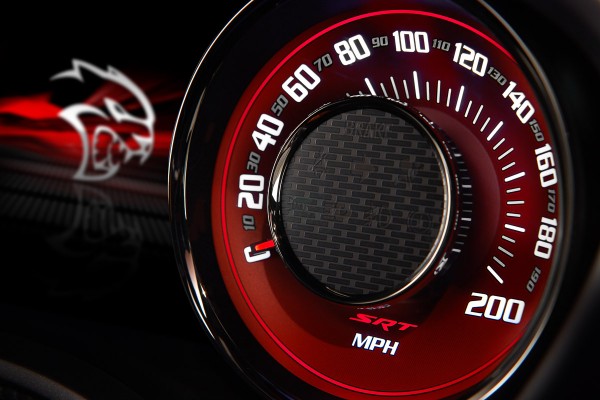 A Hellacious Engine
The supercharged 6.2-liter Hellcat engine is basically a 6.4-liter Hemi with a shorter stroke (reduced by 0.14 inches), a reduction that was made to spare crank and rod bearings from premature failure. The engine houses a forged crankshaft, hardened bearing surfaces, forged pistons, powder-forged rods, and beefy bushings with carbon pins. Dodge also gave the Hellcat heat-treated aluminum heads, die-cast aluminum rocker covers, and Hemi orange paint.
The screw-type IHI supercharger mounted on the Hellcat features dual water-to-air intercoolers and air-to-oil engine coolers to keep both engine temps and air charge temps down. The Hellcat's exhaust is said to be nearly a "straight pipe," with only electronically variable valves inside the system to attenuate exhaust sounds (and yes, that means you will likely be able to push a button and have an obnoxiously loud exhaust).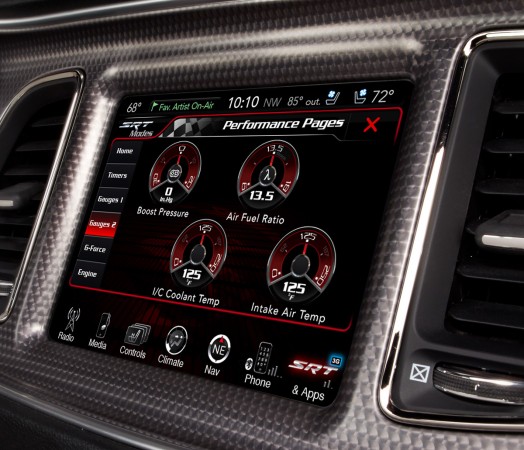 Like the standard 2015 Challenger, the SRT Hellcat will offer the same eight speed auto or six-speed manual. However, unlike the standard Challenger, the Hellcat will feature a variety of imposing style accents that will threaten anyone thinking about a little race.
Do You Take The Red Key or The Black Key?
An interesting new feature available on the SRT Hellcat Challenger is the option of limiting maximum power output with a key. The Hellcat will come with two separate ignition key fobs:
The red key unlocks the car's full power potential – it's all 707hp, whether you need it or not.
The black key electronically limits the Hellcat to "just" 500 horsepower. While this is a 200hp reduction in power, it's still more output than the next most powerful Challenger's 485 horsepower.
While this feature is being billed as a tool to prevent valets (or perhaps unruly teens) from pushing the Hellcat to its limits, it's hard to wonder if perhaps this feature is an acknowledgement that a 700hp Challenger is hard to control…or perhaps that the 700hp setting puts an extraordinary strain on the vehicle's powertrain.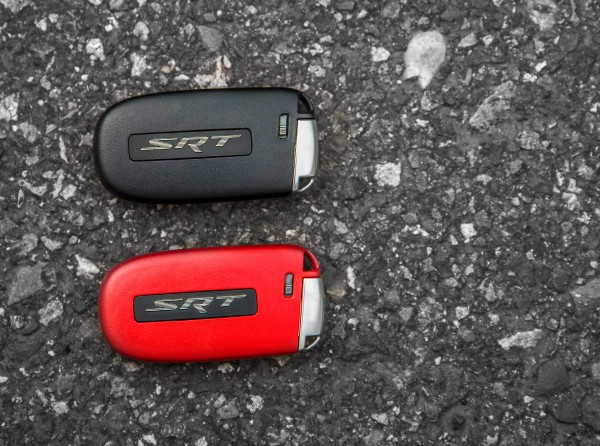 Regardless of any control or durability concerns, however, the 707hp Hellcat Challenger really has only one purpose: Intimidation. Odds are, a Porsche 911 or Corvette owner that's unlucky enough to pull up next to a Hellcat is going to become seriously distracted with their stereos once they realize what they're next to. That's precisely what Dodge is going for here – a massively powerful car that puts expensive sports coupe owners on alert.