A new eBay Motors study shows that more of you than ever are spending more of your tax return money on auto maintenance. eBay Motors commissioned the study, which shows that over a third of Americans are planning to spend at least a portion of their tax return on vehicle-related items, with the average amount of that spending being over $1,000.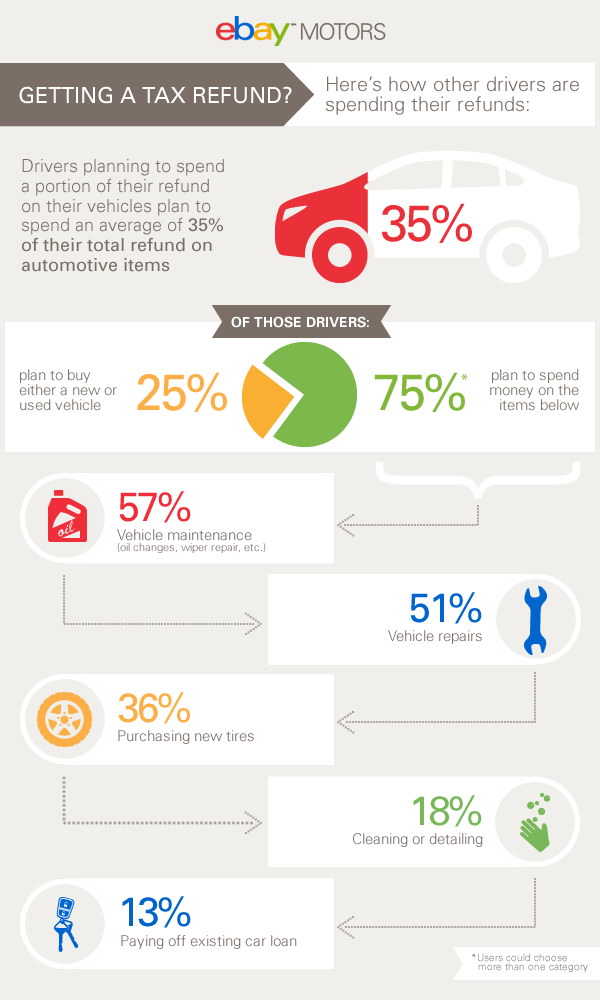 "With cars on the road remaining at historic ages, the data indicating that many Americans are spending more of their tax refunds on their vehicles this year makes a lot of sense," said Bryan Murphy, head of eBay Motors. To that end, over half of those who are using a portion of their refund on their auto this year will do so either for regular maintenance or repairs, with forty-two percent saying they plan to spend significantly more to do so than last year. Other ways drivers are spending their tax refund money include purchasing new tires (thirty-six percent), looking to pay down or pay off an existing car loan (thirteen percent), and the buying of a new or used car (twenty-five percent).
What's more interesting for us here at eBay Motors is how that money will be spent: with advancements in tablet and mobile technology, nearly half of drivers indicated that the way they'll spend those tax refund dollars is changing. Thirty-five percent of respondents are likely to make their purchases online with their computers; sixteen percent are likely to use a mobile device. With 10,000 cars and 500,000 parts and accessories being purchased through eBay mobile apps, expect that percentage to keep going up next year and into the future.
According to Murphy, "We traditionally see activity on eBay Motors rise during this time of year as people have additional funds to shop from the more than 30 million parts and accessories available on eBay Motors to make repairs, maintain or accessorize their vehicles, or to buy a new or used vehicle." However you may need to spend your tax refund, we hope you come to eBay Motors for the biggest and best selection online. Do it fast, though—apparently you're not alone!
Have you been holding off on maintenance or repairs to your car? Let us know if spending a portion of your tax refund will go towards giving your car some much needed attention.