The 1966-1968 Cadillac DeVille convertible is an epic car. We realize most people like the 1959 models, or subsequent years, but we know what we like – long low lines, luscious deep red paint, wide white walls, and an open top.
Cadillacs were the king of the hill in the late 1950's and into the 1960's. This 1968 DeVille convertible model reminds us that even a factory restoration of a vintage Cadillac can easily be a classic without being lowered, painted with outlandish flames, or sitting on 20-inch rims.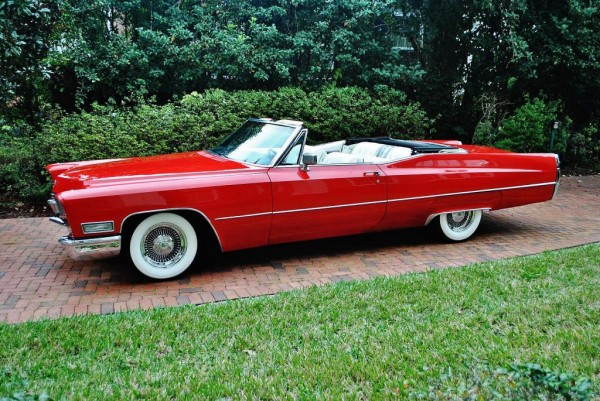 But for us, sometimes factory fresh with a classic Caddy is all we could ask for. We love the look of the paint, the chrome and those white walls on factory appearing wheels. We've seen cars just like this customized, and while they can look great in either form, once in awhile it's nice to see a time warp of a car that looks like some executive drove straight out of the 1960's and into today's world without skipping a beat.
We can easily imagine Elvis Presley cruising Graceland in a car just like this. Similarly we can picture modern day rapper Macklemore driving a matte black version of this Cadillac. The thing about Cadillacs, especially the convertible models with tail fins, is that if the condition is right someday they will be back in vogue. This car, while it might be a bargain now, it won't be for long. And if kept in mint condition, it is definitely an appreciating classic. White walls, mile deep paint, and a drop top – what more could you ask for? Bid now while you still can.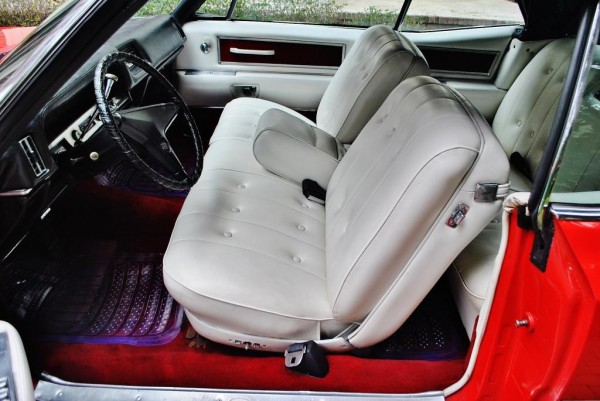 View the listing now before someone scoops up this beauty and closes the auction early: 1968 Cadillac Coupe DeVille