My Ford Mustang vs. Formula Ford and tackling the House of Drift
As we approach the end of the 2012 Formula Drift season, I had a chance to mix things up behind the wheel. Just for a weekend, I "traded" my Ford Mustang for and open-wheel Formula Ford. Back to my roots of racing a single-seater years ago. It was last weekend during the 9th Annual CSRG Charity event at Sonoma Raceway in Sonoma, CA. A friend invited me to drive his 1971 Titan FF. A classic 1.6 liter, 4 cylinder, 100hp formula car that was all about momentum and being smooth! No big angle, side ways entries here!
It was a great weekend watching some amazing classics really being driven around the track like a priceless 1965 Ferrari 250 GTO (valued at $15-$19 Million!). I was in a group of 25-plus cars with a few higher horsepower Spec B cars that are grouped with us, but a separate class. They have twice the power and grip. You can see a couple in the picture below. They were about 6-8 seconds a lap quicker! Granted, many of these drivers are weekend warriors, not professionals, but are competent drivers nonetheless and many of them really push their cars.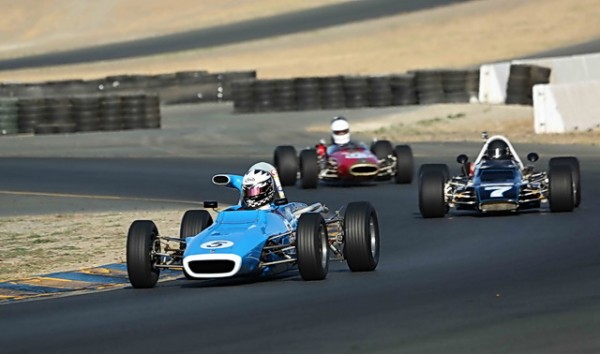 While it was fun trying to chase down the Spec B's. I did my best to keep the rest of the buzzing formula fords behind me We have one race on Saturday and Sunday. I qualified second for Saturdays race. Sonoma raceway is my home track so I'm obviously very comfortable with the track. I have a great start to the first race putting pressure on the faster Spec B cars. They take a bit longer to warm up so I'm able to get past a couple.
Once they get up to temp. they come ripping past me on the straight as if I dropped an anchor! I make my way into first for our group and hold position for the finish. Sunday's race would have us start from where we finished on Saturday's race. I start from pole and really try to stay with the Spec B's. As futile as it may seem it was making me drive faster and it was a blast four wheel drifting the little Titan through turns 8, 8a, and 10. I finish in first place in Sunday's race as well.
The car performed perfectly all weekend thanks to the crew on hand. It was great to get back into the road racing mind-set and remember the fun of passing under braking and working on your "race craft" while battling with other drivers lap after lap.
Now, I want to carry my aggressive, focused, winning mind set from the past race weekend into the last round of Formula Drift this Friday and Saturday. The "House of Drift" at Irwindale is really the birth place of professional drifting in the U.S. It's a fast track that every driver in the championship knows well. This weekend will be a very hard fought battle.
Admittedly, I've had mild success at this track. Now that I've got the car and crew to battle to the podium, I'm very excited about our chances. My Ford Mustang is fully repaired and ready to rip! I have put Vegas behind me. I can only hope some positive, constructive changes may have been made since then.
Regardless, I will just drive my ass off and walk away from the weekend knowing I left nothing on the table… and possibly a bumper to go with it! eBay will have a display at the event this weekend. Please come by and say "hello" as I'll do some autograph signing and be happy to talk shop with anyone stopping by. I will be sure to give you guys the post event feedback after this weekend. Hope to see a packed house of crazy, screaming fans! Until next time…
Tony B.