[UPDATE Jan 9, 2:30 PM (PST): Reserve price has been removed!]
If you've got a thing for vintage pickup trucks and you want one owned and driven by the King of Cool, we've got some good news: up for sale on eBay Motors is a 1941 Chevy pickup previously owned and driven by Steve McQueen which he would drive around town to avoid the public eye.
According to Mike (eBay id bighouses), the truck had some recent cosmetic restoration work — new paint, new interior, new wood bed, and conversion to 12V electrical system. A personal touch is the Von Dutch style shift knob with McQueen's initials. Not to be ignored and included with the sale is the original pink slip with McQueen's name.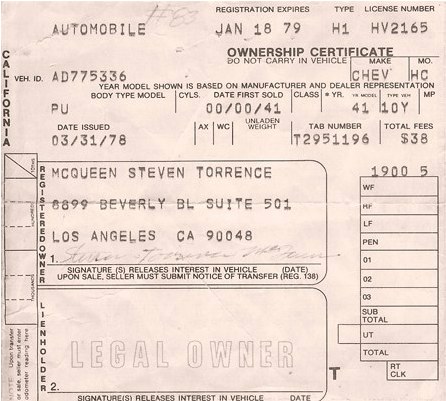 Two years ago our friends at Bring a Trailer saw this famous truck up for sale on eBay. Mike confirmed he had purchased the truck from a private party in the Midwest back in 2010.
We always encourage potential buyers to do some research, but from what we can tell the auction looks legitimate. A portion of the proceeds from the sale will even be donated to The Boy's Republic School in Chino, California, a cause still supported by McQueen's family.