Jersey Shore star, Nicole "Snooki" Polizzi, has decided to say goodbye to her ride, selling her beloved 2011 Cadillac Escalade to the highest bidder. Purchased September 2011, Snooki's love affair with her Escalade is over with only 6,295 miles on the odometer.
Notice the Escalade has been tailored to the pint-sized star's tastes and specifications. Among the many add-ons: custom wheels, leopard-print floor mats, ambient lighting, and hot-pink detailing.
Snooki even autographed the hood of the car for the lucky top bidder.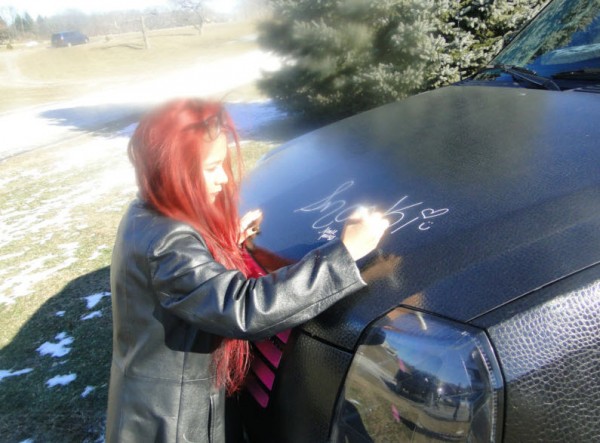 The ad doesn't specify why the star is parting ways with her customized ride, but a change in transportation could be good for her and her new family. She and fiance, Jionni LaValle, welcomed son Lorenzo, in August 2012.
InTouch Weekly says, If you're considering placing an offer on the star's bitchin' ride, just be sure you're "Jersey" enough to keep the Escalade's rear decal, which reads "Boss Lady."
Auction for Snooki's Escalade ends Feb 24, 2013 16:12:45 PST. Click on the link to see how high the bidding has gone: 2011 Cadillac Escalade