2014 Fiat 500e
2014 Chevrolet Spark EV
Likes:

Charming exterior and interior design
Clear gauges and indicators about battery and charging
Quick acceleration means fun city maneuvers

Likes:

Legitimate space for four passengers
Use of new quick-charge protocol
Tons of torque (at least on paper)

Dislikes:

Limited backseat and only two doors
No fast charging capability
Awkward location for charging port

Dislikes:

Cheap econobox materials
Unattractive overall design
Wishy-washy steering and stiff brake pedal
Big brawny electric vehicles like the Tesla Model demonstrate that EVs aren't necessarily small and limited. But bargain-minded car shoppers, especially those looking for a second car, are well advised to consider one of the top electric subcompacts, which can provide great maneuverability, plenty of driving range, low fueling costs, and an attractive price. I recently drove two leading contenders: the all-electric Fiat 500e and Chevrolet Spark EV.
Be advised: the Fiat 500e is only available in California, and the Spark EV is sold only in California and Oregon.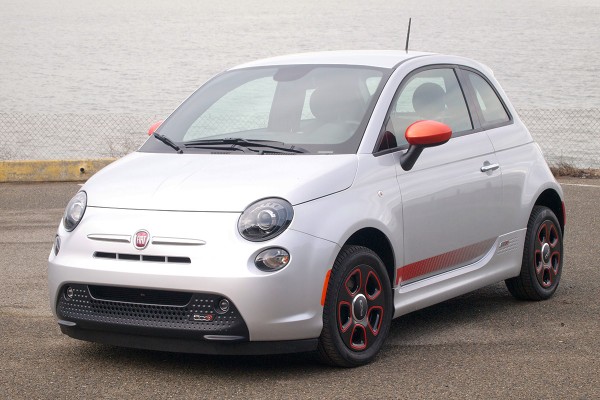 As I drove around the San Francisco Bay Area with these two small EVs, I had this question in mind: Can automakers produce a relatively cheap small electric car – with plenty of plastic on the inside – and still make the experience feel fun and cool?
The answer is a resounding "Yes!" for the electric Cinquecento. The two-tone color design on my Fiat loaner – gray body with burnt-orange side mirrors, seat stripes and wheel accents – had a magnetic personality. I savored every chance to jump in, and toss the inviting little runabout around city streets.
The small profile from the outside belied a feeling of generous interior space. At 6'4", I had headroom to spare. After one knock of my knee on the center console when getting in, I quickly learned how to safely slide into the seat. What the 500e lacked in precise seat adjustments for maximum comfort, it more than made up with its delightful dashboard layout and graphics.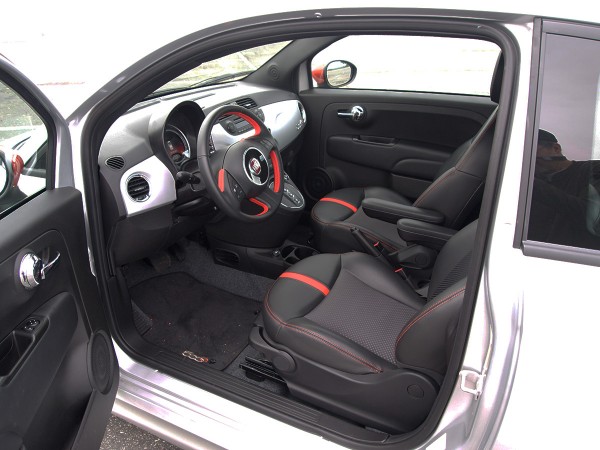 The electric Fiat 500e is about simplicity – avoiding the temptation to make a battery-powered car feel like a 21st century gizmo. Buttons are analog and accessible – not buried in menus and hidden behind touchscreen choices. Designers convey a sense of lighthearted luxury even with plastic materials – like designer fashion on the cheap from Target.
The steering feel was loose, with more give than the car's sporty persona might suggest. Similarly, there was play in the accelerator pedal – even as the 111-horsepower powertrain delivered quick bursts of power. Electric propulsion was most impressive when zipping form 20 to 40 miles per hour. My foot exercised the full range of pedal movement, sometimes reaching all the way to the floor even during modest daily driving. Similarly, the car's wee proportions meant I could use the entire roadway, giving new meaning to lane changes. The Fiat 500e is a blast to drive.
Yet, there's no mistaking the 500e for truly sporty – and it's obviously not a comfortable long-distance commuter. The backseat with two-door access is fine for short-range jaunts with four total passengers. But my pliable 14-year-son and his friend resorted to rock-paper-scissors to see who would be confined to the back row. Cargo space is equally limited to a few grocery bags. The whimsical round headrests are easy on the eyes, but hard as a rock.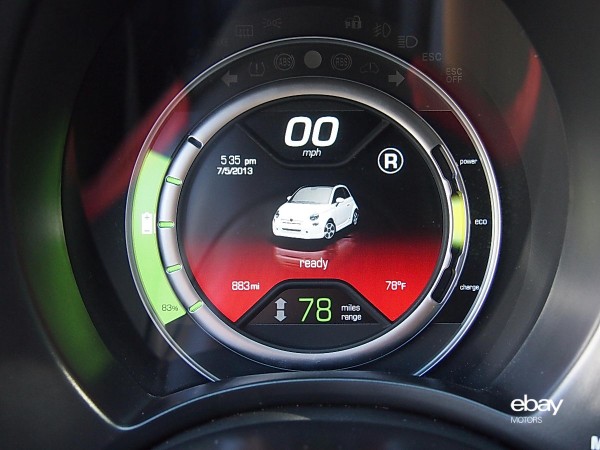 The E.P.A. pegs driving range on single charge at 87 miles. Driving the electric Fiat with spirit, I experienced a full range of 75 miles. Despite concerns that EV newbies might express – until they actually live with an electric car – that amount of driving range is quite sufficient for daily driving duties.
I especially appreciated the dashboard's meter for percentage state-of-charge for accurate readings of remaining range. Other smart EV features include a clear indication of how many hours of charging until the battery is full – about 25 miles are added for every hour of 240-volt charging, as well as five stylized flashing lines on the dashboard that can be seen from a distance. For example, if four are fully lit, and the fifth one is flashing, you know that the battery is four-fifths toward a full charge.
The location of the charging port on the back right quarter-panel is a bit awkward, sometimes requiring the car to be backed into a spot for easiest access to a charging cord. Other qualms include: limited visibility via small mirrors and navigation coming only from a detachable TomTom device, plopped into place via a dashboard inlet. I left it in the glove box, where it is stored, and used more capable navigation apps on my iPhone.
For my money, the Fiat 500e is the most charming electric car on the market. My loaner, as equipped with eSport package, cost $33,095. After you deduct a $7,500 tax credit, and $2,500 California rebate, you're down to the low $20,000s for a fun zero-emissions car that can be fueled for roughly the equivalent of one dollar per gallon.
Electric fuel is equally inexpensive for the Spark EV. But Chevy's selling point – certainly not charisma – is the electric Spark's 400 pound-feet of torque. Unfortunately, I didn't feel it, even when "Sport" mode was engaged. Maybe that's because the combination of other driving characteristics – wishy-washy steering, stiff brake pedal, and a down-slanting narrow cabin – failed to inspire confidence in pushing the electric powertrain to its limits.
After a week with the Fiat 500e, my couple of days with the Chevrolet Spark EV felt like a letdown.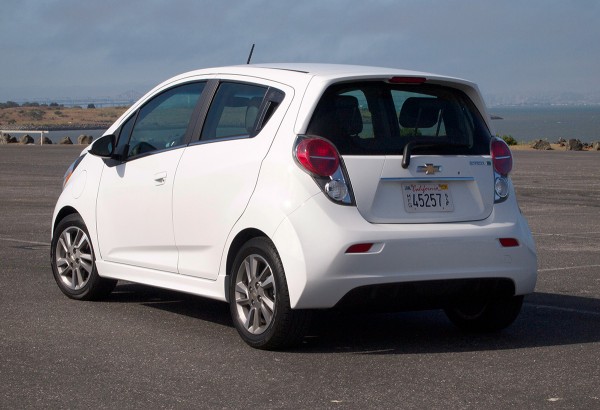 The Spark's exterior design, like its gasoline sibling, is textbook econobox. That's matched by an interior design that conveys a feeling of hollowness, similar to Mitsubishi's even less capable all-electric i-MiEV. Chevy designers try, but fail to disguise these shortcomings with clever digital graphics and sound effects. (The Spark EV has the loudest power door locks I've ever heard.) All the transparent efforts at cool-on-the-cheap cool come off as brash and irrelevant. The plastic design flourishes – arriving in a gaudy Powder Blue color choice in my loaner – take shape as ill-defined storage spaces throughout the car. It's as if designers haphazardly decided what goes where, without concern for usability or aesthetics.
Clearly, I think the Spark EV loses the beauty contest with the Fiat 500e. But the Spark wins at least a few points in this small EV match-up. The Spark EV has four doors – even if it takes a minute to find the window-level handles for backseat ingress. Whereas the Fiat is a glorified two-seater with auxiliary space in the back, the Spark EV legitimately carries four people—even if the seat cushions are too narrow and thin to provide real support for lower back and tush.
The lettering on the Spark's floor mats generically read "EV," failing to specifically call out the model name. Maybe the mats were remainders from GM's ill-fated Y2K-era EV1 – the company's previous all-electric car. In fact, everything about the car feels dated.
One exception is the use of the latest iteration of quick charge technology – the ability to pull up to a public charger, and pump in about 50 or 60 miles of added range in less than 30 minutes. The Fiat lacks any ability for quick charging, another shortcoming that gives advantage to the Spark.
The Spark EV uses the new "combo cord" protocol created by the Society of Automotive Engineers (SAE) that is to be employed in American and German electric vehicles (but not Japanese EVs). In a 40-mile trip from Berkeley to San Mateo, I used about half the Spark's energy reserves – pegging the driving range at about 75 to 80 miles. But after a mere 20 minutes at an SAE quick charger – one of only two in the Bay Area – the battery pack was charged to 97 percent. This feature, when combined with the four-seat capacity, makes the Spark a more versatile car for regional commuting. More SAE quick chargers are promised soon.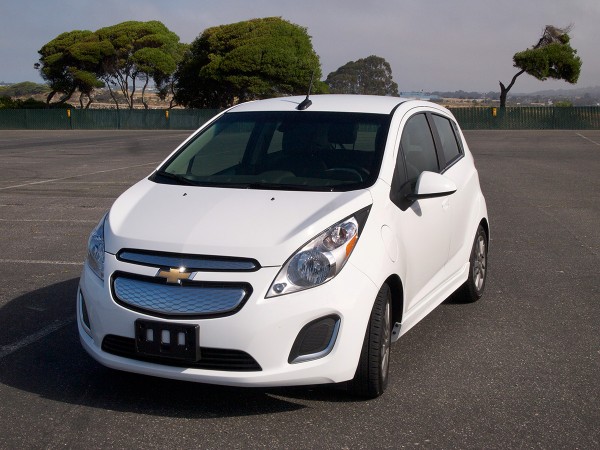 At $28,570 as provided, minus the same $10,000 in EV incentives, the Spark wins also purely on economic grounds. By the way, both cars have similar lease deals for around $200 a month.
The Spark's slight price advantage is not enough to sway me. Given the electric Fiat's cool factor and stylish fun-to-drive persona, it's the winner in this match-up for best all-electric in-town transportation.
| | 2014 Chevy Spark EV 2LT | 2014 Fiat 500e |
| --- | --- | --- |
| Price (as tested) | $28,570 | $31,800 |
| EPA Estimated Range (MPGe) | 128 city / 109 hwy / 119 combined | 122 city / 108 hwy / 116 combined |
| Driving Range (EPA estimate) | 82 miles | 87 miles |
| Power | 130 hp / 400 lb-ft torque | 111 hp | 147 lb-ft torque |
| Electric Motor | 105 kW perm. magnetic drive | 83 kW electric-drive motor |
| Battery | 21 kWh Li-ion | 24 kWh Li-ion |
| Charging (120V / 220V / 480V) | LV1 / LV2 / DCFC | LV1 / LV 2 / N/A |
| Battery Warranty | 8 years / 100,000 miles | 8 years / 100,000 miles |
| 0 – 60 mph | less than 8 seconds (**GM) | 9.92 sec (*TFL.com) |
| Top Speed | 90 mph | 88 mph |
| Seating | 2+2 | 2+2 |
| Passenger Volume | 86.3 cubic feet | 71.6 cubic feet |
| Cargo volume (max.) | 9.6 cubic feet | 33.3 cubic feet |
| Curb weight | 2,967 pounds | 2,948 pounds |