A while back, I had run into Rob Dickinson up on Mulholland. He was up there with his hot rodded 911. You may know Rob as the singer of the band Catherine Wheel, but he's also a car guy. He said he knew I wasn't big on German cars, but he told me about his idea to build "ultimate 911s." No, I'm not a Porsche guy so to speak, but I will say they're one of the most important sports cars ever made. And in terms of re-designing a vintage car, the 911 is one of the two best jumping-off platforms you can pick—the other one being the '65-'66 Mustang fastback.
Rob had been deep into 911s for years. He and his buddies had a club that would run 911s on the weekend. The basic idea was to just enjoy vintage Porsches, especially that signature flat six exhaust sound. Part of what they liked was all of the rattles and squeaks that come with an old sports car.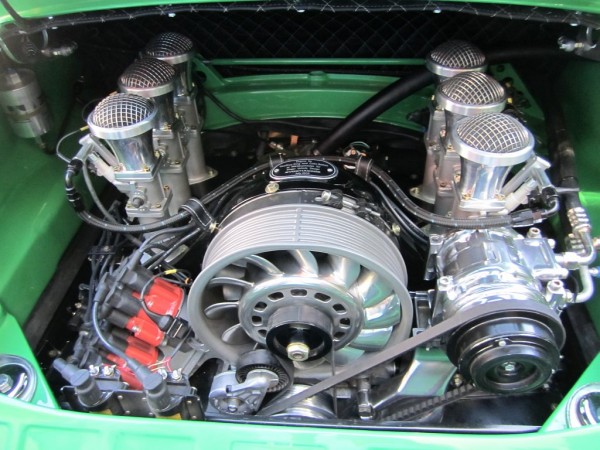 Of course, even old car guys are always looking to make improvements. It starts out small, but eventually, someone figures out how to shoehorn in a V8. Eventually, richer dudes started showing up, having put $100k or more into their 911s. Bigger wheels, bigger brakes and big-buck paint jobs.
Seeing how well these cars handled gave him the idea to bring the 911 into the 21st century, to re-engineer and refine them so they'd perform as well as a GT3 or a Carerra. So, he started Singer Vehicle Design.
Singer will find a 911 that hasn't been wrecked, media blast the chassis and basically start the car over from scratch. The 911 he showed me took about nine months to build, since it was their first one. A lot of the money went into sweating little details, not on things that would be visually impressive or noticeable. Rob said they put 200 hours just into chasing down vibrations and rattles.
It would have been easy enough to use a crate GT3 motor, but they didn't think it made any sense to put a water-cooled engine in a 911. So, they built out a 3.8L, naturally-aspirated, air-cooled engine that makes 425hp and takes 70 hours of labor to put together. It makes its maximum power at about 7,800 rpm, tops out at 8,200 and Rob says it'll run all day at the track at 8,000.
This engine is a complete work of art. Little touches make all the difference, like the cloth-braided wires and the polished magnesium fan. Even the A/C compressor looks good on this car. It's all show and all go at the same time.
The suspension is by NineMeister and the chassis has been radically stiffened. They added some classic-looking 17-inch Fuchs rims and upgraded to big Brembo brakes. The whole body has been reworked in carbon fiber, except for the doors.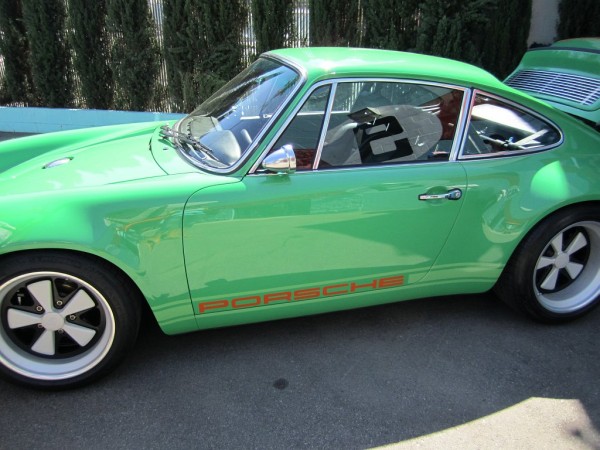 As with everything on this car, it's hard to tell what's new and what's old on the inside. It has a kind of hound's tooth interior that reminds me of early 928s. The steering wheel is a nice improvement on the old, gigantic '73 911 RS "bus driver" style wheel. Instead of putting on an anodized three-spoke wheel, they just scaled the original 400mm version down to 360mm. And I liked the huge, center-dash mounted tach that goes up to 11 grand.
Every part of this car has been thought out and built for business. The lightweight battery, the front strut braces have drilled out mountings. The devil's in the details, and like Jonathan Ward of Icon, Rob has a fetish for high-end, polished bolts, screws and hardware.
The ultimate compliment is when people walk around a car you've breathed on and just think that's how it came from the factory. Like Rob said, Singer spent two years trying to make this car look like they hadn't touched it. Rob and the guys at Singer have done an amazing job of updating an important, iconic car. They walked the fine line of making it more relevant without ruining its heritage. No matter what the sticker price is, they're not charging enough for this car.
---
Hear more from Adam Carolla by subscribing to CarCast on iTunes or visit CarCastShow.com