BMW 5 Series Shows Grace Under Fire
542 Horsepower
Enough torque to haul a 20-foot Airstream trailer
Surreal handling and formidable power packaged in a Giorgio Armani suit
Dinan knows engines. With three consecutive Grand Am Rolex championships, two consecutive 24 Hours of Daytona wins, and enabling Scott Pruett to break records for most wins in a season and five track records, the TELMEX Chip Ganassi Racing Dinan prepared BMW Riley prototype race cars lay claim to a long list of victories on the track since 2010. On the street, a Dinan S3-R BMW M3 can tear up the pavement with a 502 horsepower, bored and stroked 4.6-liter V8. Thus, we almost wet our pants when the call came in for driving a Dinan prepared BMW 550i massaged to well over 500 horsepower — altogether while keeping its civilized BMW ride and German-engineered handling.
The current generation BMW 5-Series [F10] combines supreme style and presence with sporting power and performance. 2011 was the model year BMW introduced an all-new 5 Series available with three engine options: the 528i which has a 240 horsepower 3.0L normally aspirated inline six, the 535i which has a 300 horsepower turbocharged version of the same engine under the hood, and the big daddy 550i outfitted with a twin-turbo 4.4L V8 pumped up to 400 horsepower.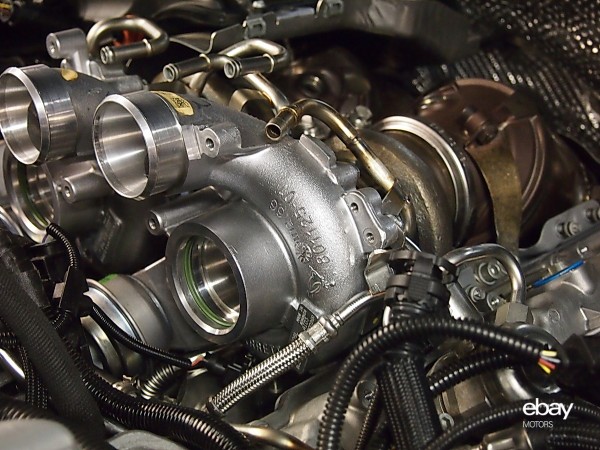 In stock trim the twin-turbo V8 — which replaces the previous generation's normally aspirated 4.8-liter unit — makes 400 horsepower, peaking from 5500 to 6400 rpm. Torque is also a healthy 450 lb.-ft. from 1750 to 4500 rpm.
Dinan takes the 550i two steps further with a host of upgrades that comprise the S3 upgrade package, resulting in 542 horsepower and 587 lb.-ft. torque, and delivering a top speed of 208 mph. Not quite M5 territory, but pretty darn close.
The factory twin-turbochargers are replaced with larger units that create additional boost at high rpm and reduce intake heat. Not satisfied with just installing bigger turbochargers, Dinan thinks through their upgrades from stem to stern. Carbon fiber air intake ducts provide maximum airflow to a pair of high performance air-to-water intercoolers, which are 23 percent larger than factory issue. The filtered air passes through twin black powder coated ducts that also serve as strut tower braces.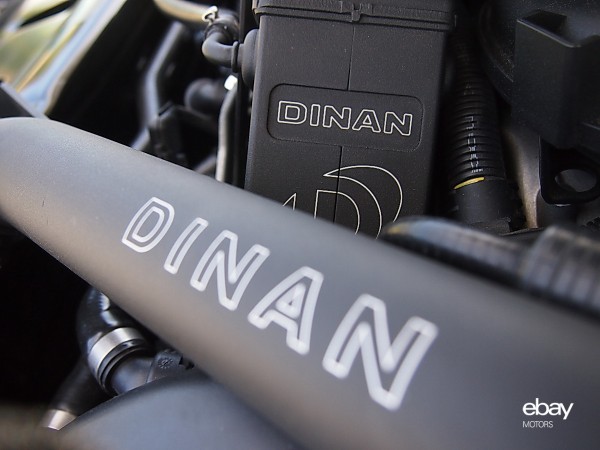 What comes in must go out, and Dinan's free flow exhaust is an integral part of the equation, with its improved exhaust flow and reduced back pressure over the factory system. Plus, special attention is given so as not to detract from the 5 Series' classy character with a drone commonly associated with other aftermarket free-flow exhausts kits. The result is a warm, pleasant sounding exhaust note at idle and around-town driving. At wide open throttle, the butterfly valves open up and the driver is treated to an enthralling audible sensation that communicates that the car is truly alive.
Extensive engineering time was devoted to developing Stage 6 Performance Engine Software, which safely increases the power while maintaining the car's reliability. Fuel mixtures, ignition timing, and full map rescaling were carefully retuned. Additionally, the top speed governor was removed, enabling the 550i to reach a top speed of 208 mph. The Stage 6 software upgrade is designed to bring the added components (cold air intake, larger intercoolers, larger turbochargers, Dinan exhaust) together and not compromise reliability, or daily drivability.
Handling the extra power requires taking the wheels, brakes and suspension to the next level. Our 550i test vehicle was equipped with the optional S3 550i Suspension System that includes sport-tuned springs and shocks. Larger 20-inch Dinan/HRE wheels replaced the stock 19-inch alloys. Six-piston Brembo brakes built to Dinan specifications were also installed on the S3 setup to enhance stopping power.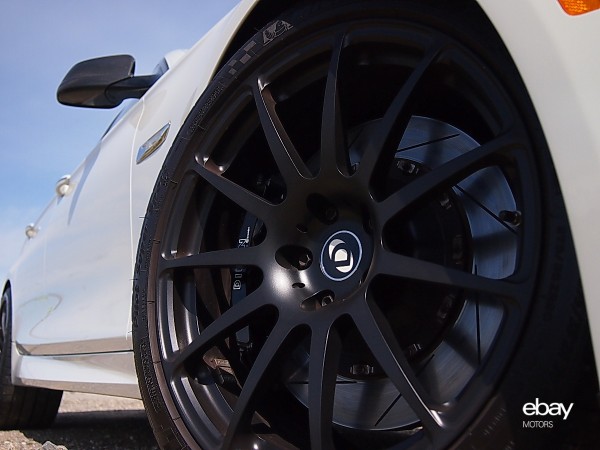 The Dinan S3 550i Suspension System improves upon the factory setup with a set of springs that have slightly stiffer spring rates and custom bump stops that allow front shocks to retain stock travel height. Ride height is lowered ½ inch all around, body roll is decreased, and center of gravity is lowered. Even with its lowered stance, we like how the original ride quality is uncompromised.
The F10 550i boasts a multilink setup with double track control arms and BMW's Integral-V rear axle with a swing arm and three track arms, all made from aluminum. Looking for ways to improve upon the factory setup, Dinan replaced the front camber arms with Negative Camber Control Arms that have an immediate effect of reducing understeer and improving turn-in response. The rear controls arms that Dinan uses have precision ball joints and machined aluminum housings. Thus, rear suspension stability improves and responsiveness is a tick quicker.
BMW engineering geeks should be familiar with Electronic Damper Control (EDC) technology. In basic terms, the Driving Experience Control switch with ECO PRO lets the driver choose between various programs (like COMFORT, NORMAL, SPORT or SPORT+) and adjust the suspension to suit the driver's individual needs. Dinan Shockware elevates BMW's EDC system to the next level by reprogramming the damping curve of the electronic dampers to be more performance oriented as it reacts to changing road and driving conditions. Punch in Sport or Sport+ mode and our 5 Series immediately becomes more dynamic and sporty in nature. What we experienced came nothing close to the kidney bruising ride of a true sports car, but felt absolutely locked down when pushing the performance capabilities of the Dinan tuned 550i.
More good news about Dinan Shockware is that it still fits under the Dinan factory matching new car warranty of 4 years / 50,000 mile coverage.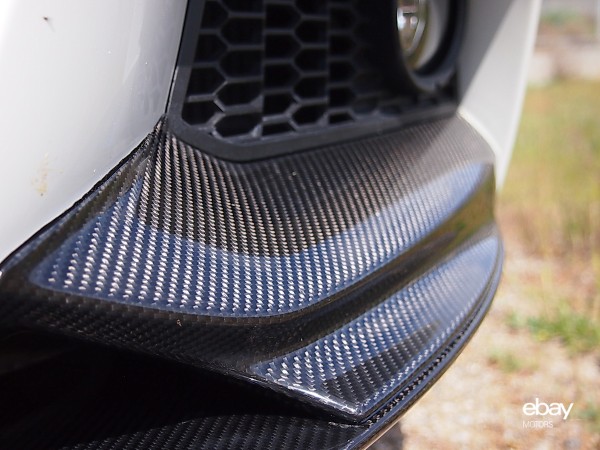 We drove the Dinan 550i over a lot rough roads, in and out of corners, flying down long straightaways, and all day long the car's composure was impeccable throughout.
How fast is the Dinan S3 550i? Well it feels incredibly fast, that's for sure. On NorCal roads, the Dinan 550i easily roasts its tires in first and second and third and sometimes fourth. We can say that once you hit moderate speeds, this 5 Series is delightfully neutral, and will happily exit any corner tail-first should you ask it to. The long wheelbase makes drifts slow and controlled, and the brilliant steering reduces your stress factor to zero. Altogether, Dinan has kept the 5 Series' underlying cross-continental comfort and amplified the car's potent German engineering.
Power and Grace with Panache
All too often aftermarket upgrades come with some compromises to either ride quality or factory reliability. And yet, while this car has been modified with a host of improvements designed to go beyond the norm, the well-mannered grace of the 550i still manages to come through in the form of responsive handling and sublime ride quality. Steve Dinan and his talented team of engineers have managed to preserve the distinctive character that makes the 550i a driver's car and one that will continue to set the standard in its class.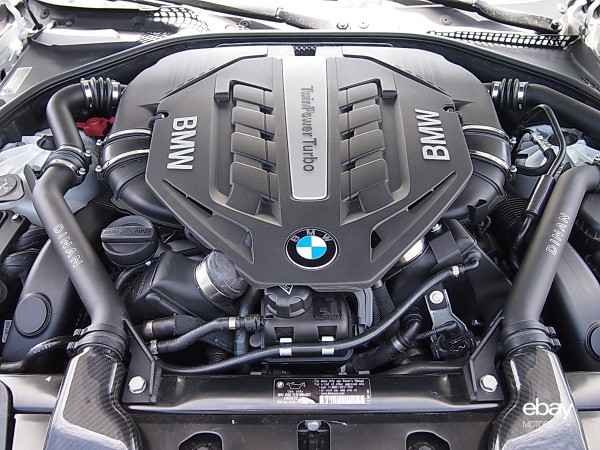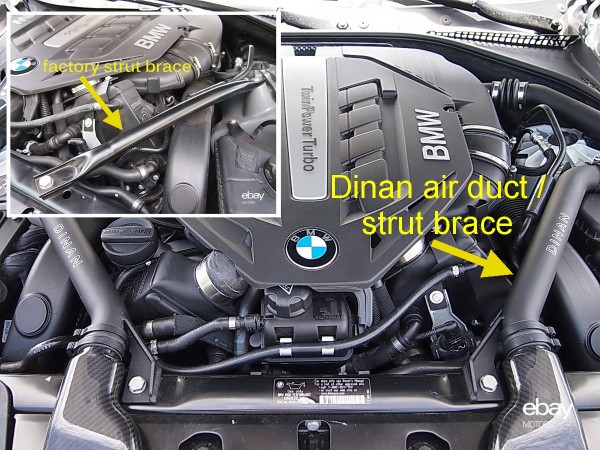 DINAN S3 550i
DINAN S3 PACKAGE TOTAL
$22,371

S3 Engine Tune

$19,076

Stage 6 Performance Engine Software w/Boost Upgrade

Twin-Turbo Upgrade

Free Flow Exhaust

Carbon Fiber High Flow Air Intake/Strut Brace

Performance

Maximum Horsepower

542 hp @ 6500 rpm

Maximum Torque

587 lb.-ft. @ 3500 rpm

S3 Suspension Tune

$3096

Performance Suspension System

Dinan Shockware

Low Compliance Rear Control Arms

Front Camber Arms

OPTIONS

Dinan Brembo Brake Kit

$4,895

Front Wheel: HRE 20 x 9

$6,400 set (front and rear)

Rear Wheel: HRE 20 x 10

Front Tire: 275/35-20 Michelin Super Sport

$335/each

Rear Tire: 295/35-20 Michelin Super Sport

$419/each

Limited Slip Differential

$3,599

BMW Performance Carbon Fiber Rear Spoiler

$600

BMW Performance Black Grille

$140/pair

BMW Front Carbon Splitter

$1400

BMW Carbon Mirror Caps

$700/pair

Bavsound Stage 1 Audio Upgrade

$999
WARRANTY

Matching new car warranty coverage up to 4 years / 50,000 miles