Likes:
Up to 33 mpg on the highway
Subaru's symmetrical AWD is standard
Excellent road handling and composed ride on-road and off-road
Generous cargo and passenger room for its size
Dislikes:
Auto start-stop feature
EV mode doesn't go beyond initial acceleration
Hard to use navigation system
Durability, all-weather capability, safety, and value are core components that Subaru loyalists expect from the brand. And last year's introduction of the XV Crosstrek was a great addition to the compact crossover market. Now the XV Crosstrek Hybrid continues the Subaru tradition and retains everything we love about the brand with fewer trips to the gas pump.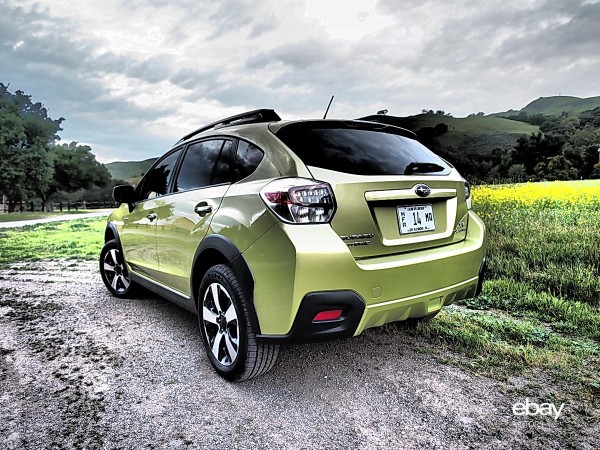 The beauty of the XV Crosstrek Hybrid isn't just its rugged good looks; it retains the appeal of what we love about Subaru with few compromises. The XV Crosstrek Hybrid is a flexible ride that offers interior space, AWD capability, and better acceleration over the standard gas model.
The Subaru-engineered parallel hybrid system uses a 2.0-liter BOXER engine, an integrated electric motor, and a continuously variable transmission (CVT). This is not a Toyota or Ford hybrid system. Subaru developed the hybrid system in-house and asked Panasonic to develop the 100.8-volt nickel-metal-hydride battery pack. The 13.4 horsepower electric motor is integrated into the CVT, while the battery pack and related electronics are situated in the back under the rear cargo space where the spare tire used to be located.
Interior room between the standard gas model and the hybrid model is nearly the same with only a small decrease of cargo space. Maximum cargo space is reduced from 51.9 cubic feet to 50.2 cubic feet, but passenger volume is identical at 97 cubic feet between the two models. The hybrid model has underfloor storage compartment for the jack and other small items. Missing is the spare tire.
Our friends at mtbr.com purchased an XV Crosstrek over a year ago and allowed us to do some side-by-side comparisons. Right away we noticed a little more pep under the hood when driving the hybrid model versus the gas model. At maximum power, the XV Crosstrek Hybrid produces 160 horsepower at 6,000 rpm versus 148 horsepower at 6,200 rpm in the gas version. Torque is also improved at 163 lb-ft at 2,000 rpm for the hybrid model compared with the gas model's 145 lb-ft at 4,200 rpm. The auto start/stop feature is noticeably rough, but becomes less annoying in the long run and does a good job of helping achieve the compact crossover's lofty 29 mpg in city driving.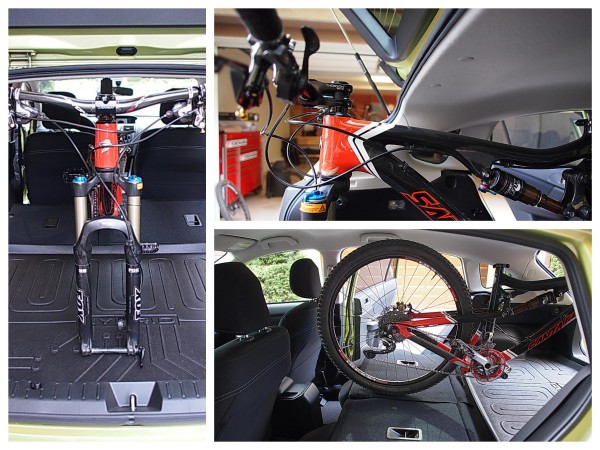 Initially, we thought the hybrid's EV mode was all but useless. The electric motor can propel the car away from a stop, but only under excruciatingly slow acceleration and lots of patience. We discovered its main function is to recapture energy through regenerative braking that would otherwise be wasted, store it in a nickel-metal-hydride battery pack located under the rear cargo bay, and use that energy both to supplement engine output and to restart the engine when it switches off at stops.
The Crosstrek Hybrid's "EV" mode really came into play on deceleration at speeds up to 40 mph, which regained energy on downhill roads — and it managed to provide idle creep all-electrically as well.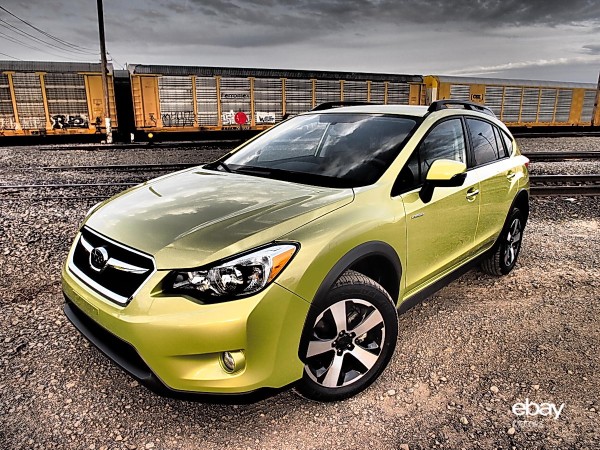 We particularly liked the hybrid model's slightly sportier experience over gasoline model thanks to the retuned suspension. It may be conservatively powered, but the XV Crosstrek Hybrid is fun to drive and fairly frugal on gas. We had no problem scoring 30 mpg overall during our week of testing. EPA estimates fall in at 29 mpg around town and 33 mpg on the highway.
Notably, Subaru did a masterful job matching this engine with the CVT transmission. We frequently forgot that there was a CVT paired to the drivetrain, which is about the highest praise you can give a non-fixed-gear transmission. Roomy, sporty, and no doubt still an ace off the pavement, the XV Crosstrek Hybrid is a capable performer. We believe there's lots here to love for people with active lifestyles and who are looking for all-weather capability. Who can argue against a reasonably price hybrid that can go places where a Prius dare not tread?
| | 2014 XV Crosstrek Hybrid | 2014 XV Crosstrek 2.0i |
| --- | --- | --- |
| Price | $25,995 | $22,995 |
| EPA Estimated Range (MPGe) | 29 city / 33 hwy / 31 combined | 25 city / 33 hwy / 28 combined |
| Standard Engine | DOHC aluminum-alloy 16-valve horizontally opposed SUBARU BOXER® | DOHC aluminum-alloy 16-valve horizontally opposed SUBARU BOXER® |
| Total System Power | 160 hp / 163 lb-ft torque | 148 hp | 145 lb-ft torque |
| Electric Motor | 10 kW (13 hp) | N/A |
| Battery | 0.6 kW NiMH | N/A |
| Symetrical AWD | Standard | Standard |
| Seating | 2+3 | 2+3 |
| Passenger Volume | 97.5 cubic feet | 97.5 cubic feet (w/o moonroof) |
| Cargo volume | 21.5 cubic feet | 22.3 cubic feet |
| Cargo volume (max.) | 50.2 cubic feet | 51.9 cubic feet |
| Curb weight | 3,451 pounds | 3,098 pounds |