Likes:
Diesel engine is smooth, quiet, powerful, efficient
Impressive fuel economy for a luxury SUV
Refined, upscale, comfortable interior
Off-road capability and adjustability
Dislikes:
Upper trim levels are expensive
Diesel engine option adds $4,500 to price over gas V6
Automatic transmission selector makes you double check
Soft suspension means soft cornering
Drivers who want an American diesel-powered SUV have only one choice: the 2014 Jeep Grand Cherokee. All the other diesel-burning SUVs are German, and each is more expensive: Audi Q5 and Q7, Mercedes ML350 Bluetec and GL350 Bluetec, Volkswagen Touareg and Porsche Cayenne.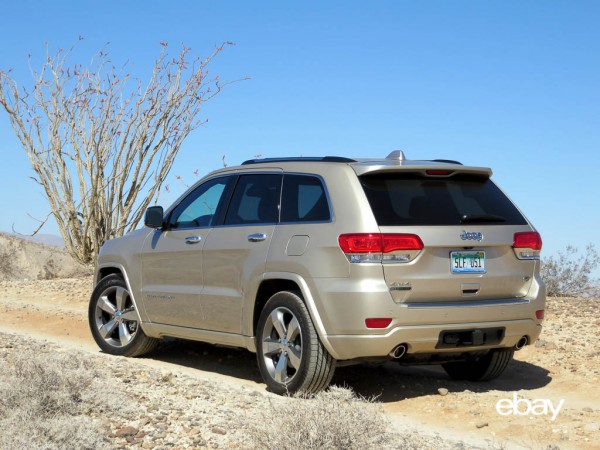 For 2014, the Jeep Grand Cherokee gets its first major update since 2011. Changes include subtle exterior freshening, significant powertrain revisions, upgraded interior trim and a new top-of-the-line model logically called Summit. Our test vehicle was a Grand Cherokee Overland 4×4 with the new EcoDiesel engine and a sticker price of $53,685.
Three diverse engine choices are offered in the 2014 Grand Cherokee: a 290-hp 3.6-liter V6, 360-hp 5.7-liter Hemi V8 or the new 240-hp 3.0-liter V6 EcoDiesel, which hit the market November, 2013. All engines are matched with a new eight-speed automatic transmission. Actually, there's one more engine offered:  a fire-breathing 6.4-liter Hemi V8 with 470 hp and a 0-60 mph time of 4.8 seconds in the limited-production, high-performance Grand Cherokee SRT.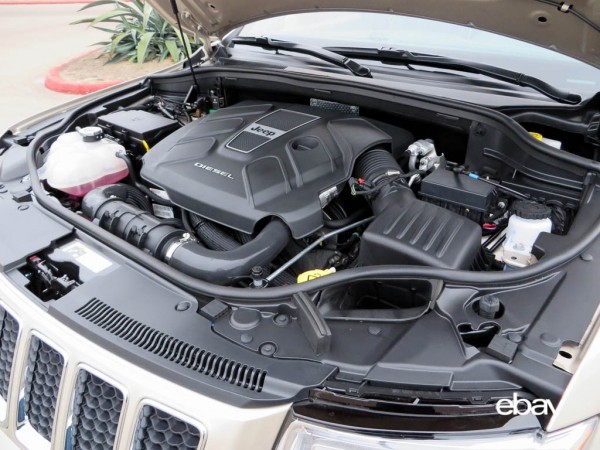 The diesel engine is only available on upper trim levels – the Limited, Overland or Summit models. Compared to the gas V6, the EcoDiesel adds $4,500 to the sticker price – not an insignificant investment. But for someone who would otherwise get the 5.7-liter Hemi V8, the torquier EcoDiesel is a more reasonable $1,305 extra.
Grand Cherokee offers the choice between rear-wheel drive or three different four-wheel-drive systems, depending on trim level and engine choice. Our test Jeep had the top-level Quadra-Trac II with standard electronic limited-slip differential.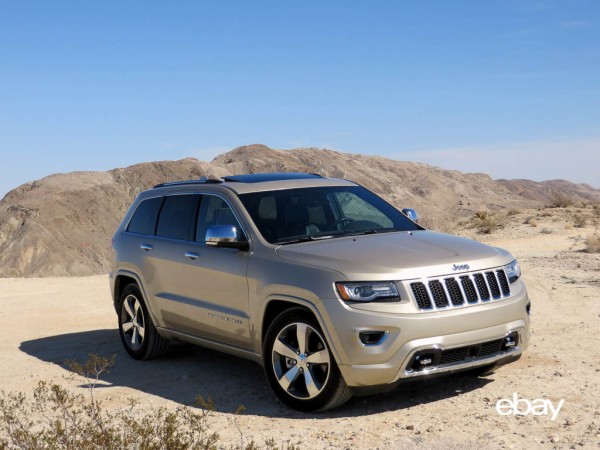 Exterior Styling
Designers at Jeep have successfully given the Jeep Grand Cherokee a look that is handsome and boldly expressive without crossing into "overstyled" territory. It's got the right proportions and contemporary styling that seems like it will age gracefully. Some journalists have called this Jeep the "American Land Rover," which seems entirely appropriate. Like its British rival, the Grand Cherokee looks substantial and upscale and has enough luxury features to satisfy its hard-to-please upper-crust customers.
Driving Impressions
The new, Italian-sourced EcoDiesel engine is one of the highlights of this vehicle. Although 240 horsepower doesn't sound particularly impressive, there is no shortage of power from this clean diesel V6, even at highway speeds. But it's at low speeds where this Jeep really has punch, thanks mostly to the whopping 420 lb.-ft. of torque generated at only 2,000 rpm.
The engine's unconventional sound at idle make it obvious that there's a diesel under the hood. It's not especially loud, but has a pleasant – even sophisticated – clatter that tells folks that it's not an ordinary Jeep. We frankly appreciated hearing the subdued diesel song. Why not showcase the fact that you opted for the most expensive and fuel-efficient engine option? At speed, the EcoDiesel is as quiet and rock-steady as any gas engine.
The new eight-speed ZF-sourced automatic transmission is amazingly smooth. Even at full throttle, when the low-revving diesel engine shifts up at only 3,800-4,000 rpm, the shifts are wonderfully seamless. You hear the difference in engine tone more than you feel the upshift. Metal paddle shifters on the steering wheel allow quick and easy manual control.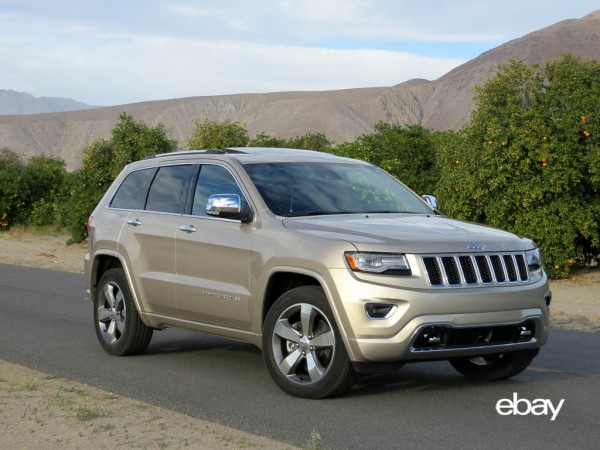 When pushed hard in corners, it's clear there's a lot of weight working against the tires. That's not to say the handling and steering isn't perfectly competent for an SUV; it just lacks the precision, low center of gravity and ease of cornering that a sporty sedan may demonstrate. The ride is comparable to other luxury SUVs – cushy and comfortable.
Off-Road Driving
During our test drive, we also explored the Grand Cherokee's off-road capabilities. We chose a desert track that we assumed would not be too extreme. After all, we didn't want to damage the new vehicle or risk getting stuck miles from civilization. At first, our dirt path was perfect: it followed a dry river wash, occasionally climbing over some rocky areas. It let us try the many different off-road settings, adjust the air suspension for extra clearance and generally proved that this Jeep was far more capable than we were willing to test.
Then, we came to a long stretch of extra-deep sand that separated the AWD crossover posers from the truly off-road capable. Because we were closer to the end of our route than the beginning, there was no turning around now. We stopped and engaged 4-wheel-low, raised the suspension and plowed into the deep, rutted sand. The Jeep slithered in and out of the ruts, wheels spinning slightly as we strived to maintain momentum without bogging down into the sand. We kept a steady pace all the way through until the road surface became solid once again. No sweat!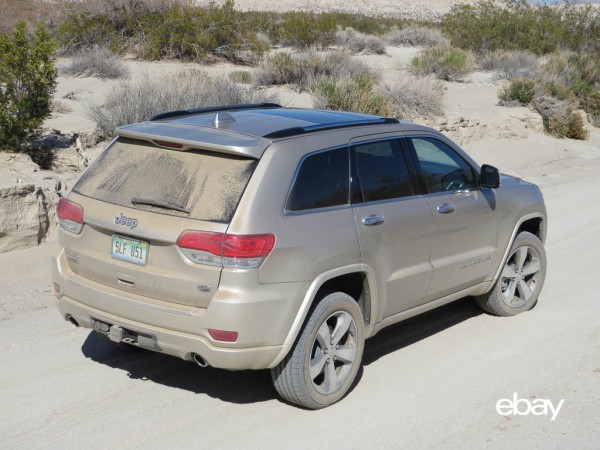 The 4WD system is adjusted by means of an easy-to-use rotary dial. Called "Selec-Terrain," the dial lets the driver choose various driving conditions that fine-tune the air suspension height, traction control and engine/transmission response for best results in snow, mud, sand and rocks. Select low-range gears for excellent off-road versatility. Or just leave it in automatic mode, which detects wheel slippage and instantly routes up to 100 percent of the torque to the axle with the best traction.
Air suspension offers several ride height adjustments to suit the conditions. Normal ride height is 8.7 inches of ground clearance. On the highway, the system lowers 0.6 inches for better aerodynamics. The driver can also select Park Mode to lower the Jeep 1.6 inches for easier entry and exit.
Two off-road settings lift the vehicle to a maximum 11.3 inches of clearance. We loved the additional ground clearance for off-roading, although the suspension makes disconcerting clunky noises over bumps when it's riding at maximum height.
Interior Features
Last year's top trim was Overland, which now takes second tier below the new Summit trim. But Overland is still wonderfully plush and upscale, especially with its beautifully stitched premium leather covering the dash top and seats. The steering wheel and all seats are heated, and the front seats include ventilation.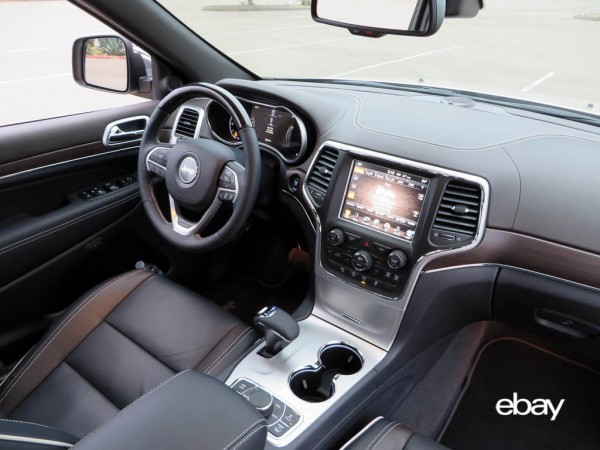 Back seats are roomy and comfortable, with an adjustable, reclining seatback. Folding the rear seatbacks flat increases rear cargo space from 36.3 to 68.7 cubic feet, accessible under a power rear liftgate. Third-row seating is not offered on Grand Cherokee.
The T-shaped automatic transmission selector remains in one center position, requiring the driver to nudge it forward or back to select the appropriate gears or Park. But it takes some getting used to, as we occasionally discovered that we were either still in neutral or weren't in the gear we thought.
Chrysler's excellent Uconnect 8.4-inch touch screen is loaded with features and apps, but remains pleasantly user friendly. We were surprised to find the system in our test vehicle lacked the (optional) CD player, but that seems to be an industry trend. With satellite radio, easy plug-in capability to smartphones or iPods, plus internet access to Pandora and other streaming music sources, there's a declining need for old-fashioned music discs.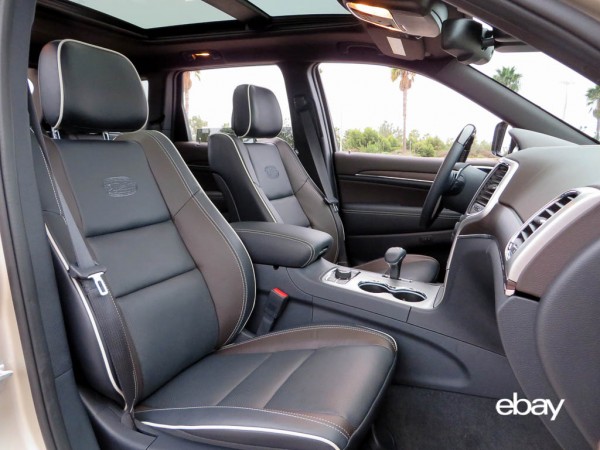 Electronic safety features include Forward Collision Warning with Crash Mitigation, blind spot monitoring, rear cross-path detection and adaptive cruise control. Trailer-sway control is another available feature, especially valuable because properly equipped Grand Cherokees can tow up to 7,400 pounds.
Fuel Economy
The clean diesel V6 engine is EPA rated at a remarkable 22 mpg city/30 mpg highway for the 2WD version and 21/28 mpg for the 4×4. We didn't drive in a particularly economical manner, and we still achieved an impressive 25 mpg for one tankful of fuel that included city, highway and off-road excursions. That's better than the best estimated mileage from a gasoline-powered Grand Cherokee with V6 and 2WD, rated at 17/25 mpg.
A large 24.6-gallon fuel tank gives the 2WD EcoDiesel a potential 730-mile driving range. Diesel emissions are controlled by precise injections of urea-based Diesel Exhaust Fluid (DEF) into the exhaust system. An eight-gallon DEF tank should last about 10,000 miles, according to Chrysler. Smoky exhaust? Never.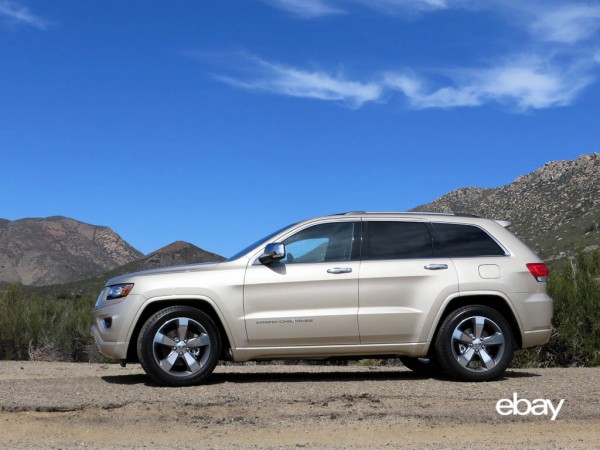 What Others are Saying about the Jeep Grand Cherokee
USA Today's auto writer says the Jeep Grand Cherokee is one of his favorite SUVs, but he is not enthusiastic about the price of the EcoDiesel engine. The writer calculates that "you could go 27,522 miles before spending enough extra on gasoline to match the higher cost of the diesel engine" compared to the gas V6.
On the other hand, "The diesel is the one to have," according to Cars.com. They praise the EcoDiesel as "whisper quiet and unobtrusive" at highway speeds, and say, "The immediacy of the diesel's torque is impressive."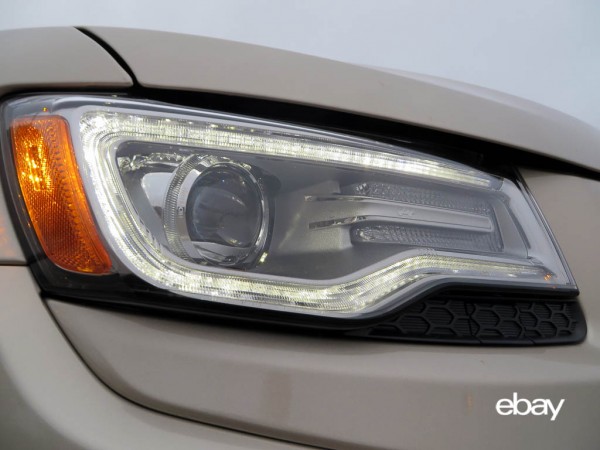 Bottom Line
The Detroit-built Jeep Grand Cherokee is improved in many ways, particularly by its outstanding clean diesel engine and silky-smooth eight-speed automatic transmission. Although its price is not inexpensive, the Grand Cherokee still remains the lowest priced diesel-powered SUV available and is a strong value compared to its oil-burning rivals. Outstanding performance on- and off-road combine with world-class craftsmanship and luxury features to make this premium Jeep among the best SUVs in its class.
2014 Jeep Grand Cherokee Overland 4X4
    Engine: 3.0-liter ECODiesel V6 turbodiesel
    Transmission: 8-speed automatic
    Horsepower: 240 hp @ 3600 rpm
    Torque: 420 lb.-ft. @ 2000 rpm
    Fuel Economy: 21 city / 28 highway / 16 combined mpg
    Base Price Range: $29,195 (Laredo 4×2)-$51,195 (Summit 4×4) (without destination charges)