Likes:
Responsive and smooth handling, with a firm grip on the road
Extraordinary efficiency roughly equal to 75 to 100 miles per gallon
Roomy midsize sedan interior
Dislikes:
Trunk space is cut nearly in half to make room for batteries
Pricey compared to regular hybrid, and gas versions
Dashboard infotainment features are not intuitive
Four short years ago, the Ford Fusion Hybrid won top car honors at the Detroit auto show. That version of the gas-electric Fusion was repeatedly praised – in no small measure – because it redefined how comfortable, powerful and smooth a hybrid could be. Moreover, it showed that a super-efficient midsize sedan could take the form of an accessible handsome mainstream vehicle, rather than an eco-friendly kitchen appliance on wheels.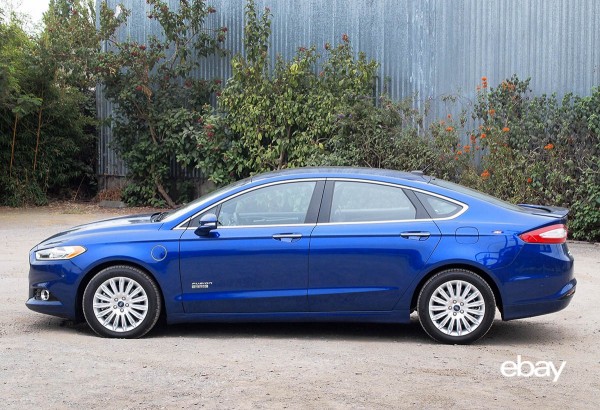 The 2014 Ford Fusion Energi, which we drove for a week earlier this month, is bigger, better, more stylish and more efficient than its predecessor from four years ago. It has escaped the notice of best-in-show judges, but it similarly redefines what a battery-powered car can be. For car buyers toying with the idea of a car that plugs in for power, but remaining on the sidelines because many of today's EVs are too small, quirky, or lacking in driving range, the Fusion Energi deserves a serious look.
The Fusion is a good size for tall people. One of our editors, who is six-feet-four there was plenty of legroom in front and back, and headroom throughout. There's simply no question about size for using the Fusion as a hardworking family vehicle. At the same time, when driving alone, it's easy to keep a sense of independence and fun. The wide-mouth Aston-style grille, raised power-hood, and cockpit interior has the feel of manly-man muscle. Even the obnoxious royal blue of my loaner failed to undermine its good looks.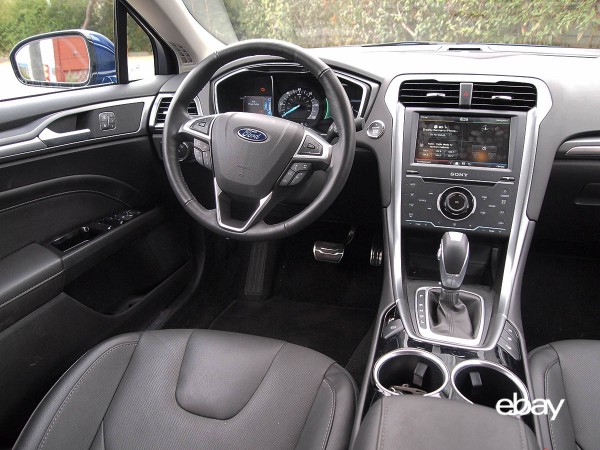 The Fusion's doors close with a solid thud. The cabin is quiet. Exterior design elements are smart and attractive, while the interior features are where you would expect them to be.
The presence of a plug-in outlet and 7.6 kilowatt-hour battery pack only contribute to the car's substantial feel. The powertrain, with its capable 2-liter 4-cylinder engine, is capable of 188 horsepower. The vehicle weighs just less than 4,000 pounds. This is not a small wispy EV, but rather a husky midsize sedan that, solely under battery power, quietly glides through city streets. Power is somewhat diminished when using the electric motor alone.
The Ford Fusion Energi stores enough grid-supplied energy for about 20 miles of all-electric driving. When that is depleted, it reverts to a conventional gas-electric hybrid with an EPA efficiency rating of 43 miles per gallon. Not bad. The combined fuel economy is 100 miles-per-gallon equivalent, with a whopping total driving range of 620 miles.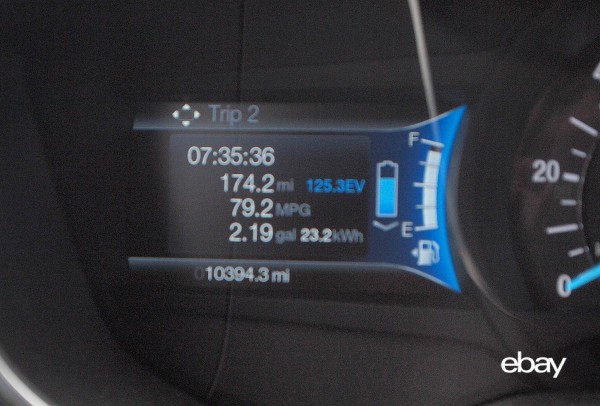 The trick for maximum electric efficiency is to use the "EV Now" mode—which forces the car to stay under battery power, no matter how hard you mash the accelerator pedal. As long as you're able to recharge before you reach the limit of those 20 miles, the dashboard will reward you by indicating mileage of "999.9 mpg."
Of course, in EV mode, you are also using kilowatt-hours of electricity for motivation. Ford plays a bit of a shell game on the dashboard in how it splits out the number of miles on gasoline versus "EV," but suffice it to say that my loaner vehicle had a lifetime vehicle average mpg of 78.6 miles. For my first two days with the car, I exclusively used electricity—by plugging into the 240-volt charger at my house at every available opportunity.
By the time I clocked 130 miles of driving, which included a couple of trips that exceeded the car's battery range, I had only used two gallons of gasoline, racking up an efficiency of 65 mpg. By the time I reached 174 miles, the total mpg was up to 79.2 mpg. The exact real-world mileage of a Fusion Energi is greatly dependent on how it is driven—even more so than conventional vehicles.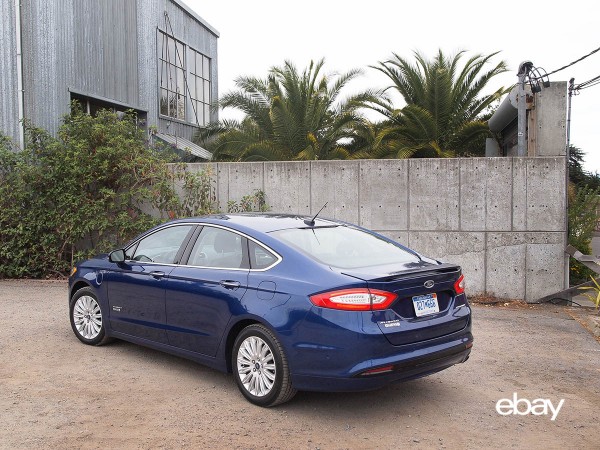 Let's just say that for most drivers the Fusion Energi plug-in hybrid will be more efficient than a Toyota Prius hybrid, but not quite as efficient as a Nissan Leaf electric car. Meanwhile, the Fusion's driving dynamics beat both of those vehicles any day of the week.
The Fusion Energi's handling is responsive, with a firm grip on the road. The design is tasteful, without being fancy or gimmicky. Nonetheless, we had a few caveats regarding dashboard design and graphics. Ford's quadrant layout of the center touchscreen monitor – for climate, navigation, media and phone – is confusing. The physical capacitive buttons are awkward to use. And some engineer's use of alliteration, with screens for enlighten, engage, and empower to convey energy usage, is downright silly.
But we will never tire of the self-parking feature, Ford's assisted-driver technology that identifies an open spot for parallel parking, and allows drivers to glide into tight spaces with hands off the wheel. Adaptive cruise control is also a winner. However, those assistance features, and other flourishes that come with the Titanium luxury package, jack the price of a base Fusion Energi from $34,700 to $45,310. A federal tax credit for plug-in vehicles brings the price back down by $3,750—only slightly closer to orbit. We advise skipping the high-tech package, as cool as it is.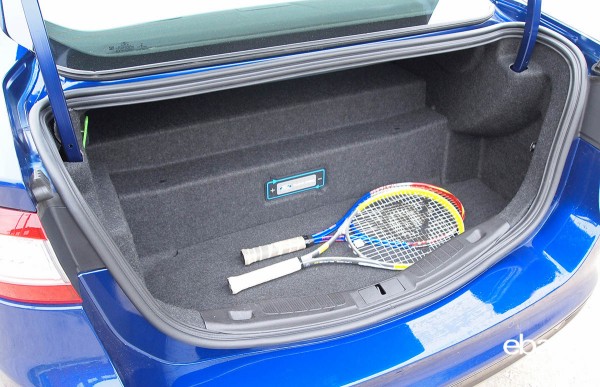 While the performance from this plug-in hybrid is free from compromise, Ford's placement of the battery pack in the trunk area is problematic. Cargo space is cut from 16 cubic feet in the no-plug Fusion, all the way down to 8.2 cubic feet. That's a problem for those wanting to stow a vacation's worth of gear in the Fusion's otherwise capacious trunk.
If that critical shortcoming can be overlooked, then the Fusion Energi plug-in hybrid could be a surprise hit—converting die-hard internal combustion drivers to the wonders of electric driving. There are signs that the charms of the Fusion Energi are starting to become known. Ford sold 1,939 units of the Fusion Energi in June—beating its previous best month by nearly 600 new customers.
2014 Ford Fusion Energi
Engine

Engine type

2.0-liter Atkinson cycle I4

Engine horsepower

141 hp @ 6,000 rpm

Engine torque

129 lb.-ft. @ 4,000 rpm

Total system power

188 hp

Top speed

102 mph
Electric Motor

Motor Type

Permanent magnet AC synchronous motor

Power Output

118 hp @ 6,000 rpm / 88kW @ 6,000 rpm

Maximum Torque

117 lb.-ft. / 240 Nm
Battery
7.6 kW Lithium-ion (Li-ion)

Charge time

2.5 hours (240V), 7 hours (120V)

Peak power

35 kW
Transmission
HF35 eCVT hybrid powersplit transaxle
Combined Power and Range

Total system power

195 hp

Total system torque

129 lb.-ft.

Estimated fuel economy

108 MPGe city / 92 MPGe hwy / 100 MPGe combined

EPA estimated range

620 miles with full tank of gas and fully charged battery

EPA estimated range electric-only

21 miles

Top speed electric-only mode

85 mph
Emissions Level
AT-PZEV
Brakes
Power-assisted four-wheel disc, four-channel anti-lock braking system (ABS) and
integrated regenerative braking
Overall Height/Width/Length
58.0 / 75.2 /191.8 (inches)
Wheelbase
112.2 inches
Curb Weight
3,913 lbs.
Total interior volume
111 cubic feet
Total luggage capacity
8.2 cubic feet
Price
$39,495 before federal and state tax incentives