U.S.-Spec Model Not a Dumbed-Down Version of Euro-Spec Model
Likes:
Potent engine that can be frugal with gas
Nimble handling and reduced understeer due to TVC
Available Recaro seats that are comfortable and cozy
Excellent bang-for-the-buck hot-hatch
Dislikes:
Limited cargo and rear seat space
Often times the U.S. gets stuck with a watered-down version of a hot-performing Euro-model or not at all. Arriving a little late to the game after being available in Europe for over a year now, the Ford Fiesta ST is finally available to U.S. customers.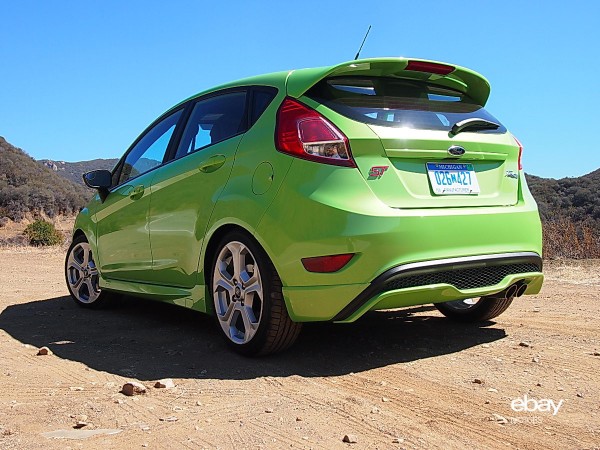 Pumping excitement into the little Fiesta ST is Ford's 1.6L turbocharged direct-injection EcoBoost I4 engine and 6-speed manual transmission. This little pony loves to gallop in the upper-revs, but will happily lope along around 2,000 rpm when you don't need to be tipping the redline. Rated at 197hp @ 6,000 rpm and 202 lb.-ft. torque at 4,200 rpm, carving up your favorite stretch of pavement is equates to an nimble and fun for a car that can be had for less than $26,000 fully equipped.
In comparison, MINI Cooper S makes do with 181 horsepower and 177 lb.-ft. torque, while Fiat 500 Abarth produces 160 horsepower and 170 lb.-ft. torque. (See comparison table below)
Driving Impressions
We drove a new-for-the-U.S. Fiesta ST up and down the canyon roads in southern California for a couple hours and walked away duly impressed. Steering feel is darn near perfect with the Fiesta delivering predictable turn-ins from the steering input we fed it. A unique suspension with modified front knuckles makes for a quicker overall steering ratio that is duly responsive.
With the Fiesta ST, performance rules over practicality — and the payoff is impressive. We enjoyed our test car's sharp steering and linear braking. The nose pushes a little in sweeping corners, but the electronic Torque Vectoring Control (TVC) does an excellent job of reducing understeer, allowing the driver to manage the car's rotation. Its sticky summer tires eventually cede grip up front, but the tail stays put, refusing to let you easily slide on all fours.
Varying degrees of fun can selected based on one of three electronic stability control (ESC) modes. Leave it on if you want to keep it safe. There is a Sport mode that allows some degree of wheel skid or it can be switch off entirely for liberating fun on the track, Even with ESC off, TVC remains on because it minimizes understeer and gets the hot-hatch rotated properly.
Sitting 15mm lower than the Fiesta base model, the Fiesta ST's ultra-firm ride can be rought over potholes, but doesn't get unsettled under hard cornering on broken pavement. On the highway, the car holds steady and only gets pushed around by heavy crosswinds because of its small size and weight. The Fiesta ST wins for outright fun, but comfort-minded drivers should seek something less performance oriented.
How hot is this hot-hatch? The only thing that can translate its heat is a hot sauce. And not just any hot sauce. Gourmet chili sauce maker Chris Cullen (Culley's http://www.culleys.co.nz/) created a hot sauce that amounts to 1.463 million scoville units to match the heat of the new Fiesta ST. For comparison, Serrano peppers are about 10,000 to 23,000 scoville units.

Ford Fiesta ST, Hot Sauce!

The ST model gets a new master cylinder, larger front disc brakes, and rear disc brakes over the S and SE trims. Steering is full electric, but special steering knuckles are unique to the ST. Also separating the ST is a lower ride height by almost half an inch and much tighter suspension. 17-inch alloys and summer tires are standard. All this adds up to a ride serious about negotiating the turns well above the posted speed limit.
Standard equipment on the ST is the hot-for-teacher 1.6-liter turbocharged EcoBoost engine, 6-speed manual transmission, unique ST tuned air intake, push-button start/stop, 17-inch alloy wheels, ST body kit and rear spoiler, SYNC® with MyFord Touch®, ST specific leather wrapped steering wheel, leather shift knob and interior trim.
Options available to the Fiesta ST are partial-leather, heated Recaro seats.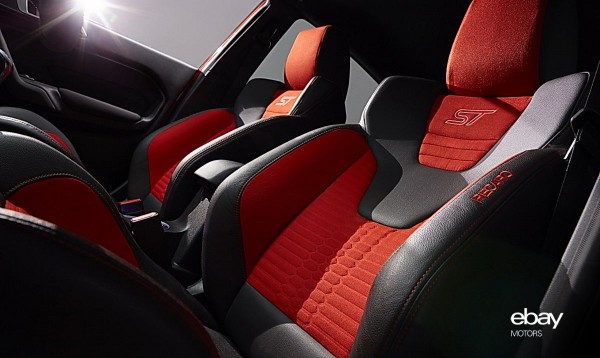 Interestingly, the high-output EcoBoost engine will run perfectly fine on 87 octane, but premium gas will get you a slight power boost and better fuel economy.
We think Ford did a great job of putting together an entry-level performance package and keeping it easily affordable for tight budgets. For its fully optioned $26,000 price, the Fiesta ST is a go-fast bargain.
| | | | | |
| --- | --- | --- | --- | --- |
| | MINI Cooper S | Fiat 500 Abarth | Chevy Sonic RS | Ford Fiesta ST |
| Engine | 1.6L twin-scroll turbo I4 | 1.4L turbo I4 | 1.4L turbo I4 | 1.4L turbo I4 |
| Power | 181hp @ 5500 rpm | 160hp @ 5500 rpm | 138 @ 4900 rpm | 197hp @ 6000 rpm |
| Torque | 177 lb.-ft. @ 1600 – 5000 rpm | 170 lb.-ft. @ 2500 – 4000 rpm | 148 lb.-ft. @ 2500 | 202 lb.-ft. @ 4200 rpm |
| Transmission | 6-speed manual | 5-speed manual | 6-speed manual | 6-speed manual |
| MPG, EPA estimates city/hwy/combined mpg | 26 / 35 / 29 mpg | 28 / 34 / 31 mpg | 27 / 34 / 30 mpg | 26 / 35 / 29 mpg |
| 0 – 60 mph | 6.6 sec (mfr.) | 7.7 sec. * | 8.8 sec. ** | 6.9 sec.(mfr.) |
| 1/4 mile | 14.5 sec | 15.8 sec. * | 16.6 sec. ** | N/A |
| Base Price | $23,300 | $22,000 | $20,325 | $22,195 |
* http://autos.yahoo.com/fiat/500/2013/t-turbo-hatchback/performance.html
** http://autos.yahoo.com/chevrolet/sonic/2013/rs-manual-hatchback/performance.html
A hotly debated topic around the water cooler is if Ford should offer a 6-speed automatic in addition to the 6-speed manual. Purists will scoff at the automatic, but VW has proven that their DSG does a great job of satisfying both ends of the debate. Tell us in the comment section below if you would think twice about purchasing a Fiesta ST with an automatic gearbox or if they should remain true to the simplicity of a 6-speed manual.