Likes:
Amazing fuel efficiency for beefy sedan
Brisk all-electric acceleration
Luxury interior materials, wrapped in sharp exterior design
Dislikes:
Overall ride quality is neither truly sporty nor luxurious
Interior ergonomics are atrocious
High price for gimmicks rather than true quality
The hysterical television ad for the Cadillac ELR luxury electric vehicle would have us believe this: "You work hard, you create your own luck, and you gotta believe anything is possible." It's also intended convince us that the mean-looking electric sedan is worth its $76,000 base sticker price. Unfortunately, my week driving the ELR revealed those marketing messages, while worth a quick chuckle on YouTube, to be hype. This vehicle is a glitzy dud.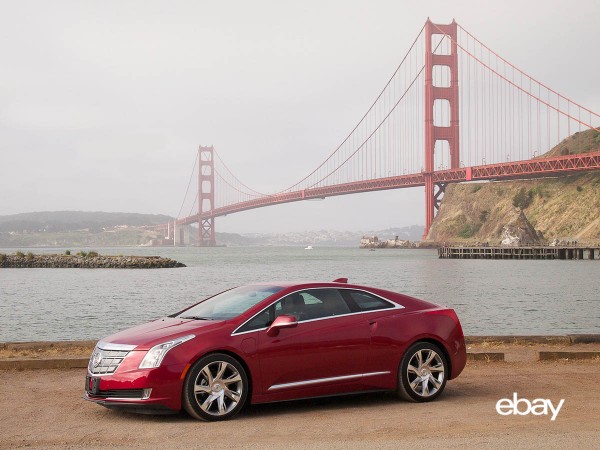 The ELR is powered by the same impressive extended-range electric vehicle technology used on the Chevy Volt – but it's even more powerful. The electric motor by itself can deliver 157 horsepower, and when tied to a 1.4-liter engine, output is pushed to 181 ponies. Most critics of the ELR suggest that lack of oomph is its drawback, but to me, the horsepower was more than enough for daily driving. Acceleration is without hesitation and smooth in the way only EVs can be. Highway passing was a breeze. Zooming well past speed limits (not that I would do that) is effortless, without a chance of using a drop of gasoline.
In other words, the ELR's powertrain is excellent. Offering 32 more ponies than the Volt, the ELR still manages an EPA rating of 82 MPGe on electricity, and 33 mpg on gasoline. Throughout my week with the ELR, I was able to go between 30 and 38 miles before depleting a fully charged battery pack – after which the gas engine came online to extend range. I'm sure 40 miles of EV range would be possible, with a gentler touch on the accelerator pedal.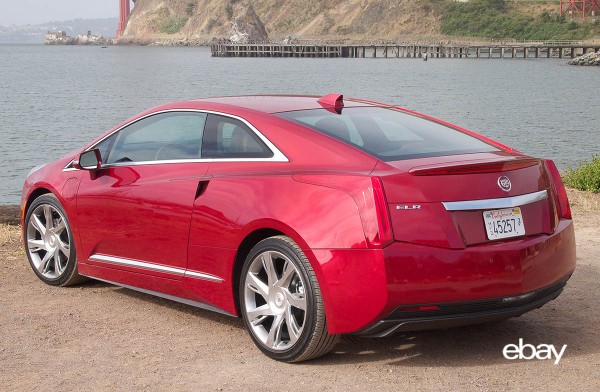 Real-world efficiency is a tricky question when it comes to the Cadillac ELR (and the Volt). It all depends on how often you are willing (or able) to recharge. Plug in once every other day, and you could average better than 50 miles per gallon equivalent. If you are diligent about daily charging – the automotive equivalent of flossing once a day – then your MPGe will reward you with the equivalent of 70 to 80 MPGe. Charge all the time – home, work, and in public, and also avoid long-distance trips – and you could easily reach triple digit fuel economy. That's remarkable for a beefy luxury sedan.
The problem is the expectation set by the ELR's base-level $76,000 price tag. The front-wheel-drive car is more of a laid-back cruiser than anything truly sporty. The "Sport" mode helps with quicker response from the pedal, and a tighter feel on the steering wheel. But spending three-quarters of 100 grand allows you to choose from among an impressive set of legitimate hefty sports machines that can hold the road much better than the ELR. The alternatives would also avoid the countless shortcomings of the ELR's exterior and interior design.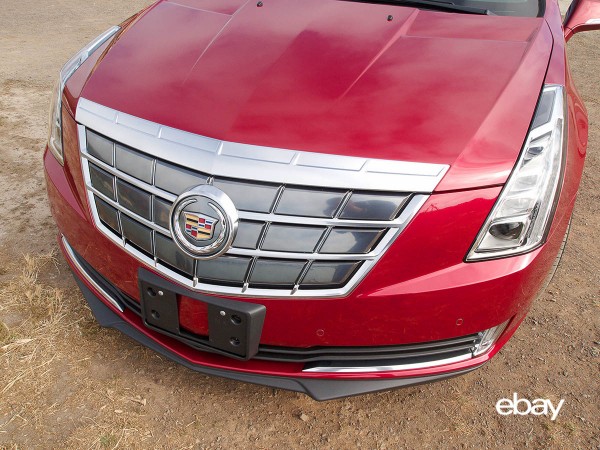 From a distance, and in television commercials, the electric Caddy looks cool. But get up close, and the wide cross-grid fascia looks cheap, and it feels plastic to the touch. There's a pervasive hollowness to the entire vehicle.
The novel reach-in door handles take a minute to figure out and, even over days of use, are not intuitive. The door handles are only one example of places where Cadillac designers, in an overzealous attempt at making a statement, avoid practicality and good taste.
The interior door mechanism is even worse. It's a single small button rather than a real handle. If the doors are locked, that button doesn't work – forcing you to first wonder what went wrong, then unlock the doors, and then return to the counter-intuitive button. There was a comical moment when my teenage daughter couldn't figure out how to get out, while I couldn't find the button to the glove box in order to retrieve the user manual.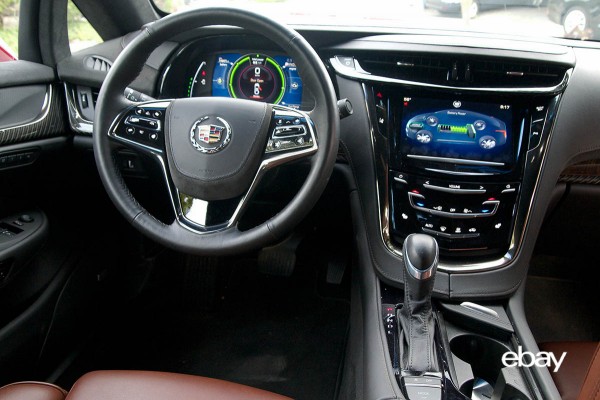 The ELR's steering wheel paddle shifters, designed to allow drivers to control the level of regenerative braking in the car, had little or no effect that I could discern – and no indication of status on the dash that I could see. (Drive the Mercedes B-Class electric car to learn how paddle shifters should work in an EV.)
Calling the ELR a four-passenger vehicle is an exaggeration. Like the Volt, the center column is a cabin-length tunnel that houses the vehicle's battery pack. As a result, there are two bucket seats in back, rather than a bench. But in the case of the ELR, with its low sloping roofline to the back, anybody taller than about 5 feet10 inches is not able to sit upright. Worse yet, the shoulder belts are strategically placed to make it extremely difficult to squeeze into the back seats. My daughter joked that the ELR would be good for taking hostages, because escape is nearly impossible from the back row.
The most annoying feature of all is the suite of Star Wars sound effects for closing the door, powering up, and powering down. Instead of conveying a whiz-bang sense of technology, they are too loud and obnoxious to be taken seriously. They undermine the car's otherwise luxury feel conveyed by comfortable leather seats, a suede-like headliner, and blue-hued interior lighting. Speaking of sound, I would have expected the engineers to eliminate the high-pitch whine of the electric motor that intruded the cabin too often. That was not the case.
The dashboard's capacitive buttons – you tickle them rather than push – were another prime case of innovation gone wrong. Cadillac designers never got the memo that well-designed simple analog buttons reflect class more than pinball machine devices, levers and handles. The car warned me that I was getting too close to objects by vibrating my butt. How inappropriate.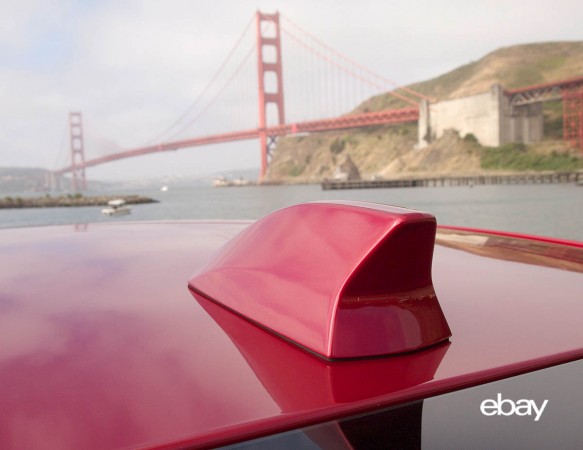 Hardcore EV and GM fans might think I'm niggling about petty features given the capabilities of the extended-range EV system. Maybe so, but I'm apparently not alone. Despite the funny ads and proficient powertrain, the market is sending a clear message: the ELR is a dog. So far this year, fewer than 300 ELRs have been sold. Dealers are putting up big incentives in an attempt to clear ELR inventory down from its current two-year supply. Given the cheap feel, so-so ride quality, and goofy interior features, those discounts are unlikely to help.
2014 Cadillac ELR
Engine: 1.4L DOHC I4
Output: 63 kW / 84 hp @ 4800 rpm
Total System Power: 181 hp
Torque: 295 lb-ft
Transmission: 1-speed direct drive CVT
Battery: lithium-ion 16.5 kWh
Motors: drive motor, 117-135 kW; generator motor, 55 kW
Power: 154 kW / 207 hp (total system power)
Electric Motor Torque: 295 lb-ft
EV Range: approximately 35 miles
EV Extended Range: more than 300 miles, including EV on fully charged battery and full tank of fuel
Drive Layout: FWD
Curb Weight: 4,050 lbs.
MSRP: $75,000
Price as test: N/A