Likes
Off-the-line acceleration
Excellent inner-city commuter — compact size, quick, and nimble
Better than average spacious and fashionable interior
Opposing doors open for easy access to back seats
Optional Range Extender
Dislikes
Boring exterior design
Trying-to-be-cool 20-inch wheels
Poor location for start/stop and park buttons
California is one of the largest car markets in North America and has a major influence upon the auto industry. Always a trendsetter, the state of California is leading the way towards reducing our dependency upon fossil fuels and improving air quality with CARB's (California Air Resources Board) lofty goal of 100% new car sales be zero emission vehicles between 2040 and 2050. Hence the huge effort to explore zero emission cars fueled by electricity and hydrogen fuel cells by the automakers.
The future sustainable mobility is here and BMW is giving the public a chance to give their new compact EV a brief spin in downtown Los Angeles in conjunction with the L.A. Auto Show (November 22 – December 2). While they won't allow drivers to test drive the new BMW urban commuter on the freeway, it's still a good way of exploring EV mode of transportation in one of the busiest cities in the U.S. replete of buses, pedestrians, cyclists, and dense traffic.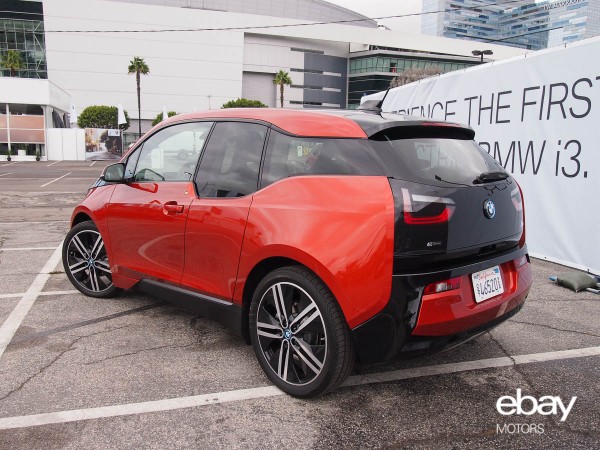 Rated at 125 kW (approximately 170 hp), the compact i3 has a range of about 80 miles and can launch from zero to 60 in 7.2 seconds. A Nissan Leaf takes nearly 10 seconds to reach 60 mph; a Chevy Volt is a little quicker with a 0-60 time of 8.5 seconds.
The 184 lb.-ft. of low-end torque and immediate response from the electric motor coupled to a singlespeed transmission equates to off-the-line performance of a much bigger powertrain – without the noise, brute force and irresponsible fuel consumption.
BMW DNA dictates that a car be fun to drive and the i3's ability to dart in and out of traffic exemplifies its agility – zipping around inner-city obstacles with precision and nimbleness. With a 2,700-pound curb weight (preliminary US figures), the i3 is more capable and nimble than other EVs on the market that weigh well over 3,000 pounds. A tight turning radius of 32.4 feet is ideal for grabbing that elusive parking spot on the other side of the street.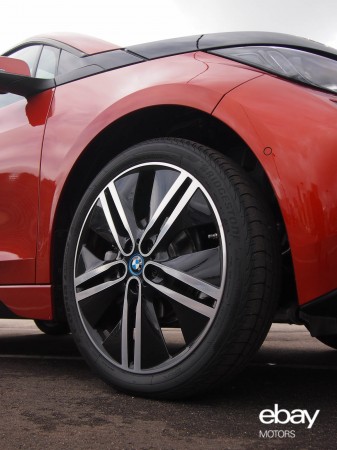 Big 20-inch wheels and low profile tires impersonate the EV's street cred, but provide a good amount of lateral grip on sweeping turns. Don't expect to coast to the stoplight because of the regenerative brake setup that recharges the batteries from motion stops the car almost immediately when you take your foot off the accelerator. We hardly used the brakes during our inner-city test drive.
Upper middle-class persons living a "sustainable lifestyle" can rest easy since the BMW i3 is made from materials recycled using renewable energy, but has a premium feel with near 5-Series quality. 25 percent of the plastics in the interior and 25 percent of the thermoplastic parts on the exterior are made from either recycled materials or renewable sources.
According to BMW, the i3 will be able to travel 80 to 100 miles on a single charge. This can be increased by up to approximately 12% in ECO PRO mode and by the same amount again in ECO PRO+ mode. It is able to recharge in only 3 hours with the use of a 220V Level 2, 32-amp J1772 charger. The DC Combo Fast Charging, which charges the BMW i3 up to 80% in 20 minutes, and 100% in 30, can be had as an option.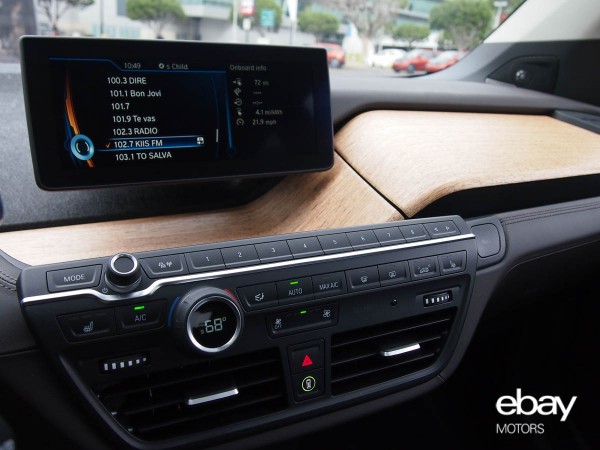 Range anxiety can be a non-issue by purchasing the optional Range Extender generator. Similar to the Volt, a rear-mounted 650cc, 34hp, two-cylinder, gas powered generator recharges the 22-kWh, lithium-ion battery without having to plugin into a charging station.
The BMW i3 will go on sale in the US market in the second quarter of 2014, and starts with a base MSRP of $41,350, before any federal or state incentives, and before Destination & Handling fee (currently $925).