Likes:
Aggressive and dynamic new exterior styling
Available Hybrid powertrain achieves 40 mpg combined
Interior is still spacious, and now even more luxurious
Excellent value for a large, near-luxury sedan
Dislikes:
Performance is still somewhat sedate, especially when cornering
Dashboard layout could be more cohesive
Might actually hurt Lexus ES sales
Akio Toyoda is intent on reinventing Toyota. Rather than being just a manufacturer of safe, reliable, but rather boring and bland automobiles, he wants Toyota to be known for exciting design and performance. As President of the company, and chief test driver (he also has a background in racing), Toyoda has made it clear that pushing out the same basic products year after year is simply not good enough for the world's second largest car maker.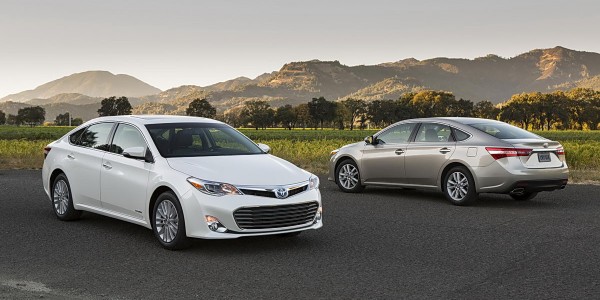 The new redesigned 2013 Avalon is persuasive evidence that change is indeed taking place. We recently had the opportunity to drive the new Avalon in scenic Santa Barbara, Calif. After several hours with the new car, we can definitely say that the Avalon now offers much more than just basic transportation.
Up until now, the Avalon has been a rather plain looking, plain driving large sedan, albeit one that offered good comfort and value. Lined-up next to the previous generation, the new Avalon looks like an entirely different car. The front of the car now features a gaping lower grill that looks ready to swallow the road, and the silhouette of the car is much more fluid and dynamic.
Toyota claims the new Avalon has the driving dynamics to match the new look, although our first impressions are that this is still a more conservative sedan, in terms of performance. The same powertrain is still under the hood, a 268 hp 3.5-liter V6 mated to a 6-speed automatic. Steering is still quite light and feels a bit disconnected from the road, and there is noticeable lean when cornering. Activating the Sport mode increases throttle response and dials in a bit firmer steering, but even then this is definitely no sports sedan.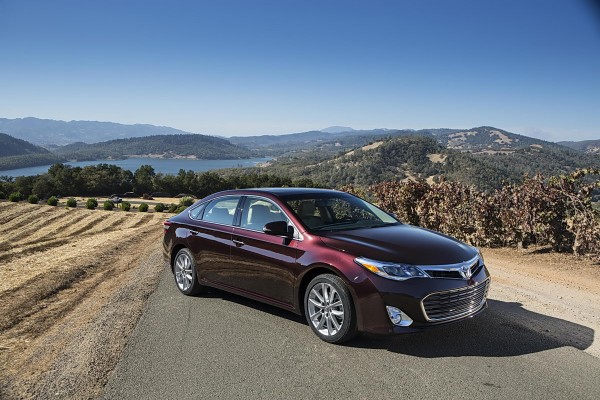 Having said that, the Avalon is no major slouch either. At one point during our test drive, we slotted behind a Porsche 911 and an AMG Mercedes while climbing a twisty back road. Although our German friends were no doubt taking it easy, it was surprisingly easy to keep up, even when sailing through some sweepers at 50 mph. Punching the throttle also produced a surprising amount of thrust. It turns out that the Avalon only weighs around 3,500 pounds, hundreds of pounds lighter than the full-sized competition, which certainly helps maximize available performance.
Perhaps the most significant change to the new Avalon, other than the dramatic new exterior style, is the addition of a hybrid powertrain. Toyota has basically dropped in the powertrain from the Camry hybrid, which works surprisingly well in this larger platform. There is even an EV mode that will keep the car cruising on electric power, so long as there is sufficient charge and the speed is kept low. The EPA has blessed the Avalon hybrid with a 40 mpg combined rating, which is really quite remarkable for a full-sized sedan that can comfortably seat five and has a sizeable trunk.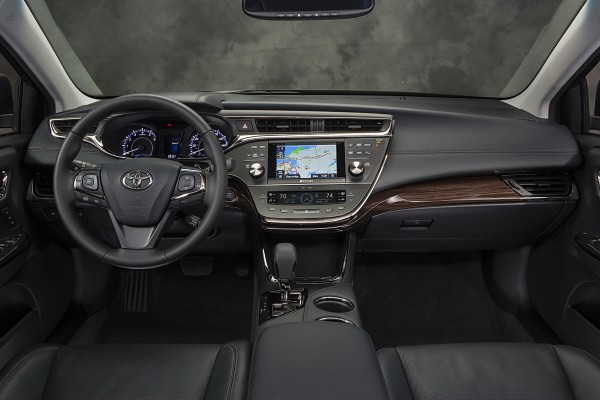 On the inside, the Avalon doesn't disappoint, providing a higher grade of luxury than the previous model. The interior on our Limited test model was lined with stitched leather trim, and the leather seats are exceptionally comfortable. The redesigned dash uses a blend of capacitive and mechanical switches for the controls, and features two displays. Although the layout is somewhat haphazard, and the dash curves outwards in an ergonomically strange way, everything works reasonably well. For folks desiring more interactive technology, Toyota's Entune system is available on XLE premium trim levels and up. The Avalon is also the first Toyota sedan with available advanced safety features, such as blind spot monitor and rear cross traffic alert systems.
Most impressive is the amount of value that the Avalon provides. The base Avalon XLE starts at $30,990, and there are also XLE Premium and Touring trim levels, at $33,195 and $35,500. The fully loaded Avalon Limited still comes in at under $40k, starting at $39,650. The Hybrid starts with a more upscale XLE Premium trim, at $35,550, and tops out with a Limited model for $41,400.
At these prices, and with this level of luxury, refinement, and now style, we're left with just one question. Why buy a Lexus?