Likes:
Rugged styling with offroad capabilities to match
Fun driving off pavement
High driving position affording great visibility
Dislikes:
Lackluster boxer engine/CVT combo
Touch screen entertainment unit is a throwback in time
Limited cargo space
The compact SUV / Crossover segment has grown very crowded over the past few years with so many manufacturers covering everything from entry level models like the Kia Sportage to mass-market models like the new Ford Escape to luxury models like the Mercedes-Benz GLK, it is difficult for new models to break through. For those who look for a SUV with robust AWD capabilities though, the field gets much smaller. Subaru is popular with this crowd, with its longstanding commitment to all wheel drive wagons and SUVs. It was one of the first carmakers to enter this segment, with the very capable and cult-favorite Forester, now in its second generation.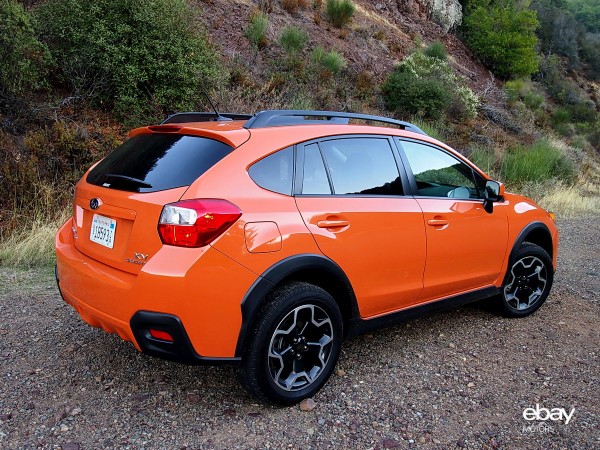 Naturally the first question we asked, "Why is Subaru introducing the XV Crosstrek, with similar dimensions and specs, seemingly to compete with the Forester?" The Forester is taller and more spacious on the inside for passengers and cargo, and has a bigger 2.5 liter engine versus the 2.0 in the XC Crosstrek, but its starting price is actually about $700 lower than the XV Crosstrek ($21,995).
The XV is much sportier and rugged looking than the Forester, however, and may appeal to a different sub segment that Subaru's planners must have carved out. Something like the "driver who likes the Impreza wagon styling but wishes it had more ground clearance" segment.
Driving Impressions
The tester was in Limited trim that comes with navigation and moon roof as standard equipment. The CVT, which helps with fuel economy, is also standard with the Limited trim.  Boldly painted in a very bright Tangerine Orange Pearl color and accented with black body claddings on black17-inch rims, it looks just like a lifted and more rugged Impreza wagon.
Actually, we find the XV Crosstrek better looking than the Impreza, whose body looks a bit too big on the wheels.
Acceleration was nothing to write home about, with the 2.0-liter four banger boxer engine producing 148 horsepower and 145 lb.-ft. of torque. This is the same power plant found in the lighter Impreza. One definitely hears the engine working hard in a very harsh sound as it tries to get the car moving, but it does get very respectable MPG numbers for a SUV (25 city/33 highway).
Then there's the Subaru's Lineartronic® Continuously Variable Transmission (CVT). Subaru was the first car maker to bring the CVT to a North American market production vehicle back in the late 1980s in the tiny Justy subcompact hatchback. Our experience with the CVT unit in the XV Crosstrek felt always a step behind what we were trying to get it to do.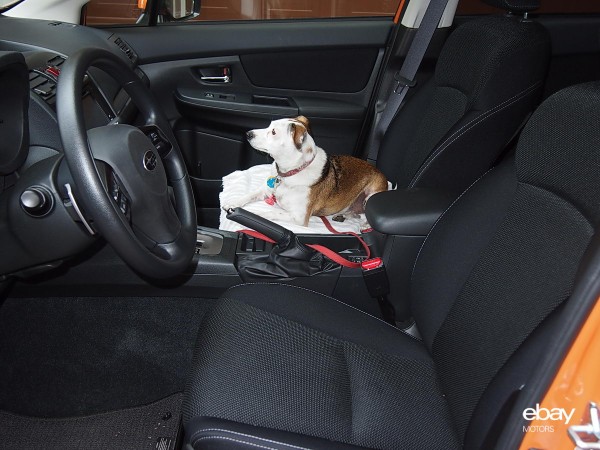 The electronic steering unit actually offered decent feedback, was fairly substantial, and inspired confidence when I managed to take the XV Crosstrek off the pavement in the hills of the Santa Cruz mountains near Los Gatos, Calif. Steering was confident as I swerved to avoid hitting groups of cyclists on a stretch of unpaved road still open to motorized vehicular traffic.
Ride quality was firm on the road and great off road. Very little body roll was detected considering its ride height, and the XV turned in very responsively on the many blind turns around which we were probably going too fast. The XV's highway manners were good for a car with so much ground clearance (8.7 inches); the steering wheel did not deviate from center and steering feel was weighted nicely.
Interior Comfort and Ergonomics
Now Subaru is no Audi when it comes to interior design and materials. The interior of the XV Crosstrek can best be described as utilitarian, which probably suits the Subaru buyer just fine since she or he probably pack a lot of stuff covered in dirt and snow into the car. The interior is covered in dark plastic, and it does not try to pretend otherwise.
The controls are fairly straightforward and well laid-out, except for the touch screen navigation / entertainment unit. The interface looks dated and it involves extra steps to do some very basic tasks. The touch screen virtual buttons are a bit too small for accuracy and we simply miss the good old days where buttons are real and your fingers can memorize their functions and locations on the dash.
The seats offered fairly good firm support and visibility was very good in the XV. Rear passenger legroom was good given its size but cargo space on the XV Crosstrek is less compared to competitors like the RAV-4 or the Mazda CX-5.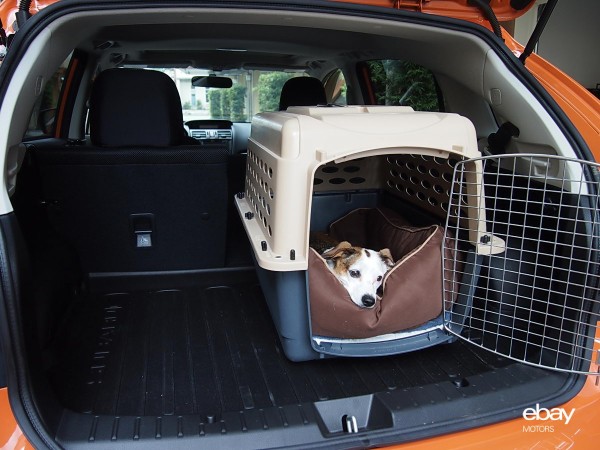 What others are saying about the car?
Car and Driver had similar gripes about the underpowered engine, but they also drove a European market turbocharged diesel XV, which has fewer horses and a lot more torque for better off-the-line acceleration and offroading.
Motor Trend found the XV interior decent and spacious for its size. They also found the XV Crosstrek fun to take offroad, a nice departure from other, more car-like counterparts in this segment.
Conclusion
You have many choices these days if you're in the market for a small SUV or CUV or whatever you want to call this segment, with an entry in every part of the price spectrum. Most of these are little more than compact wagons that ride a little higher, with the majority of them sold in front wheel drive only. But if you are looking for one with a serious AWD system that offers real off road capabilities with good ground clearance, then your choices whittle down quickly. And if your budget doesn't cover a Land Rover LR2, then you may very well be looking at a Subaru. Which Subaru – the XV Crosstrek or the Forester? That is a very good question.
Our friends at AutoGuide.com raved about the XV Crosstrek in their review below.